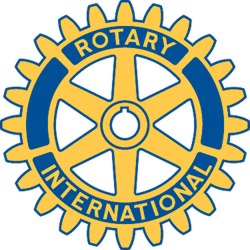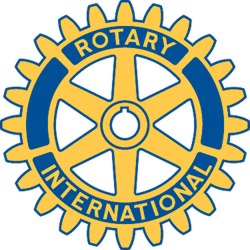 Rotary Club of New Bedford, MA - Weekly GAM
GAM...A nautical term describing the exchange of news between vessels departing from and returning to their ports...
2009
This Week
We met at White's of Westport in conjunction with the Chamber Business Expo, so there was plenty to see and do in addition to our regular meeting if one had the time. Several members were at work there, others simply at play, but a good time had by all. We should give make-ups to working Rotarians who couldn't leave their post, but were in the same building with the rest of us? Just a thought!
Our program was presented by Randy Joseph, head of the Education Department at Plimouth Plantation, a Wampanoag Indian who has been at the Plimouth replica village site since the early 1990's. In a historically informative presentation he told of the large number of recognized Indian tribes in the Plymouth and southeastern Massachusetts area, and of some of their ancient traditions. His talk, punctuated by brief examples of drumbeats and war whoops, explained much of Indian culture and philosophy, and how and why their interaction withe the Pilgrims developed and existed. Really gave us something to think about! Over 430,000 people visited the Plimouth Plantation last year.
VISITORS AND GUESTS - We were joined by five Fall River Rotarians - Carolyn Smith, Doug Rodrigues (Pres. of Fall River Club), Russ Guerreiro, Robert Lundquest and Roger Cabral. Other visitors were Alan's wife Joy, Sarah's dad Paul Broadmeadow, Paula's co-worker Andy Springer, and Toni's friend Stephenie Kerns.
BIRTHDAY RECOGNITION this week went to Charlene Rocha and Susan Whitney.
Coming Attractions
If you have signed up for the District RI Foundation seminar at the Zoo on Saturday, don't forget to go. These events are always very informative.
The Rotary Club of Fairhaven is holding a fund-raiser for DG-Elect Charlie Murphy at the Pasta House, 100 Alden Road, Fairhaven, on Sunday, November 8th from 1 - 3 PM. Price - $20 - includes a ticket for beer, wine or soda, and delicious hors d'oeuvres. RSVP to Shannon Joyal at 508-542-2408 by November 1st. Checks should be made out to Rotary Club of Fairhaven.
November 4th meeting will have Hospice and Community Nurse representative as our speaker. November 11th, Veteran's Day, still up for grabs but most likely will be shelved.
Next Week
October 28th meeting will be a club assembly. Plenty to discuss - Breakfast with Santa placemat sales and planning; a Calendar Raffle fund-raiser; Holiday meetings schedule, etc.
Also meeting scheduled at 11:00 AM that morning with Fall River Rotarians to learn more about forming our own non-profit charitible foundation.
Odds & Ends
E-mail received from Geneva Anthony telling us that she was successful in exchanging Rotary banners with the Rotary Club of Freetown in South Africa. She should be back here next week.
And Finally
A mountaineer took his son to a school to enroll him. "My boy's arter larnin', what dya have?" he asked the teacher. "We offer English, trigonometry, spelling, etc." she replied. "Well, give him some of that thar triggernometry", he said; "He's the worst shot in the family!".
Orren Robbins
GAM Editor