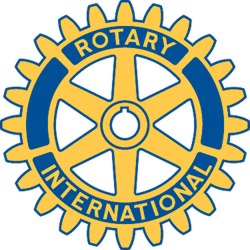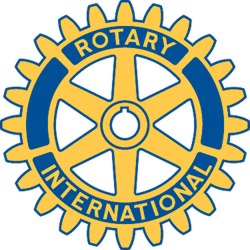 Rotary Club of New Bedford, MA - Weekly GAM
GAM...A nautical term describing the exchange of news between vessels departing from and returning to their ports...
2009
This Week
Another outstanding Rotary meeting with lots going on from start to finish!
Our program was presented by Laura Orleans and Laura Campbell, about this weekend's New Bedford Working Waterfront Festival. This event, now in its sixth year, brings the usually isolated working waterfront front and center for all to see, and to experience and appreciate its value to our community. This year's theme has been expanded to "Surf and Turf; Fishermen and Farmers Finding Common Ground".
The event, Saturday and Sunday on the waterfront at the foot of Union Street, is free and open to the public. Emphasizing the fact that fishing and farming are both 'ways of life'; the impact of both on our area will be celebrated and promoted. The event offers a wide array of food, family fun, entertainment and insight into the waterfront life - with fishing boat tours, equipment demonstrations and close up contact with fishermen and farmers alike.
There's still time to sign up to volunteer a few hours to help out the Festival. Call David for info, or go to the Festival website www.workingwaterfrontfestival.org
VISITORS AND GUESTS - In addition to Laura and Laura, we were joined by Fall River Rotarian Susan Remy, associate of Paula Borges at Child and Family Services. Jen Costa was accompanied by Warren Gibbons, curator of the Ocean Explorium. Warren has been proposed for membership in our Club by Jen.
PRES. BOB presented YMCA staffers Dan Berry and Tara Pacheco with a check for a $500.00 donation to the YMCA by our Club.
BIRTHDAYS of Michelle Hantman and Mark Treadup were celebrated with song.
Coming Attractions
All that Rotary JAZZ on October 3rd is progressing well. Jim O pointed out that he needs a few volunteers to help out with the event (you don't have to have a ticket), and stresses that he needs to have an accurate account of ticket sales because of limited seating capacity. Please help him and his committee to make this an outstanding success. David is preparing a sponsor poster and needs to have a complete and accurate list of sponsor supporters.
Peter Ashworth reports that he has slated a meeting of those interested in the Rotary Ambassador Program for 11:30 AM - prior to our regular meeting - on Weds. October 7th. Rotarians are encouraged to take this opportunity to learn more about the project.
There is a District 7950 Rotary International Foundation seminar scheduled for the meeting room at the Buttonwood Zoo from 8:00 AM to noon on Saturday, October 24th. Pres. Bob would like to see a strong RCNB presence at this important program since we are sort of the 'host Club'. Please let him know if you will attend.
Next Week
Pres. Elect David Biggs reports that Pres. Bob has accepted his invitation to give us his classification talk at our meeting on the 30th.
Odds & Ends
Toni Arsenault announced that she has sign-up forms ready for her Rotary Foundation Direct Deposit program. This is an excellent opportunity to join the Every Rotarian Every Year goal by contributing to the Foundation and earning Paul Harris Fellowship credits. Toni is your contact for information and activity.
Pres. Bob acknowledged that the RCNB got "hammered" in the Bocce competition last weekend despite the gallant efforts of he and Carolyn, and Paula Freitas, Geneva Anthony and their spouses.
How sad.
Sarah distributed samples of last years Breakfast with Santa placemats, and kicked off the ad sales project. Ads are $25.00 for one placemat, and $100.00 buys an ad on all six different ones.
Sorry to report - resignation letter received from Julie Lariviere.
Dist. 7950 is looking for candidates for the Rotary Youth Exchange Program, seeking boys and girls, 15 to 18 1/2 years old, who would like to travel to, and live in a foreign country for a year starting in August 2010. Rona Mann, Westerly Rotarian, is in charge of the program, and can be reached at 401-539-7762 for more info.
And Finally
Doctor: "Farmer Brown, I can't come out to see you anymore". Farmer: "Why, what's the matter doctor?" Doctor: "Why, every single time I come out here, your ducks insult me!"
Orren Robbins
GAM Editor