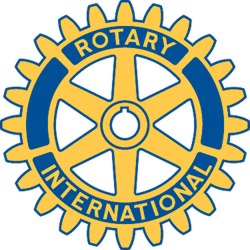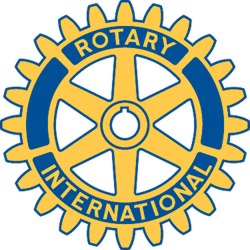 Rotary Club of New Bedford, MA - Weekly GAM
GAM...A nautical term describing the exchange of news between vessels departing from and returning to their ports...
2009
This Week
"Hobbies include Hurricane tracking..." is just one small line of Rich Medicke's biography on the RCNB web site, but his presentation this week convinces me that he is more of a Hurricane expert, than hobbyist. His very timely and fact-filled talk on Hurricanes took us from the first recorded Hurricane to hit New England in 1635, right up to a brief look at Hurricane Danny, now stirring in the Atlantic and scheduled to visit our shores this coming weekend.
Rich thoroughly explained the science of tracking these dangerous storms, which has become much more accurate since the launching of satellites in 1960, and also outlined several theories for breaking up these storms that have been explored to no avail over the last several decades.
The worst storms to hit our area were the Hurricanes of 1938, 1944 and in the 1950's, with the absolute worst being 1938 when 682 lives were lost in New England. Thanks Rich, for a very enlightening look at the weather.
....Hmmmm... There are not many "bios" filled in on our web site. I wonder how many other interesting programs might be discovered if more folks would fill in those blanks?
VISITORS and GUESTS - We were joined today by Sarah's mom-in-law - Sylvia Lamothe.
Coming Attractions
Pres. Bob put in a plug for the upcoming September 28th ClamBoil and Bocce Tournament with Fall River Rotary. We have a few attendees on tap already but more are needed if we are to excell. He points out that you don't have to know much about Bocce to be a player, thanks to the Four Way Test. Cost for the Clam Boil is $38.00 per adult. More to come later.
The Jazz event is coming together nicely with posters being printed and tickets now available for the October 3rd event at the Wamsutta. Nancy Wood tells us that BankFive has agreed to be a sponsor, joining the previous four signed up earlier. Only five more to go to reach Jim's goal of ten sponsors.
Dan Berry announced the "1st ever New Bedford YMCA LOBSTER RACES" scheduled in conjunction with the upcoming September 13th Chowder Festival in downtown NB. For more info contact Danat the YMCA 508-997-0734 ext 45, or e-mail dberry@ymcasouthcoast.org. Sounds like fun, but watch our for your fingers!
Carole is planning to do the Walk for Children of the Schwartz Center again this year and is hoping for sponsor pledges. The event is also Sept. 13th. Fellow Rotarians are urged to join in the walk, too, if interested.
Next Week
Another very important member presentation ...Toni Arsenault will unveil her Rotary International Foundation plan and program.
Odds & Ends
Pres. Bob noted a letter of thanks for support of the United Way received from U-Way president Michelle Hantman.
Geneva Anthony reports getting a commitment from the Rotary Club of Savannah, GA that they will be able to make a substantial contribution to her Salone Health care Services, Sierra Leone project quest for start-up medical supplies. The savannah Club is noted for its interest in providing medical assistance as one of their International Service goals.
Happy Birthday to Stu Lawrence who celebrated another year on August 24th. (We really, really, really need to work on our singing.)
Alan presented the Club with a Rotary banner just received from the Rotary Club of the U.S. Virgin Islands where he "made up" a meeting on a recent visit south.
And Finally
A shiftless character in a small town piled into bed one night after a long and tiring day of coon hunting, with shoes, clothes and all. After a while his wife shook him: "Get up", she said. "You got your shoes on." To which he mumbled: "That's alright, they ain't my good ones."
Orren Robbins
GAM Editor