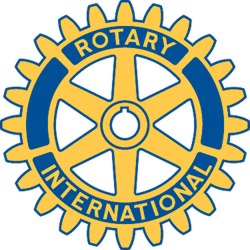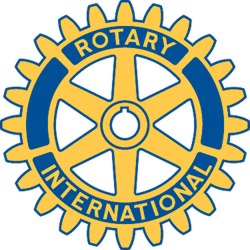 Rotary Club of New Bedford, MA - Weekly GAM
GAM...A nautical term describing the exchange of news between vessels departing from and returning to their ports...
2009
This Week
Today's meeting, blessed by Right Reverend Tom (in Stu's absence), was a fun filled, fact filled Club Assembly opened dramatically by Pres. Bob making the announcement that he has been asked by DG Terry Humfreys, to 'toss his hat into the ring' and run for District Governor Nominee to get in line for District Governor 2012-2013. Pretty obvious that RCNB members were in accord with that suggestion, giving Pres. Bob an enthusiastic round of applause and encouragement.
Needless to say, there will be more on this since Pres. Bob has agreed to run. This is a very big honor for Bob and RCNB - he would be only the fifth in the history of our Club to take that role, the last being Allan Woodacre who was DG in 1966-1967. Congratulations, my friend.
Club business discussion started with Toni Arsenault who has agreed to take over the Rotary Foundation/Paul Harris Fellowship project started earlier this year by Kevin Inkley. Toni's goal is to encourage 100% participation in support of the Foundation, and will be handling the complex bookkeeping that will be involved. She'll kick off her campaign within the next couple of weeks.
The Jazz Concert fund-raising team brought us up to date on progress. The event has now been firmly scheduled for Saturday, October 3rd at the Wamsutta. Tickets are printed and with only 211 to sell for a full house, Rotarians are asked to try to sell (or buy) five each. Tickets are $20.00 or $50.00 - the latter also including admission to a pre-concert social event. Jim is hopeful of selling at least ten sponsorships @ $250.00 per, and the good news is that four have already been sold. Rick Medicke, Geneva Anthony, Pres. Bob, and Life Stream are committed so far. For tickets see David or Jenn. Her phone is 508-692-0133 or e-mail at oceanexplorium.org. Pam rated Jim's Jazz event last week as "Fabulous" and there's no reason his next won't be just as great!
In a brief update on Pres. Bob's proposed Rotary Ambassador project, member input is being solicited. Peter Ashworth has accepted the challenge of overseeing this - he and Bpb both invite your comments.
Geneva Anthony also gave an update on her Salone Health Care Services project, aimed at providing medical services to a remote population area of Sierra Leone. Her goal is to raise $16,800.00 for initial medical supplies and equipment. Once again, Rich Medicke stepped up to the plate with a nice donation to her cause.
VISITORS AND GUESTS - Stan Ennis was a guest of Pam Maloney; Francess Anthony and Abass Collier came along with geneva; and surprise!!! surprise!!!...Pres. Bob's wife, Fall River Rotarian Carolyn Smith, popped in to show her support.
Next Week
With hurricane season underway, we discover that Rich Medicke is a hurricane buff, and we'll hear from him on the 26th. Depending upon the location of Hurricane Bob at that time, you might want to bring your umbrella.
Odds & Ends
Carolyn Smith told us about a Fall River Rotary Clam Boil, planned for Rachel's Lakeside Restaurant on Route 6 in Westport on Friday, September 18th. She also challenged us to compete with F.R. in a Boccie Tornament that evening, and suggests that other activities such as volleyball are on tap. Cost is $38.00 per for the Clam Boil. Children under 12 price is $15.00 for a hamburger/hot dog meal. Of course you all know about Boccie - more commonly known as lawn bowling. I think she was trying to intimidate us by using fancy foreign words. Sounds like fun!
And Finally
"I would like a straw with this lemonade" said the lady at the table. "Hey?" said the waiter who was quite hard of hearing. "No, STRAW, I saId", was the reply.
Orren Robbins
GAM Editor