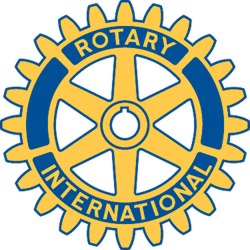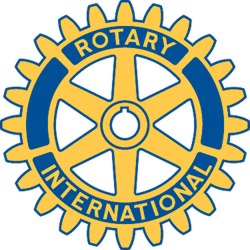 Rotary Club of New Bedford, MA - Weekly GAM
GAM...A nautical term describing the exchange of news between vessels departing from and returning to their ports...
2009
This Week
Since I could not stay at M.O.L.I.F.E. more than a few minuteson Weds., I owe a trememdous amount of appreication to Nancy Wood for providing me with some of the nuts and bolts, and ALL of the other tidbits of news of the Million $$$ Meal work party meeting!
Here's her report - The day started (and nearly stopped) when Pres. Bob's van suffered "car"diac arrest on I-95, and needed to be towed away. Thanks to quick thinking and Rotarian commitment, Fall River Rotarian Russ Guerriero was recruited by Pres. Bob, and saved the day by picking up the Pizza for our hungry food pantry workers while Bob awaited rescue on the highway.
While most of the work project went smoothly. it was reported that a can of tuna "jumped off of a shelf" and attacked Tom Riley, biting him and drawing blood. It's possible that this may have been a tuna fish laying in wait for our Tom for several months or more. "Watch out for rogue tuna", is Nancy's advice.
Special thanks goes to Mark Shpritzer who organized the paperwork while the rest stocked shelves and looked for a Band-Aid for Tom. Needless to say, DGE Charlie Murphy has sent his thanks to our Club members for helping out his Food Pantry project.
VISITORS AND GUESTS - In addition to Russ G., Fall River Rotarian PP Richard Mello; my granddaughter Amanda (briefly); and Geneva Anthony's daughter, Beneva. Also present, Lenira Pires, Program Supervisor for M.O.Life, who was DGE Charlie's guest at our meeting a couple of weeks ago.
Coming Attractions
Don't forget District 7950 night at PawSox on Tuesday, August 18th. Rotarians from all District Clubs are encouraged to attend and bring their banners. DG Terry will be throwing out the first ball... but hopefully not his elbow in the process.
Next Week
Our Wednesday meeting will be a "Club Assembly". Pres. Bob has a few items on his agenda such as 'Rotary Ambassadors', Jazz Night and Membership Retention, but also invites your input as to subject matter, too. Nancy says "A little bird told me that there's gonna be big doings at this meeting....come along and find out!"
Odds & Ends
The Recognition Committee is trying to get a handle on members with perfect attendnace. Using the Four-Way Test as a guideline, we're asking 100% Rotarians to give us their best assessment of how many years in succession that they have held that ranking so that we can begin to keep better records for everyone.
The District Governor's Monthly Newsletter has been posted to the Web. Lots of interesting reading for all of us. Rotarians are encouraged to make this regular monthly reading.
Pres. Bob attended the Salone Health Care Center kick-off event last Friday, and has put an extremely interesting and informative summary on our NB Rotary web site. Please check it out and you'll learn a bit more about our member Geneva and her efforts to help her parent's homeland, Sierra Leone, South Africa.
And Finally
"What's the difference between valor and discretion?" "Well, to travel on an ocean liner across the Atlantic without ever tipping anyone, would be valor." "I see." "And, to come back home on a different boat would be discretion!"
Orren Robbins
GAM Editor