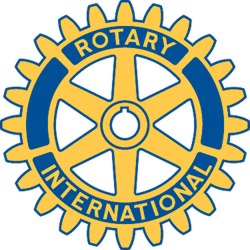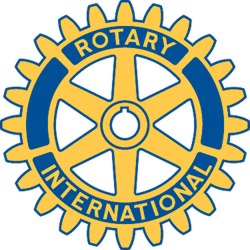 Rotary Club of New Bedford, MA - Weekly GAM
GAM...A nautical term describing the exchange of news between vessels departing from and returning to their ports...
2009
This Week
Toda's meeting was a great example of what Rotary is really all about. Lots of members, lots of guests, lots of activity, lots of fun, lots of support for a deserving cause, and lots more!
Right after lunch Pres. Bob turned the meeting over to Kathy Castro, chairperson of the Vocational Service Committee, and the action began. Kathy introduced the sscholarship winners, who in turn introduced their mothers, fathers and sisters who had joined them.
Dr. Portia Bonner, Superintendent of New Bedford Public Schools, Michael Shea, Superintendent Director of New Bedford Voke, and Gabrielle Simmons club liaison with the Community Foundation, were also introduced as special guests.
Scholarship recipients are NBHS seniors Shaharazad Arteaga, Devon Carter, and Marlena Johnson. Voke winner seniors are Peter DeCosta, Emilymari Rodreiguez and Cherelle Hunter (Cherelle was unable to attend).
Scholarship presentations were made by Kathy, assisted by Rich Medicke, Linda Silviera, Ellen Gitlin, and Carole Johnson. Each recipient read the letter that they had written in support of their quest for consideration..... some very thoughtful and touching appeals, to be sure.
Much praise goes to Kathy and her committee for this exceptional annual project, and also much thanks to Rich and Carole who personally add three $1,000.00 scholarships to the three sponsored by the Club.
OTHER GUESTS AND VISITORS - Julie Lariviere was accompanied by W. B. MASON chief and Brockton Rotarian, Steve Green; co-worker Monica DeMello; and a very pleasant surprise - a donation by Steve Green of two very valuable tickets to a Red Sox game on 8/28 to be auctioned off with proceeds going to next year's scholarship program. ***
Next Week
Our Wednesday meeting will be a Million $$$ Meal work party at MO LIFE food pantry on Pleasant Street in downtown New bedford. Don't forget....Million $$$ Meal events provide assistance for the Rotary International Foundation, and each Rotarian, whether present or not, is expected to support the event financially.
Odds & Ends
*** As the meeting was drawing to a close, a very enthusiastic Tom Riley was asked to start the auction of Red Sox tickets, which he did with a flair and a half, to say the least. Calling first scholarship winner Marlena Johnson and Steve green to join him, he led the room in a rendition of "Take me out to the Ball Game", and the auction began. At a bid of about $170 for the $300-plus package, Tom suddenly turned the project over to OBR, and ultimately the bid reached $200.00 with Tom, himself, walking off with the prize. Thanks to Steve and WB Mason for such generosity.
- By the way....Marlena was the winner of the New Bedford Idol competition and she also gave an a cappella rendition of "Home", from the Wiz, at Tom's request.
Pres Bob reminded us of the beginning of the annual Group Study Exchange program of RI. This year's team will be going to Uruguay. District 7950 is looking for interested young professionals and also for a Rotarian team leader. Any suggestions???
Happy Birthday to Linda Morad - who was among the missing but will be honored in song next time she shows up.
And Finally
A certain gentleman was observed by his wife to be unusually pensive. "A penny for your thoughts!", she remarked. " I was thinking, my dear," he said, "what epitaph I should put on your tombstone". Being in perfect health, and quite resentful of this thought, she immediately responded "Oh, that's very simple, just put 'Wife of the Above'."
Orren Robbins
GAM Editor