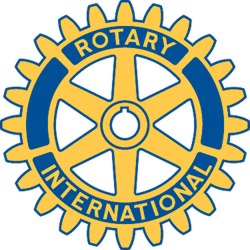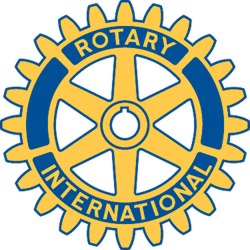 Rotary Club of New Bedford, MA - Weekly GAM
GAM...A nautical term describing the exchange of news between vessels departing from and returning to their ports...
2009
This Week
Pres Bob was at his best today (and on his best behavior, too) as it was District Governor Terry Humfreys' official visit of the year. DG Terry, accompanied by his wife Mary, and DG-Elect Fairhaven Rotarian Charlie Murphy, had arrived earlier for a meeting with Pres. Bob and board to discuss Club plans and activity for the 2009-2010 Rotary year
As the guest speaker after lunch DG Terry, a Rotarian since 1980, two-time Club President and past Dr. Percy Hodgson Memorial Award winner, active in District projects since 1984 - gave his DG's annual message. He outlined the goals set by International President John Kenny - a net gain of at least one member per club - a gain of over 30,000 new members; a new Rotary Club in each of the world's 500-plus districts; and a concentrated effort to improve member retention throughout the world... These goals in addition to continued international involvement with on-going projects including pure water, literacy and health.
The International theme for this Rotary year is "The Future of Rotary is in Your Hands" .. stressing the fact that Rotary is a bottom to top management philosophy, rather than a top to bottom system. The District is there to help Clubs to accomplish their goals, not to tell Clubs how to operate... it is at the member level that the real work of Rotary gets done.
At the close of his presentation he gave Pres Bob a new Rotary theme banner and coin; and was presented in return with gifts of a pink Flamingo, Flamingo pasta and Flamingo do-dads for wife Mary, too. Apparently Flamingos are the order of the day for this year's District Governor, whether he wants them or not!
VISITORS AND GUESTS - In addition to DG Terry, wife Mary, and DGE Charlie Murphy - we were joined by Eliana Costa, delightful daughter of Rotarian Jen; Lenira Pires, guest of DGE Charlie and program supervisor for M.O.L.I.F.E; and Sue W. was accompanied by friend Carol Macedo.
.
Coming Attractions
Jen Costa reported briefly on the September 19th Jazz Night and need for selling sponsorships. Talk to her or Jim O. for details if you have prospects.
Geneva Anthony's Salone Health Care kick off on August 7th at Randolph, MA. E-mail her at bmamtg2@yahoo.com if you'd like tickets.
Dist 7950 night at Pawsox on August 18th. Watch DG Terry throw out he first pitch, and probably his elbow too, if he's not careful. Rotarians throughout the District are encouraged to attend.
Board meeting on Tuesday, August 4th, 4;30 PM at Better Community Living! Good chance to make up a meeting if you're a bit behind.
Next Week
Our annual scholarship awards luncheon is Weds., August 5th. Six NB students will be given $1,000.00 scholarship awards. Program is a sit-down lunch so Pres. Bob needs to know if your are coming. E-mail him ASAP if you haven't already. REMEMBER - THIS MEETING STARTS AT 12-NOON SHARP! So, better plan to leave the office a bit earlier than usual.
Odds & Ends
Good to see PP Carole back from California where she visited family.
Dan Berry, back from vacation, brought a flag from the Rotary Club of Bar Harbor, Maine, where he made a make-up visit.
Stand by for a New Standard (in the words of Happy $$$'s collector Tom). Starting next week he wants Happy $$$'s to be given for "something funny that has happened to you". he's offering a special prize to the funniest.
Pres. Bob reports that Toni Arsenault will take over as Foundation Committee chair, replacing Kevin Inkley.
Thanks to Jen Costa for arranging a visit to the Ocean Explorium for visitors DG Terry and Mary.
And Finally
As I was leving my apartment to go to work, I notice the police were at the apartment down the hall. I walked over to a cop and asked, "What's going on?" "There's been a murder," the cop says. "How did it happen?', I ask. "The victim", says the cop,"was found in the bathtub filled with milk and cornflakes." Right away, I knew ir was the work of a cereal killer!
Orren Robbins
GAM Editor