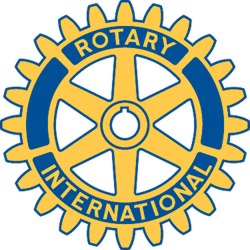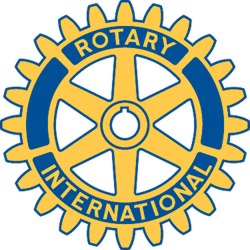 Rotary Club of New Bedford, MA - Weekly GAM
GAM...A nautical term describing the exchange of news between vessels departing from and returning to their ports...
2009
This Week
A full house greeted PDG Ann Williamd who was our program speaker today. Needless to say, pres Bob beamed with joy at the attendnace! PDG Ann is a member of the Rotary Club of Osterville, and was Governor of Dist. 7950 in 2002-2003.
Ann Williams' message was strong support for the Rotary Foundation and for 'EREY'... Every Rotarian Every Year . . . the program that asks every one of us to contribute to the RI Foundation every year . . . hopefully $100.00 per, but at least something if that wish is too high.
Using video, Ann showed literally one hundred or more Rotarians performing life-changing and life-saving work around the world, with one video centering on Rotary's effort to eliminate Polio in India where since 1985 more than one billion children have been giving life saving polio vaccine through the efforts of Rotary International and the World Health Organization.
PDG Ann tied local club's foundation giving to a program of 'simplified district grants' noting that a share of district-wide giving is returned each year to be reinvested in local projects originated by local clubs.
Highlighting her mission, Ann closed her program by presenting Sarah Lamothe with her first Paul Harris Fellowship Award.... a prestigeous award given to Rotarians who have donated $1,000.00 to the Rotary Foundation either in a single payment or over a period of time. Congratulations, and welcome to the Fellowship, Sarah!
VISITORS AND GUESTS TODAY - Paul Broadmeadow, Sarah's dad, who helped with the presentation; and Mia Morgan, Kristen's daughter who we have not seen for a while. Welcome back, Mia.
Coming Attractions
Don't forget Bay Sox baseball on Sunday, the 26th at Paul Walsh Field. Join with the United Way in welcoming this new baseball team to New Bedford, and have some fun helping the United Way with family activities between innings. Call Michelle for tickets and more!
Jazz Night - an evening of Jazz - has been set for Saturday, September 19th at the Wamsutta. Become a sponsor for just $250.00 and receive six tickets and an invitation to a pre-event social. Organizer Jim Oliviera has some tremendous talent lined up for this new fund--raising project. More to come!
Next Week
One of the biggest meetings of the year - District Governor Terry Humfreys will be making hiis 'official visit' to our club, and will be our speaker. The board and committee chairs are asked to meet with DG Terry at 10:30 Am. Let's hope that everyone else can be there by 12:15 to meet and greet our District Governor.
.... after that, Wednesday, August 5th, will be our annual Scholarship presentation meeting. This will be sit-down luncheon so a head count is needed. Please let pres Bob know that you will be with us that day. *****ALSO **** Because this is by necessity a longer than usual meeting, THE OPENING BELL WILL RING AT PRICICELY 12:00 NOON**** that day. Please try to be on time.
Odds & Ends
Birthday greetings to July babies OBR, Dan Suprenant, and Sara Lamothe were announced by pres Bob, followed by a rather feeble rendition of Happy Birthday Dear Rotarians, as pres Bob reinstated this long ignored Rotary tradition.
Kudos to Kathy Castro for organizaing the very successful and pleasant dinner/theatre event last weekend
And Finally
A school girl was required to write an essay of two hundred and fifty words about an automobile. She submitted the following. "My uncle bought an automobile. He was riding in the country when it busted up a hill. I guess this is about fifty words. The other two hundred are what my uncle said as he was walking back to town, but they are not fit for publication."
Orren Robbins
GAM Editor