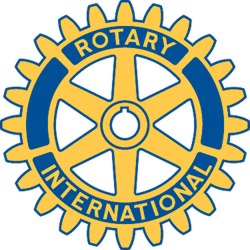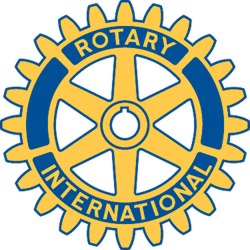 Rotary Club of New Bedford, MA - Weekly GAM
GAM...A nautical term describing the exchange of news between vessels departing from and returning to their ports...
2009
This Week
Sort of a 'first' today, as our newest Rotarian, Geneva Anthony, became our program of the week within minutes after her induction.
Geneva, after being inducted by OBR, who promised in her induction that she was "a very remarkable woman with a very interesting background", proved him correct as she captivated our membership with her interesting 'classification talk' - the first ever "welcome to Rotary, tell us all about your life" situation in recent club history. Pres-Elect David Biggs deserves a great deal of credit for initiating this program.
Geneva, who was born in North Carolina, but raised in Sierra Leone, West Africa, gave us an inspiring look at how her early life in a very poor country has driven her to her present level of determination to give back to her parent's homeland, much of the good fortune that has blessed her as an American citizen.
Her experiences with groups like 'Doctors Without Borders' related to her mother's health, and the obvious lack of proper health care in distant world countries, have been key to her present level of concern. Her desire to get involved in 'changing and saving lives' prompted her to log onto the Rotary website, and to subsequently become our newest Rotarian.
Needless to say, Pres Bob was delighted to be on tap for his Club's first new member on his first official day as Club President.
VISITORS AND GUESTS - Dartmouth Rotarian Connie Monopoli, and Geneva's husband Jenkins Bawoh, who, by the way, told us that Geneva's father was one of the first members of Sierra Leone's first Rotary Club.
Coming Attractions
Kathy reports that Fellowship Committee is planning a dinner/theatre event for Saturday July 18th at a downtown restaurant, and The Producers at the Z. Cost should be about $40.00 per person. At least twenty folks needed to make this work. Let her know of your interest.
Pres Bob reports that RI International President, JohnKenny, will be at an event on the North Shore that same evening. He's got details if you'd like to go.
Board meeting - Tuesday, July 7th - 4:30 PM at Better Community Living. Good chance for all to see Rotary in action, and get a make-up, too!
July 22nd our speaker will be PDG Ann Williams on the Rotary Foundation. Let's be sure to give her much support.
New member Geneva is chairing an event in Randolph on August 7th as a fund raiser for Salone Health Services. Salone is a volunteer group working to improve conditions in Sierra Leone. Dinner will be $60.00. She has tickets if you're interested in learning more.
ODDS AND ENDS
Pam announced that "Green Bucks" are ready for the Farmer's Market at Clasky Common. Green Bucks are distributed to low income families thru several New Bedford non-profits.
Dartmouth Rotarian Connie Monopoli brought an 'ornament' that her club has been producing for a fund-raiser. Scenes of Dartmouth is the theme. Pres Bob suggests that we might look into something similar for our club.
Great orater Alan read Carole's collection of "thankful" lists, complete with his usual flair! Several Rotarians expressed their thankfulness of a host of things - Quite interesting, to be sure!
Word has been received that thanks to the efforts of Michelle Lapalme, Verizon has donated $750.00 to the RCNB account with the Community Foundation. As an employee of Verizon Michelle was able to direct her volunteer incentive contribution to any non-profit organization, and she thankfully, named us! Thank you Michelle and Verizon!
Treasurer Nancy has an urgent request - Rotarians will now have choice of dues statements being billed either semi-annually (as now) or annually, if they would like. She needs to know by next week if you would like to take advantage of the annual option. Thanks!
$65 Happy $$$$'s raised today were donated to Salone Health Services! How 'bout that?
And Finally
(Aren't you glad)... A young man just out of college sought the advice of a hard-headed ans successful businessman. "Tell me, please, how should I go about getting a start in the great game of business?". "Sell your wrist watch and buy an alarm clock," was the laconic reply.
Orren Robbins
GAM Editor