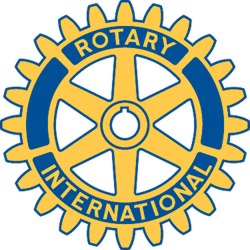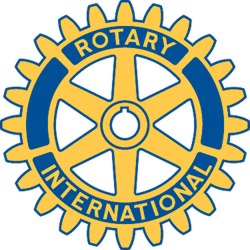 Rotary Club of New Bedford, MA - Weekly GAM
GAM...A nautical term describing the exchange of news between vessels departing from and returning to their ports...
2009
This Week
If you're one of the members missing at Wednesday evening's 'change of command' event, you missed a doozy! Great fellowship, delicious food (no cookies - cake and ice cream - yum!), prizes and surprises, several songs sung with piano accompaniment, a bit of humor, a lot of guests, a serious induction of officers and board members, and spectacular performances by out-going Pres. Sarah, and incoming Pres. Bob! All this, and we finished right on schedule, too.
President Sarah was gracious in her step-down speech. She thanked all of the Club members for their support and presented each member with a gift of a very nice glass, Rotary emblem embossed memento. She presented Stu and Tom with Paul Harris Fellowships, recognized all officers and directors with certificates of appreciation, acknowledged all 100%-ers with attendance awards, gave a nice gift to Stu Lawrence for his outstanding fund-raising service, gave a small photo album to OBR with pics of his Percy Hodgson Award event,.... and...(Trumpet please)... awarded Rotarian of the Year recognition to Kevin Inkley.
OBR, as Master of Ceremonies, inducted all officers and directors - Board members Linda Silviera, Carole Johnson, Paula Freitas, Alan Freitas, Tom Riley, Peter Ashworth and OBR. Community Foundation Board members Rich Medicke, Kristen Morgan, Paula Borges, Dan Suprenant, Mark Treadup and Linda Silviera. Treasurer nancy Wood, Secretary Michelle Lapalme, vice-president Kathy Castro, president-elect David Biggs, and Immediate Past President Sarah.
Then the podium was turned over to Bob Smith's wife Carolyn, who formally inducted him as President. Carolyn, as a past president herself, gave him a much needed gift of a 'circular file' to help him ease into the job. Bob's acceptance speech was a good indication that our Club is in for a very exciting Rotary year under his leadership. He expressed thanks to his wife, and emotional appreciation to a few of his mentors including the late Dennis Cabral and Jim Haskins.
Gifts of recognition to Immediate Past President Sarah, presented by Bob, were her Past President Gavel Plaque, and a little Mickey Mouse holding a gift certificate for her and her family when they visit Disneyland later this year.
The GAM will recognize all 100% attendance members in next week's edition.
Next Week
Incoming President Bob will be in command and outlining his goals for the coming year. Special new Rotary pins will be passed out to officers and directors at this meeting, too.
Odds & Ends
OBR, as chair of Pres Bob's 'Recognition Committee', needs your birth date - month and day only - you may keep your year to yourself if you wish. I've got most, but ask those of you who have not yet responded, to please do so. Thanks!
Oh, by the wzay, thanks too go to Dorothy Cox for providing Rotary Emblem chocolate candies to everyone in attendance on Wednesday.
And Finally
In honor of our new president I will forego my 1930' humor just this one week and replace it with:
A state trooper pulled over an old yankee speeding along in his pick-up truck. Approaching the driver's window he asked "Got any ID?" To which the driver responded - " 'bout what?"
Orren Robbins
GAM Editor