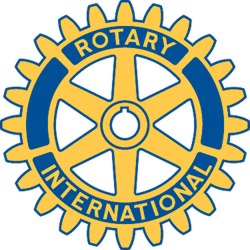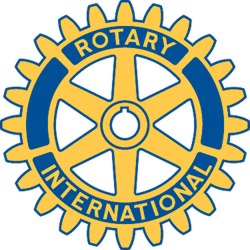 Rotary Club of New Bedford, MA - Weekly GAM
GAM...A nautical term describing the exchange of news between vessels departing from and returning to their ports...
2009
This Week
Mixed emotions abounded with Sarah's last Presidential meeting carrying a mixture of her joy on completion of her term, sadness that her enthusiastic leadership and warm personality would be missed; anticipation of Pres-elect Bob's forthcoming iron-fisted rule, and excitement about the future of the Rotary Club of New Bedford as we begin Rotary year 2009-2010 in just a few days.
With Stu being AWOL, the right reverend Alan Freitas stepped up to do the invocation, and gave us another of his thoughtful sermons from the mount! Nice message, Alan.
Member recognition gifts were presented by Pres. Sarah to: Ellen Gitlin and Carl Soares upon their 6th anniversary of membership; Ron Melbourne on his 7th, and Tom Riley (in abstentia) on his ?th.
Today's program was an informative and compassionate look at Health, Pure Water and Literacy for Cambodia, presented by Wakefield Rotarian Dr. Chris Van Hemelrijck. He reported on a project to improve conditions in Cambodian rural areas where 65% of the population do not have access to clean water. The project was started in 2002 by Middletown Rotarian Gunther Hausen, and continues to be a joint project of Middletown and Wakefield Rotarians. Under the belief that "clean water is a human right, not a luxury", a goal of installing 7,500 Biosand Water Filters serving 150,000 Cambodians is about 1/3 complete at this time. For more info go to www.waterforcambodia.org . Jumping on the bandwagon, Happy $$$'s today raised over $100.00 given to Dr. Hemelrijck - enough to purchase two Biosand Water Filters for this project.
VISITORS AND GUESTS - Geneva Anthony was with us again today, and of course our Rotarianette Alzxea Rae was there with mom Michelle.
Coming Attractions
YMCA fund-raising Sock Hop, 6-9PM on Saturday, June 27th, in support of their Scholarship and YMCA Cares programs. More info at dheim@ymcasouthcoast.org
Next Week
President-elect Bob Smith and his team will be inducted in a not-to-be-missed evening event at the Cafe Funchal. Festivities start at 5:00 PM with a social hour; dinner at 6:00 PM, and program starting at 7:00 PM. An accurate head count is needed by Monday, so still time to sign up if you havn't yet RSVP'd. Don't forget, Pres-Elect Bob is still looking for committee volunteers. Let's don't let him down. See you there!
Odds & Ends
Pam is still plugging Father's Day Sock Drive being held by Gifts to Give. Bring new socks to her at Rotary if you would like to help.
And Finally
"How did you get on with Jeanette?", asked Dick. The ardent young lover sighed. "I started off well", he said. "I told her I was knee-deep in love with her". "Sounds alright", said Dick. "What was her reaction to that?". The young suitor grimaced. "She promised to put me on her wading list", he replied.
Orren Robbins
GAM Editor