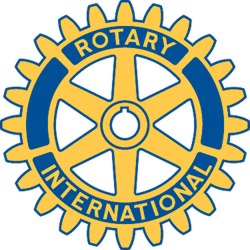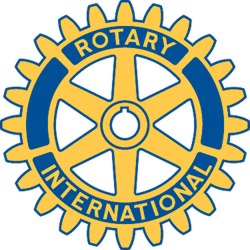 Rotary Club of New Bedford, MA - Weekly GAM
GAM...A nautical term describing the exchange of news between vessels departing from and returning to their ports...
2009
This Week
Today's meeting - Pres.Sarah's 'next to last' (although I believe that incoming Pres. Bob, while being inducted on 6/17, does not actually take over until 7/1), was a fun-filled, and fact filled event.
Our speaker, Scituate (MA) Rotarian, Dietrich Bilger, Dist. 7950 Menbership Committee Chair, took a closer look at Rotary membership and retention problems and solutions, in a well thought out presentation. Dietrich, who also serves as ADG for area #4, grew up in Germany , and first learned about Rotary through the Rotary Youth Exchange Program, an experience that shaped his decision to move to the USA.
He complimented the RCNB on the quality of our web site, and noted statistically that clubs of our size are in a good position to be effective in the area of membership and retention.
His main message was that new member candidates need to be made aware of commitment to, and opportunities afforded by, affiliation with a Rotary Club. It is important to make a 'contract' with new members by tying their interests in with ours, to increase the value of the time involved in being a member. He encourages membership and retentions committees made up of different members for maximum effect.
VISITORS AND GUESTS
We were joined today by Geneva Anthony, who became interested in Rotary after visiting the Dist. 7950 web site. Genevva is a mortgage broker.
Alan was accompanied by his wife Joy - both looking rested and tanned agter logging a couple of weeks in the Caribbean.
Pam brought two visitors - Jim Stevens and Rev. Russ Chamberlain, representing "Gifts to Give" - a non-profit community serive organization located in the 21 Cove Street Mill, dedicated to "connecting students to giving and volunteer service; and tto giving immediate help to kids who need basic essentials." Gifts to Give is holding a Father's Day Sock Drive, suggesting donations of socks to their cause as a gift in their father's or grandfather's name. For more info call 508-717-8715.
Coming Attractions
Stu Lawrence reminded all of the United Way Clambake with Lobster being held on the waterfront June 12th. Tickets still available.
Pres-elect Bob's induction at Cafe Funchal on June 17th. Please RSVP ASAP if you havn't already. Bob also needs some volunteers to help with set up on the 16th. Let him know if you can help.
Next Week
A power point presentation by Wakefield Rotarian Dr. Chris Van Hemelrijck, on Pure Water and Literacy for Cambodia. He has traveled twice there in support of this project since becoming involved two years ago. A very good opportunity to get a closer look at the world-wide value of Rotary.
Odds & Ends
Carole put in a final plea for "Thankful" lists before she prepares her compliation of things for thanks planned for June. Please e-mail her with your list.
Pres Sarah recognized OBR again for his Dr. Percy Hodgson Memorial Award presented last week, and another round of applause for "O" followed. Later on in Happy $$$$s, in the on-going battle of humor and poetry, OBR read his ODE TO JOY, AND ALAN ALSO, response to Alan's ODE TO ORREN read at last weeks meeting. More to come on this, I'm sure!!!
Good to See Carl after a period of absence.
And Finally
The spinster pooh-pohed anyone who suggested that it was too bad she didn't have a husband. "I have a dog that growls, a parrot that swears, a fireplace that smokes and a cat that stays out all night. Why should I want a husband?"
Orren Robbins
GAM Editor