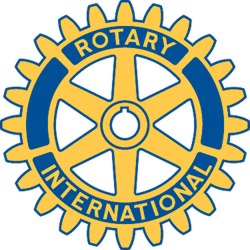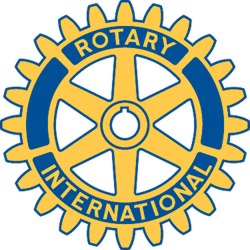 Rotary Club of New Bedford, MA - Weekly GAM
GAM...A nautical term describing the exchange of news between vessels departing from and returning to their ports...
2009
This Week
.... was a whirlwind of activity that I'll try to cover as compactly as possible. Things were moving so fast that I suddenly realized that I had taken no notes, so:
To begin with, the attendance today was the largest since the Wine Tasting on April 2nd with visitors and guests galore. There were several folks representing the District, including (to my surprise) DG Steve Silverman (and wife Amy Jo) - Steve looking pretty darn good for a new member of the "zipper club"; DG-elect Terry Humfreys, and past DGs Terri Fitch, Ann Williams and Dave Clifton. Add a few people from the Downtown New Bedford community, the United Way, the just plain "good old days", and some visiting Rotarians, and you have the setting for an action packed program of awards and presentations.
1st - Rich Medicke was presented with a Multiple Paul Harris Fellowship pin, in recognition of his strong support of that Foundation program. He was congratulated by the entire Disrict team present. 2nd - Ron Melbourne and Bob Smith (in abstentia) were given DVDs of speeches made at PETS. 3rd - Pres. Sarah accepted District awards for our Club; for "Community Service" (based upon our support of the YMCA garden project), and for "Membership Growth" (based upon our net gain of 7% during her term).
And last, but not least, your's truly, OBR, received the very prestigeous Dr. Percy Hodgson Memorial Award "For Continuous and Exceptional Service to Club and District", receiving a standing "O" from the crowd. This award has been given by the District since 1990. Amond the visitors were seven previous recipients including the Terri with the "I" and the Terry with the "Y". For more, check out the NB Rotary website photo album section.
Coming Attractions
As noted earlier - New Bedford Bay Sox season opener will be a Paul Walsh Field at 6:30 PM on June 4th. If you are a baseball fan, you will find this level of the game very exciting.
United Way Clambake with Lobster, Friday June 12th down at the waterfront.
DG-Elect Terry Humfreys induction on June 16th = Let Bob know if you'd like to attend.
Pres-Elect Bob's induction at cafe Funchal on June 17th - RSVP ASAP if you havn't yet.
Next Week
Our program for June 3rd will be presented by District membership chair, Dedrich Bilger, on "How to increase membership".
Odds & Ends
Overheard - "Always nice to be looking down at the green grass, not up at the brown roots"
From afar - Alan and Joy sent along a poem "ODE TO ORREN" including their best wishes from the Caribbean. We'll probably read this again to the members, along with OBR's response.
And Finally
An awful bore, learning that a young lady was going to another city, asked: "What motive is taking you there, my dear?" "I believe that they call it a Locomotive", was her reply!
Orren Robbins
GAM Editor