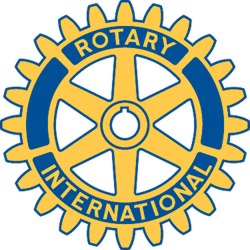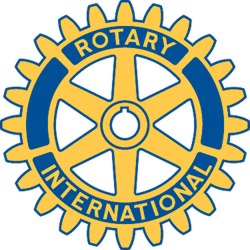 Rotary Club of New Bedford, MA - Weekly GAM
GAM...A nautical term describing the exchange of news between vessels departing from and returning to their ports...
2009
This Week
"Take me out to the ballgame" was the colorful, optimistic, exciting presentation by Robin Wadsworth, owner of the New Bedford Bay Sox, one of the top teams in the New England Collegiate Baseball League, that will be making New Bedford it's home starting this June. The Bay Sox home field will be Paul Walsh Field at New Bedford High School for the next two years, and anticipate a new stadium and ball park to be built for the 2011 season. Ms. Wadsworth noted that she is no new-comer to Rotary, both of her parents being past presidents of Rotary Clubs. "Spread wht word" was a strong part of her message - a minor league baseball team is a great benefit to its home community, bringing a new experience that enhances the opportunities for exposing youth to the high standards of college baseball.
She also made an appeal to Rotarians to help by becoming "host families" offering lodging and a few meals to the Bay Sox players in exchange for season tickets for all family members and other rewards. The Bay Sox, formerly the Torrington Twisters, have been in the NECBL since 1977. In that time 144 former players have gone on to play professional baseball. What an opportunity for your children to get to know players who will someday be world famous!!
Much thanks to Julie Lariviere for arranging this wonderful presentation to our Club.
VISITORS AND GUESTS - Dan Pothier; and Jennifer Costa. Dan, a financial services representative with the Legacy Financial Group of Westport, has been posted for membership. Jennifer is a marine biologist, affiliated with the Ocean Explorium, and just might become a Rotarian too.
Coming Attractions
Pres. Sarah announced that the Rotary Group Study Exchange team from Russia will be visiting with us on May 6th. She and Ellen are working on plans for activity for the group. Your input is invited. More on this later.
Next Week
Another extremely interesting presentation that you won't want to miss is in the works. Whaling City is planning a feature film project about New Bedford and it's fishing and marine sciences industries. Learn all about it on April 15th -right before (or after) you get your tax returns in the out-going mail.
Odds & Ends
Other important news from today's meeting -
WINE FESTIVAL - Stu Lawrence gave his latest update on the Wine Festival results, expressing extreme thanks of this committee and workers for their valuable assistance in overseeing this importnat event. To date 314 tickets have been accounted for , and it is anticipated that there are others still not reported and paid. With final results not yet completed, it appears that the silent auction produced a profit of $4800 - The raffle of a Dorothy Cox basket brought in $400. Total income a present is $19,300 with expenses at $3,560 leaving a net profit of $15,773 as of this report.
PAUL HARRIS FELLOW - One of the highlights of today's meeting was the pressentation of a Paul Harris Fellowship to Bob Bogart by Kevin Inkley and pres. Sarah. Paul Harris Fellowships are bestowed upon Rotarians who have donated $1,000 to the Rotary Foundation. Bob has been promoted, and will be working away from the New Bedford area - we thank him for his service and wish him well. He will be missed.
And Finally
A tourist in the mountains of Tennessee was talking with an old mountaineer who complained considerably about hard times/ "Why, man," said the tourist, "you orta be able to make money shipping green corn to the northern market". "Yes, I orta", was the sullen reply. "You have the land, I suppose, and can get the seed?" "Yes, I guess so." " Then why don't you do this?" "No use, stranger," sadly replies the cracker, " the wife's too lazy to do the plowin' and plantin'. "
Orren Robbins
GAM Editor