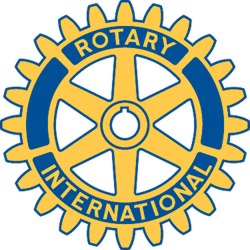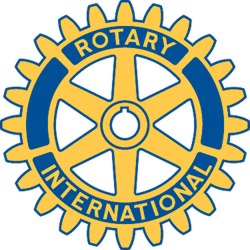 Rotary Club of New Bedford, MA - Weekly GAM
GAM...A nautical term describing the exchange of news between vessels departing from and returning to their ports...
2009
This Week
A busy day for sure and another full house, as the days dwindle down until our April 2nd Wine Festival event at the Cafe Funchal. Stu reported that to date 318 ticket sales had been confirmed, and he's still hoping for more in an effort to exceed last year's attendance. It was noted that we are still short of silent auction items. This is a pure profit part of the event, so members are encouraged to make a last minute effort to contact last year's donors. Tara and Holly are heading up that project and need to be kept informed on progress as they prepare bid slips for the various items.
OBR brought two doll houses today to be added to the auction list, and the Celtics signed basketball has been confirmed, too.
Pres. Sarah, in her monthly recognition of Rotarian's length of service anniversary, awarded gifts to month of April inductees Peter Ashworth, Ron Kierstead, Julie Lariviere, Pam Maloney; and in a special acknowledgement singled out OBR who celebrates his 38th anniversary - having joined Rotary in April 1971 at Plattsburg, NY - presenting him with a delicious cake shared for dessert by all the members.
OUR PROGRAM, presented by Greg Deems of In Control Advanced Driver Training, was a lively and informative look at Massachusetts drivers, and the dangers that inexperienced drivers face every day, and the danger that they present for the rest of us. He noted that Massachusetts drivers are acknowledged as some of the worst in the world - high in tailgating and road rage, and absolutely lowest in the Nation for seat belt use - and explained several often misunderstood mistakes made by inexperienced drivers. Since most driver's ed programs are not extensive enough, IN CONTROL is in business to fill that gap and help reduce the hazards of the highway for all of us. Another very good program brought to us by Pres-Elect Bob.
VISITORS AND GUESTS; Becoming a "regular", we welcomed Dan Pothier; and also, not seen for a while, Fall River Rotarian Russ Guerierro.
Next Week -
Wednesday, April 1st - our meeting will be held at the Cafe Funchal, 123 Church Street in the City's North End. This will be an opportunity to become familiar with the Wine Festival setting in prep for our event the next evening. NOTE - THIS IS NOT - REPEAT NOT - AN APRIL FOOL'S ITEM.
Odds & Ends
Pam reminded us that April (and October) are Autism Awareness months - urging members to continue to support that group.
The combined NB, Fairhaven and Dartmouth Rotary Club food drive is underway. Drop off boxes can ge obtained from Pres. Sarah. Our "green" vegetable donations today were quite plentiful.
Pres-elect Bob held a 50-50 raffle - won by Julie, who very graciously donated the whole $13.00 of her wind-fall back to the Club.
Carole has asked me to remind you of the "thankful" lists that she has encouraged. We've all got lots to be thankful for, and need to give them acknowledgement more often.
You've probably noticed that there are no longer boquets from Pierce the Florist being delivered to our meetings each week. Sad to say, that company has closed, and thus we say a final goodbye and God Bless - to former member Charlie Wheeler.
Quick note - Pres-Elect Bob has scheduled the 2009-2010 officers and directors installation meeting for June 17th at the Cafe Funchal. Mark your calendar.
And Finally
Overheard at a street corner in the British election: "What's this here election aboot, onyway?" "It's the Government canna carry oot the thingamajig withoot a clear whatdyacall it. And, unlss the thingamabob is put ritch the hale thing will bust up. Hae ye no heard aboot it?" "A'd heard aboot it, but A didna ken ony details 'til the noo."
Orren Robbins
GAM Editor