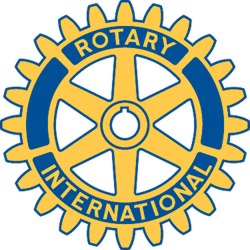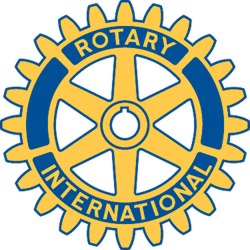 Rotary Club of New Bedford, MA - Weekly GAM
GAM...A nautical term describing the exchange of news between vessels departing from and returning to their ports...
2009
This Week
Not an empty seat in the room at today's meeting - a good sign that warmer weather will bring out Rotarians every time - this crowd despite missing David, Kathy, Ellen, Nancy, Rich, Linda, and Michelle, just to name a few!
Pres-Elect Bob reported on his experience at PETS last weekend, noting that in his 14 years as a Rotarian, this was the best learning experience that he had ever been exposed to. For a brief look at some of the best that he heard, check out his two summary articles on our Club's web site.
VISITORS AND GUESTS - We were glad to see Dan Pothier of Mass Mutual back with us for the third visit; and what a surprise and pleasure to see Michelle LaPalme arrive with her little basket of joy, our newest and smallest Rotarian, Alexa Raye who is now two months old!
Today's program was a colorful and informative presentation by Jeff Croll, president of Deep Blue Discoveries. Jeff, who's first visit to a Cape Cod beach as a child fired his interest in this field, took us under the waters of Pleasant Bay and Nauset Beach for a close look at the balance of flora and fauna that make up the health and beauty of our waters. Deep Blue Discoveries is primarily designed to help students understand the complex relationships between water and marine life, stressing the need for all of us to protect those wonderful resources. When you realize that 70% of our planet is water, and 90% of that water is ocean, and that only 20% of that ocean has been explored, you can see the need for further understanding of our underwater world.
Next Week
You may want to bring your teen-age child (or grandchild) to Rotary for exposure to Greg Deems, and his program In Control Advanced Driver Training. This will be an interesting presentation, I'm sure, and one you will be glad to be present for.
Odds & Ends
Plans for our 15th Annual Wine Tasting event on Thursday, April 2nd, are progressing well according to Stu's report. Cafe Funchal has been extremely cooperative and having the function there will make the work of our members, and the cost to our Club, much simpler and more economical. 280 tickets have been reported as sold so far, so there's still a lot more to go to meet our goals. Auction items are needed, still. An interesting note - Stu reported that Julie Lariviere has been able to secure a basketball signed by all of the Boston Celtics! What a wonderful and exclusive auction item that will be. Good work, Julie!!!
FOOD DRIVE REPORT - The joint food drive project with Fall River and Dartmouth Rotary Clubs, scheduled for March 22nd thru April 4th, is firming up. Food box deposit locations are needed if this is to be successful. If you work in a spot that has foot-traffic, and will be a drop off spot, let Pres Sarah know ASAP. Rotarians are urged to begin the effort by bringing cans of green vegetables to the meeting next week.!
Pam has made an appeal to Club members to support her Pulaski School PTO by dining at UNO Chicago Grill on April 9th. 20% of your purchase will be donated to the PTO. Pam has coupons that must be used for the event.
Bob Bogart reports that he has been "promoted" to a management position with his company, and will no longer be working in New Bedford, so will be looking to join a Rotary Club closer to his Plymouth home. We wish him well and expect to see him from time to time as a visiting Rotarian.
And Finally
"It's a strange thing, Jim", said the farmer to one of his hired hands,"yer allus late of a morning and yer living right on the farm. Now Bill Brown, who lives two miles away, is allus on time". "There's nothin funny about that", retorted Jim. "If Bill's late in the morning he can hurry a bit, but if I'm late, I'm already here!"
Orren Robbins
GAM Editor