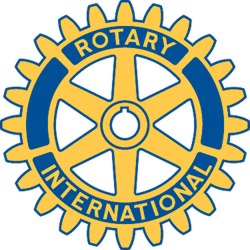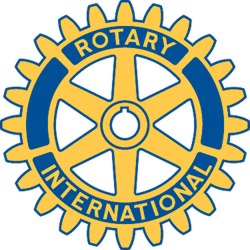 Rotary Club of New Bedford, MA - Weekly GAM
GAM...A nautical term describing the exchange of news between vessels departing and returning from their ports...
2009
This Week
We had what seemed to be one of the busiest meetings of the year with things coming at me so fast I had trouble keeping up with my notes, so you'll have to bear with me as I try to put things together to give you a full report.
Pres.Sarah's first order of business was to praise Holly, our attendance chairperson, giving her credit for doing a very good job of handling a very important (and sometimes hectic) job. She did mention that Tom (our recent handler of that role) also deserved some recognition.
Next in line for kudos were present and past Chief Ding-A-Lings - Paula and Linda - for their work with the Battle of the Bells which led to our Club's receipt of the "winner's" plaque from the Salvation Army last week.
Then off to recognize Rotarians on their anniversary of service - with gifts of goodies going to David Biggs, Michelle Lapalme, Jim Oliveira and Marc Shpritzer, all who wer inducted in Februarys past.
The final ten winners of our January Calendar Raffle were drawn with prizes going to Brenda, Jeffery, Jan, Mark, Gary (twice), Leah, Carolyn (also twice), and Jason & Judy. Big winner of the $500 prize was non other than (Fall River Rotarian, wife of Pres-Elect Bob) Carolyn Smith!!!!! (Bob was not there, so no shenanigans were in play.)
Our newest member, Bob Bogart, was inducted with flair and sincerity, by OBR. Bob certainly must be the only Rotarian in history to be recognized as a Paul Harris Fellow, and inducted into Rotary just a few minutes later. Kevin Inkley had earlier announced that his first team of five members had paid their $200 (each) to the Rotary Foundation, and Bob Bogart's name was drawn to receive the first Paul Harris recognition of that group. Very appropriate!
Our program this week was presented by Jennifer Costa, marine biologist with the Ocean Explorium, who gave us an interesting up-date on the Explorium's progress since it's inception in the early '90's. Noting that 18,000-plus people had been visitors to, or recipients of, the wonders of the world of the Explorium during calendar 2008, Ms. Costa explained their role in bringing ocean science to the New Bedford area through their educational outreach, school field trips, the WOW Mobile, Ocean Voice lectures, and Project Oceanology boat trips. If you havn't been to the Explorium recently, it's time to re-visit and see the new exhibits and positive changes that are taking place. Check them out at www.oceanexplorium.org>
Odds & Ends
Stu Lawrence reported on a very well attended Wine Tasting meeting held just before our regular luncheon. This is a major fund-raiser for our Club - THE MAJOR FUND-RAISER ! Stu urged Club support in securing Silent Auction items (minimum $50 value, if possible), getting sponsors and selling tickets. Our goal this year is to have 400 people attend.
Kathy Castro thanked the Club for it's contribution to the Poetry & Popcorn event scheduled for the Lawler Library on Feb. 24th, and invited all to attend this event to suppor the students poetic efforts. Three cash prizes will be awarded youth poets compliments of the Rotary Club of New Bedford. There is no charge to attend.
Linda Morad, put in a plug for the YWCA Red Dress Fashion Show at the Century House that same evening. More on this later.
Alan and Kathy, announced plans of the fellowship committee to hold an event in July with dinner and a play at the Zeiterion. The opening night of the Festival Theatre presentation of 'The Producers' will be the occasion.
Ballots still need to be turned in - Your vote is encouraged for the officers and directors listed, and your response to Question #1 requested. Please get ballots to Sarah next week.
And finally - aren't you glad?
The more we study, the more we know. The more we know, the more we forget. The more we forget the less we know. The less we know, the less we forget. The less we forget, the more we know. So why study?
Orren Robbins
GAM Editor