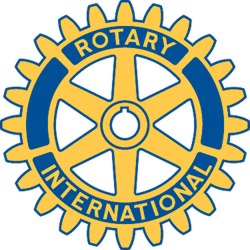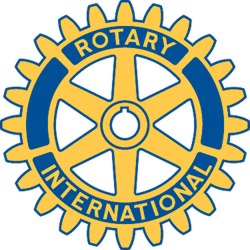 Rotary Club of New Bedford, MA - Weekly GAM
GAM...A nautical term describing the exchange of news between vessels departing and returning from their ports....
2009
This Week
Today's meeting at the Salvation Army HQ was well attended with at least 2/3rds of our Club in attendance. It was also a traditional "Thank You" feast prepared by Riccardi's with ample helpings of salad, lasagna, meat balls, sausage with onions and green peppers, marinated chicken, rolls, coffee, fruit punch - and brownies, and chocolate cupcakes, and yellow cake, and chocolate cupcakes, and yellow cake, and brownies, and brownies, and yellow cake, and, oh yes, I already said that, didn't I !
Salvation Army Board Chair, Alf Carroll, welcomed the hundred-plus attendees - calling attention to the statistical data provided in the program with special emphasis on the dramatic increase in 'children served', 'total served', and noting the dramatic decrease in numbers of volunteers, but the significant increase in total revenue, thanks to better 'kettle income' and Standard-Times Neediest Families Fund support. His message also stressed the need for more volunteers - more volunteers - more volunteers!
Capt. Gilbert Parkhurst, Corps Officer, presented recognition awards to all of the community organizations that assisted in the annual bell ringing competition, to volunteers and staff - the most significant (it seemed to us), coincidentally, being the Rotary Club of New Bedford. gracefully accepted by Pres. Sarah.
Special guest, Major William Bode, Massachusetts Divisional Commander, added his words of thanks and praise to the New Bedford Salvation Army Corps and the thousands of volunteers, stressing the importance of all of our support and describing the volunteers as "the army behind the Army"!
Almost forgot.... there was a brief moment at our table when 'he who will not be named, trying to impress (and I think he did) those who will not be named' did a small balancing act, reminescent of one that took place at the "back table" at the Wamsutta, many, many years ago, but still etched in the minds of some of our "oldies".
Next Week
Our program will be presented by the Ocean Explorium. It will be most interesting to learn of the progress this organization has made since our visit to their Union Street site last year.
IMPORTANT NOTE - There will be a meeting of the Wine Tasting Committee at 11:30 AM prior to our meeting (Wednesday, Feb. 11th). Any Rotarian interested in serving on this committee, or being involved in any way in this important fund-raiser, is urged to attend.
Odds & Ends
You should have received by e-mail, a copy of the ballot for our annual election of officers and directors. This ballot will be officially voted on at our meeting on Wednesday, February 11th. If you will not be at the meeting, please submit your vote by e-mail or via a friend so that we can be certain that a true majority has been represented. There is still opportunity for nominations for a couple of slots. Interested folks should be in touch with pres-elect Bob Smith if interested.
Pres. Sarah has asked that the February meeting of the Board of Directors be held by telephone conference, on Friday, February 13th, at 8:30 AM. The number to dial to participate is 877-930-8218, and the pass code is 8932213. This should be a relatively short session with just a couple of items to be dealt with.
And Finally
A delimma - Tell us this - "Does a doctor doctor a doctor according to the doctored doctor's doctrine or doctoring, or does the doctor doing the doctoring doctor the other doctor according to his/her own doctoring doctrine?" Hmmmmm?
Orren Robbins
GAM Editor