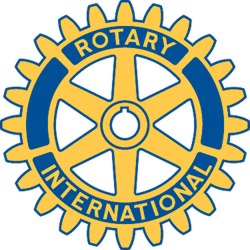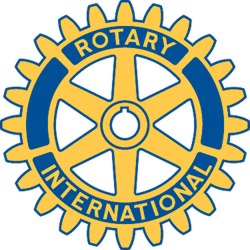 Rotary Club of New Bedford, MA - Weekly GAM
GAM...A nautical term describing the exchange of news between vessels departing and returning from their ports...
2009
This Week
Our scheduled speaker was unable to attend, but a surprise visit by several members of the Rotary Club of East Greenwich, Rhode Island, provided us with a very inspiring event that was a complete replacement, as visiting Rotarians Jane Boynton, George Popella and Bill Ten-Eyke took this opportunity to present our Kevin Inkley with his fifth Paul Harris Fellowship recognition. George Popella became MC, outlining 'Bulldog" Inkley's dedication to Rotary and the Rotary Foundation in his nine years of membership, and did a masterful job of expressing the value of Paul Harris contributions to the Rotary commitment to saving and chamging lives. FYI, the East Greenwich Club has over 100 members who have earned Paul Harris recognition over the past several years.
Kevin also gave a brief update on his EREY project, noting that he still has the need for one more person to join his $200 per year commitment to the Rotary Foundation and Paul Harris recognition.
Pres. Sarah also took the opportunity today to recognize NBRC members for their years of service: Alan Freitas, 18; Mark Treadup, 21; Stu Lawrence, 20, Linda Morad, 5; and Michelle Hantman,6; all receiving their sweet rewards.
.....and one more visitor, to be recognized, Bob Bogart!
Coming Attractions
Don't forget that our February 4th Rotary meeting will be at the Salvation Army HQ.
President-elect Bob noted that District 7950 Pre-Pets would be held at White's on Saturday, January 31st. While this is primarily training for incoming officers, any Rotarian who would like to learn more about Rotary can attend. Talk to Bob if you are interested.
Next Week
Pres. Sarah has announced that a Club Assembly will be the program. Club Assembly, for the benefit of new Rotarians, is a kind of business meeting that involves the entire Club membership rather than just the Board of Directors. Always an interesting and informative gathering.
Odds & Ends
Raffle winners announced today - all winners of $50.00 - Rich Rodriques, Joe Hannify, "my sister-in-law", Ida Andrade, Tara Pacheco, Jill Gamache and Maggie Berry. Congratulations to all!
Club elections will be held within the next couple of weeks. Pres-Elect Bob notes that there is still one Director opening to be filled. Let Bob know if you would like to be on the ballot.
Stu Lawrence gave a brief update on the Wine Tasting event. Things are firming up with Cafe Funchal, and looking good for that location. Time for all to hop on board, sign up for the committee, get silent auction prizes, plan ticket sales, etc.
Apparently inspired by our visitor's Paul Harris event, Happy $$$s reached $60.00 today!
The GAM apologizes to baby Alexa Rae Oliver for mis-spelling her middle name last week!
And Finally
On a personal note - on Thursday, I went to Paul Welch's wake. The McDonald Funeral Home in North Weymouth is in a far off the beaten path location for us non-Weymouthians - six or seven twists and turns on completely unfamiliar streets, a total of about five or more miles off of the nearest major highway - I made only one wrong turn. My goal was to be back home before dark, so I did not stay long at the funeral home, and soon was on my way back through the labyrinth - only this time, I took three wrong turns and finally had to stop and get directions. The point of this story is that when I was about a mile and a half from home, with darkness setting in quickly, my XM14 radio station played "Gone Home" , an old gospel tune that so appropriately reflected the feeling about Paul that I had when talking with his wife Bobbie and his children. Message? Had I not gotten lost, adding several minutes to my trip, I would have been home - out of my car and in my kitchen - never hearing that song that so spiritually ended my journey. Hmmmmm???
Orren Robbins
GAM Editor
I didn't forget.... . Professor - "Name two pronouns." Student - "Who, me?"