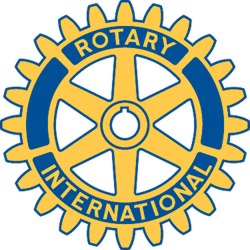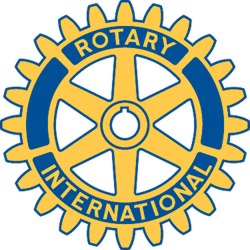 Rotary Club of New Bedford, MA - Weekly GAM
GAM...A nautical term describing the exchange of news between vessels departing and returning from port...
2009
This Week
Our speaker was New Bedford School Superintendent Dr. Portia S. Bonner, a bright and confident woman, who though new to the job has a wonderful grasp of, and a unique prospective for, the New Bedford School system. Dr. Bonner outlined the goals and vision of the school district stressing the need to provide students with the opportunity to not only progress academically, but to gain character and confidence proficiancy, too. She outlined a plan to provide students from different ethnic backgrounds with intimate connection with their heritage by way of starting "sister city" programs with as Cape Verde and others, as an opportunity for first-hand exposure to their roots. She thanked the Rotary Club for its support through the contribution of scholarships and other involvement with the school system. A complete look at the vision for the NB School system can be seen on the school's web site.
VISITORS AND GUESTS - Toni and Lisa, made their last visit as guests, and their associate Bob Bogart joined us too. Other guests were Dianne Cloutier, guest of Peter Ashworth, the Reverend Kenneth Beres, Senior Pastor of the First Congregational Church of NB, and Fairhaven Rotarian Jay Simmons.
Pres. Sara beamed with pleasure as OBR had the honor of inducting two new members to out Club - Toni Arsenault and Lisa Faria, both sponsored by associate Kevin Inkley, were inducted today. Please be sure to meet these new members and make them welcome to our Club.
Coming Attractions
Mark your calendar - Wednesday, February 4th, we meet at the Salvation Army for a Million $$$ Meal at their annual volunteer recognition luncheon.
Next Week
Our program will be be a speaker from the New Bedford Board of Health.
Odds & Ends
Lots of o's & e's to report today. 1st - In case you somehow missed it - we welcome newest (an littlest) Rotarian, Alexa Raye Oliver, delivered by Michelle earlier this week. Mother and daughter doing fine!
2nd - Dues are due! - Treasurer Rich passed out semi-annual dues statements today. If you were not present, you'll get yours in the mail soon.
3rd - Stu Lawrence reported that (barring any unforseen complications) it looks like our spring Wine Tasting event will be held this year at the Cafe Funchal in the North End. Members are encourage to begin soliciting silent auction items in support of this, our biggest annual fund-raiser. More on this later.
4th - A brief report of our Tuesday board meeting - In addition to routine business, the board approved contributions of $1,250.00 to the New Bedford Public Library "Teen Room" project; $500.00 to the United Way Community Mini-Grants Program; and $100.00 to the Community Boating Center.
5th - Calendar Raffle prizes for the second seven winners were drawn with prizes going to M. Beneski, Brian McShane, Susan Morad, Florence Morad, Tom Reily, Kathy Castro and Wendy Pimental.
6th - Kevin Inkley updated us on the Every Rotarian Every Year contributions to the Rotary Foundation project that he is working on. There's still opportunity for others to join the group that have pledged $200 per year to the Foundation in support of Paul Harris recognition. Please let Kevin know if you can join this effort.
7th - Holly needs to know if you have "made up" a missed meeting somewhere else or through a Club project. Please help her to keep accurate attendance records.
And Finally
With all that's going on I hope I haven't missed anything - So..... In closing... "I aven't had a bite for days," said a tramp to the landlady of the George and the Dragon Inn. "D'yer think you could spare me one?" "Cetainly not," bellowed the landlady. "Thank yer", said the tramp as he slouched off: but a few moments later he was back. "What d'yer want now", asked the landlady. "Could I have a few words with George?", queried the tramp.
Orren Robbins
GAM Editor