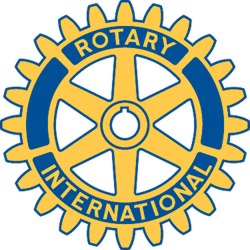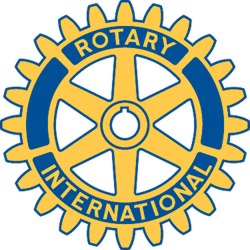 Rotary Club of New Bedford, MA - Weekly GAM
GAM...A nautical term describing the exchange of news between vessels departing and returning from its port...
2008
This Week
Today's meeting, the last one of the first six months of New Boss Sarah's Rotary year, found the room abuzz with Christmas - as North Pole visiting Rotarian, Santa Claus himself, set the tone with his cheerful chatter, and Rotarians got into the spirit by wrapping dozens of Christmas gifts for Santa to take to the Bridge House after our luncheon.
When asked for a few words by your GAM editor, Santa responded by saying - "Well, I like to say 'now Dasher, now Dancer, now Prancer and Vixen; on Comet and ....er... you other guys!" Then he added, "I also like to say Happy Christmas to all and to all a good-night! ..That's one of my favorites, by the way".
Santa was escorted to the Bridge House by Pres. Sarah, and elves Pam, Paula, Tara, Mark S., Alan, Joy and their dog, to bring the presents to the children living there. Four teen-age girls and seven little boys, some of whom had never had a Christmas before in their lives, were given gifts by Santa Claus in what Sarah describes as "an extremely emotional moment" seeing the excitement that this visit brought out in the children. In Tara Pacheco's words - "It should be manditory that everyone visit the Bridge House. It is life changing."
VISITORS AND GUESTS - In addition to Santa - former NBRC member, and PP of Fall River Rotary Club, Richard Mello; Alan's wife Joy, and soon to be Rotarians Toni Arsenault and Lisa Faria.
Odds & Ends
As you all know, there will be no meetings on Christmas Eve or New Year's Eve - Our next meeting will be Wednesday, january 7, 2009. That meeting will be our annual Yankee Swap - always a lively event with gifting and re-gifting, mystery and misery, as we exchange gifts and then exchange them again if we don't like the first one. See you then!
CLUB ELECTIONS - Pres Sarah announced that ballots for the erlection of officers and directors for Rotary year 2009-2010, will be e-mailed to club members before the end of this month. Your votes can either be e-mailed back, or brought on January 7th, when they will be counted.
......and, oh yes, it was rumored today that the Club's version of God Bless America was somewhat off key??? Perhaps we shoud have an American Idol-like competition to identify someone (or two) to fill in on those rare occasions that our regular song leader is late???
DON'T FORGET - If you have last minute floral gifts to send, locally or afar, you might want to call Pierce the Florist, 1809 Acushnet Ave, 508-995-0800 - a nice way to say "thanks" for the flowers that they give us each week.
And Finally
A man went into a butcher's shop, and finding the owner's wife in attendance, in the absence of her husband, thought he would have a joke at her expense, and said, "Madam, can you supply me with a yard of pork?" "Yes, Sir", she said. An then, turning to a boy, she added, "James, give that gentleman three pigs' feet!"
Happy Holidays!
Orren Robbins
GAM Editor