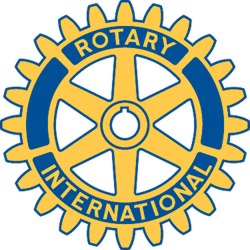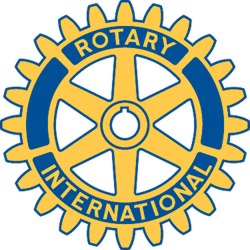 Rotary Club of New Bedford, MA - Weekly GAM
GAM...A nautical term describing the exchange of news between vessels departing and returning from its port...
2008
This Week
I don't know whether it was first seeing her mother, or seeing a room festooned with pink balloons, but it only took a few seconds for mother-to-be Michelle LaPalme, to realize that she was to be the star of today's Rotary Club meeting. President Sarah and cohorts (Michelle's mother) Judy Sirop, and Kathy Castro had pulled off a surprise baby shower for Michelle without a hint of a leak. What followed was one of the most fun-filled Rotary meetings of the year!
After lunch Michelle was given a place of honor at the head of the room, where she was presented with a 'welcome baby cake', a high chair, a stroller and a huge Teddy Bear from the club members; a classy set of high-heeled baby shoes and matching baby purse from her mon; a Gothic design doll house built by OBR, and a very, very short visit from "Doctor Alan".
To say that she was speechless would be less than accurate - her smile and hugs said it all.
VISITORS AND GUESTS: We were joined today by Celia Smith, Rotarian from Lady Lake, Florida, who is doing a reverse snow-bird act by spending her winter in New Bedford. You may remember her as Celia Tomaselly who visited with us in October, and has since become Mrs. Smith! Kevin Inkkley brought co-workers Lisa Faria and Bob Bogart. Also in attendance was Fairhaven Rotary Club president-elect Jay Simmons, and as aforementioned, Michelle's mother Judy.
Pres. Sarah gave a brief report on the success of Sunday's Breakfast with Santa event noting, as a symbol of its success, over 200 paper plates used! David Biggs reported that 150 Christmas ornaments had been made by the visiting children.
Coming Attractions
Don't forget the Battle of the Bells Saturday, December 6th. There are still a few time frame openings to be filled so those not already signed up should call Paula Freitas ASAP to arrange to help out in this important annual endeavor. Today's newspaper says it will be chilly on Saturday, so time to take out those long johns!
Next Week
Our meeting on Wednesday, Dec 10th, will be a Million Dollar Meal at the Salvation Army HQ at 619 Purchase Street, downtown NB. This is another annual community service activity - helping to unpack and display hundreds of Christmas toys and other gifts to be displayed for pick up by families served by the Salvation Army in a week or so.
...and, the following week will be the Bridge House Christmas event - wrapping and delivering gifts to children living at that home for the homeless.
Odds & Ends
Kevin Inkley reports that the Every Rotarian Every Year program in support of the Rotary Foundation is turning into a whopping success!!! Kristen, Carole and Paula have joined the group and Kevin says now all he needs is two more Rotarians to make the '$200 per year for five years' and we will have three teams which will account for a total of fifteen Paul Harris Fellows from our Rotary Club by the year 2013. If you are not committed, but are interested in learning more, Kevin will be happy to talk with you.
CALENDAR RAFFLE PROJECT - Tickets and calendars are printed and ready for sales for this important new fund-raiser. Sarah has the material needed for you to start sales - Each $10 ticket will give the purchaser 31 chances to win valuable prizes with a total value of several thousand dollars.
We have all of December to sell tickets, and daily drawings will begin January 1, 2009. (Hey, not a bad gift idea for some of your friends!)
Condolences to Michelle Hantman and her family on the loss of her Grandfather, Manuel Neves, earlier this week.
And Finally
"Who is he?" said a passer-by to a policeman who was endeavoring to raise an intoxicated individual who had fallen into the gutter. "Can't say, sir," replied the policeman, "he can't give an account of himself." "Of course not," said the other,"how can you expect an account from a man who has lost his balance?"
Dress warm on Saturday!
Orren Robbins
GAM Editor