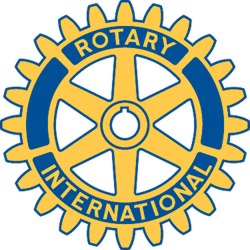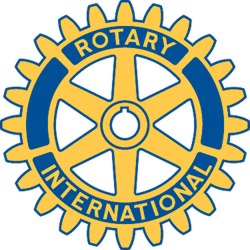 Rotary Club of New Bedford, MA - Weekly GAM
GAM...A nautical term describing the exchange of news between vessels departing and returning from its port...
2008
This Week
The room was abuzz at this weeks meeting - almost like pent-up conversations, jibes, jabs and jostles, prohibited by last weeks more staid social event - suddenly found an outing opportunity resulting in everything (fun of course) from affairs between "he who will go un-named" and the always affectionate Lola; to who knows what as the tables filled to capacity!!!
President Sarah opened the meeting by reading a very thoughtful "Thank You" letter and progress update report from Thomas Lobo-Dorsey, one of our club's scholarship winners who is attending Johnson & Wales University.
....and a "Thank You" letter from Better Community Living in appreciation for our club's donation to that organizations recent 20th Anniversary fund-raiser event.
VISITORS AND GUESTS - Kevin Inkley was accompanied by his two First Citizen's co-workers Lisa Faria and Toni Arsenault, both of whom were also his guests ar last weeks social evening.
A busy club assembly meeting began with the induction by OBR of two, count 'em TWO, new Rotarians - YMCA Director Daniel (Dan) Berry, transferring to out club from Rotary membership at Bar Harbor, Maine; and William (Bill) Yeschek, owner of Cost Recovery Financial, who recently moved to the New Bedford area. Members are encouraged to get to know these two gentlemen and make them welcome to our club.
Additional business items centered on fund-raising with a (nearly) last minute appeal to Rotarians to "sell those placemat ads and tickets" for our annual Breakfast with Santa event scheduled for Sunday, November 30th at the downtown YMCA building. Bob Smith can take placemat ads for a few more days, and members are asked that if they can not sell tickets, to please purchase them themselves to be donated to Child & Family Services or the YMCA for distribution to their clientele.
Ticket sales need to be reported to Sarah or the committee ASAP so that attendance expeectations can be given to the volunteers from the Veteran's Trsnsition House group who will be handling food preparation and service for the event.
In other biz activity, samples of the up-coming (January 2009) Calendar Raffle fund-raiser were shown as that project nears completion. Prize lists and tickets are expected to be ready by November 30th. Since all prizes are not completely firmed up, there's still room to add to the list of prizes that can be scattered among the $50 cash awards. Tickets will sell for $10 each and entitle buyer to 31 drawings opportunities. The goal is to sell a minimum of 500, and hopefully 600 tickets, to ensure finalcial success. Lynn LaBerge and Kristen Morgan are working hard at this project along with pres-elect Bob.
Coming Attractions
*** The Battle of the Bells, Saturday, December 6th. Mark your calendar - sign-ups will begin soon.
*** Discussions have started regarding our annual Christmas social. More on this shortly.
*** Plans are underway for participation again this year in Bridge House/Horizons Christmas project. This very rewarding program provides Christmas gifts for children of all ages who do not have their own homes. Santa will be on hand to ensure that these young people will be found, and will get gifts.
Next Week
Could be Steve Sedgewick, as previously reported for this week (wrong!!) = or it might be Peter Muise - or could be neither one???? Better plan to come to find out for sure.
Odds & Ends
Carole reminds us that November is Rotary Foundation month and a time to remember the need for "Every Rotarian Every Year" commitments. She uerges all to prepare "thankful lists" to share thoughts about those things that are really important to us.
Remember - No regular meeting on Thanksgiving Eve - November 26th, so all sales and prep for Breakfast with Sants need to be wrapped up by then.
And Finally
When teacher asked in what part of the world the most ignorant people were to be found, a small boy volunteered quickly,"In New York." The teacher was amazed, and questioned the lad as to where he had obtained such information. "Well," he replied, "the geography book says that's where the population is most dense."
Orren Robbins
GAM Editor