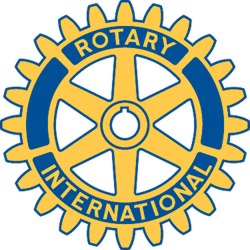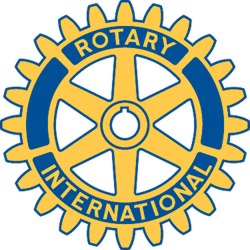 Rotary Club of New Bedford, MA - Weekly GAM
GAM...A nautical term describing the exchange of news between vessels departing and returning from its port...
2008
This Week
Wow, maybe we should go to White's more often! Another exceptional program, a turn-out of at least fifty people including several guests, and a delicious custom carved roast turkey dinner with almost all the fixin's! Just like a mini Thanksgiving gathering, made ever more so by our speaker, who coincidently, just happened to have personally been at the "first Thanksgiving" in New Plimouth away back in the year 1621.
President Sarah introduced Priscilla Alden (nee Mullins), who proceeded to give us a wonderfully interesting account of the trials and tribulations of the first New England settlers who arrived on our shores in the ship Mayflower, after an arduous two month journey from old England in the fall of 1620. Her presentation was indeed an in-depth American History 101 lesson on the founding of New Plimouth, by someone who you could easily believe lived it herself. She very artfully narrated the chronology of the religious pilgrims who moved from England to Holland before deciding that their destiny was to settle a colony in the New World. Wonderfully detailed descriptions of those early days - Tales of sickness, starvation, shortages of almost everything imaginable, interaction with those she referred to as the "naturals", and the ultimate loss of approximately one half of the original group of settlers and seamen really brought the lesson alive. Those of you who missed this very informative presentation should get yourself a book about the Pilgrims, and take the marvelous journey of the Mayflower, to get a picture of how our great USA got much of it's start! Or, better yet, take a trip to Plymouth and visit the Mayflower II and Plimouth Plantation. Priscilla Alden will be right there to welcome you.
VISITORS AND GUESTS who joined us were not officially introduced, so I'll do my best to report. Let's see, there was the gray-haired lady, the man with the GIANTS necktie and a lady with him, I believe, and a couple more that I didn't really see, and of course former RCNB member and PP of Fall River Rotary, Richard Mello.
ANNOUNCEMENTS included P-E Bob's plea for sales of placemat ads and ticket sales for Breakfast with Santa, noting that he had sold 22 ads that morning to exhibitors at the Chamber EXPO. Good idea!
Paula reported that this year's Battle of the Bells was now formally scheduled for Saturday, December 6th - mark your calendar.
Coming Attractions
If you signed up for the Rotary Foundation event on Saturday, don't forget to go to take advantage of this annual informative event.
Boo at the Zoo volunteers still on tap for this weekend.
Don't forget the Rotary Information gathering on Wednesday, November 5th, at the Wamsutta at 5:00 PM in lieu of luncheon that day. Bring a potential Rotarian to this opportunity to showcase the good work of our Club and Rotary International.
Next Week
Our meeting will be a fellowship gathering at UNO in Fairhaven at noon on Wednesday the 29th. This is an opportunity to raise a few bucks for the Rotary Foundation and enjoy a varied UNO menu and lots of laughs with your friendly fellow Rotarians. Downtown New Bedford, In. will be having it's Annual Meeting at the Wamsutta that day and business folk who attend that event will get a "make-up" credit.
And Finally
Discovering yet another mistake in his letters, the enraged employer summoned his new typist. "You came here with good testimonials, Miss Brown," he barked, "and do you mean to tell me you don't know the King's English?" "Of course I know it", she replied indignantly. "Otherwise he wouldn't be King, would he?"
Orren Robbins
GAM Editor
P.S. ...and, contrary to some (less than subtle) inferences - your's truly was not a passenger on the Mayflower.