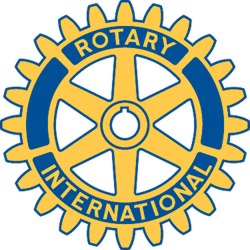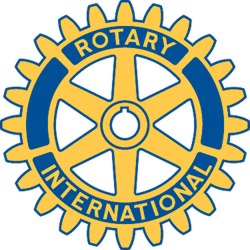 Rotary Club of New Bedford, MA - Weekly GAM
GAM...A nautical term describing the exchange of news between vessels departing and returning from its port...
2008
This Week
President-Elect Bob was at his usual peak performance level filling in for traveling Pres. Sarah getting this weeks meeting underway right on time!
Our program was a very significant message from Gloria Williams, Director of Youth Build, a community service non-profit offering support for young folks aged 16 - 24, who have not graduated from High School or obtained a GED. Gloria, self-named "oldest teen-ager in the world", spoke to us from the perspective of a teen-ager who has had difficulty getting into the mainstream and needs help in the form of a second chance at becoming a productive citizen. Youth Built provides this help by assisting young people to acquire a High School diploma or GED certificate, raising their educational level, and involving them in hands on training programs. She very passionately and effectively outlined the Youth Build program goals of helping disadvantaged youth to accquire productive skills, and to use those new skills in a positive way.
GUESTS - We're getting to be quite a popular spot for visitors, today welcoming former member Bill Reedy, YMCA's Dan Berry, Peter Ashworth's guest Sarah Meirowitz, and OBR's eldest son Orren Robbins Jr.
Pres-Elect Bob gave a brief report on his recent visit to Nativity Prep, and the very positive attitude that he detected from the student body there. More on this ahead, to be sure.
Coming Attractions
PP Jim O reminded us that on Wednesday, November 5th, our meeting will be moved from noon time to 5:00 PM when we will hold a membership social. Recipients of our Rotary Club financial support will be on hand to help us get the Rotary message out to prospective members. All RCNB members are urged to invite guests to this important event.
Holly put in a plug for the October 29th "fellowship' luncheon at Fairhaven's UNO Chicago Grill, handing out "A Tasty Way to Raise Dough" coupons that Rotarians are asked to pass out to associates. Up to 20% of the proceeds paid to UNO on that date by Rotarians and other coupon holders will be donated to the Rotary Foundation.
AND, don't forget October 25th's Foundation Seminar at White's. The deadline for reservations has passed, but be sure to let Sarah know if you are going.
NEXT WEEK
Don't forget - Meeting next Wednesday will be at White's of Westport in conjunction with the Chamber of Commerce Business EXPO. This will be a most interesting meeting with our speaker being a re-enactor from the Plimouth Plantation. Bring a guest to this informative meeting, and take in the EXPO before or after lunch.
Odds & Ends
Carl and the Zological Society still have a need for volunteers to help out at their Boo at the Zoo Halloween event this weekend and next. Call Carl if you can help. Several have volunteered for this
make-up community service project.
Breakfast with Santa coming sooner than you might think. Tickets need to be sold, and there's still a couple of weeks to sell advertisements on the placemats for that event. Pres- Elect Bob says ASK AND YOU SHALL SELL. Ads are $25. for business card size message, and advertisers can be on six different placemats for just $130.00!
And Finally
"When I arose to speak," related a martyred statesman, "someone hurled a base, cowardly egg at me and it struck me in the chest." "And just what kind of an egg might that be?" asked a fresh young man. "A base, cowardly egg," explained the statesman,"is one that hits you and then runs."
Orren Robbins
GAM Editor