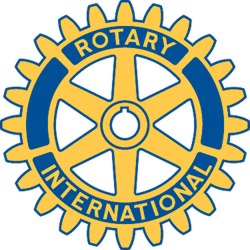 Rotary Club of New Bedford, MA - Weekly GAM
GAM...A nautical term describing the exchange of news between vessels departing from and returning to their ports...
February 27, 2019
The Last Time We Met
This meeting, we welcomed Sandy Douglas, Carla Mourao and Michael Tavares as our guest speakers. They spoke about the Sgt Sean M. Gannon Memorial Playground being built at the Campbell Elementary School in New Bedford. A member of the K-9 unit of the Yarmouth Police Department, Gannon, was killed in the line of duty on April 12. His dog, Nero, was also shot but survived his injuries. Sean grew up in the school's neighborhood and organizers felt a playground for children of the neighborhood and school would be a wonderful memorial. Sean's parents still live near the school and have been very supportive of the initiative. Approval and the start of the project began May 14, 2018, the goal of the committee is to raise $200,000.
They are at 60%of their goal to build a playground that is also handicap accessible, available for public use when school is not in session. Plans are to have a groundbreaking in June 2019. There is a Go Fund Me Page which you can find via Facebook.
Missed the last GAM? You can check it (or any past issue) out at http://newbedfordma.clubwizard.com/NewsletterArchive.cfm
VISITORS AND GUESTS: Guest Speakers – Sandy Douglas, Carla Mourao and Michael Tavares. Also want to welcome the Major's daughter once again.
The Next Time We Meet
March 5th – Monthly Board Meeting. 5:00 pm. Location: Fire Safety Inc., 955 Reed Rd, N. Dartmouth. MA. All are invited.
March 6th – Lunch at the Wamsutta. Guest Speakers will be Appalachian Trail Thru-hikers Dennis Wilkinson '92, Thomas Whelan '92 and Peter Ashworth '92
UPCOMING EVENTS: What would you like to see at a Rotary meeting? Let us know
March 13th – Lunch at the Wamsutta. Program TBA
March 20th– Meeting moved to Salvation Army on 3/21
March 21st – MILLION DOLLAR MEAL - Salvation Army Volunteer Luncheon – 619 Purchase St, New Bedford, MA 02740. Lunch starts at noon
March 27th – Lunch at the Wamsutta. Program TBA
May 9th - CHANGE OF DATE/Save the Date – ROTAFEST 2019
Odds and Ends
ROTAFEST 2019 – May 9, 2019 – SEVERAL UPDATES THIS WEEK
Libations Sponsor -
We would like to thank NEW BEDFORD LIQUOR WAREHOUSE Wines and More who will be our Wine sponsor this year. Also, thank you to PP Cheryl for working with them to make it happen (Editor's Note: Wines and More and New Bedford Liquor Warehouse are both owned by Wines and Spirit's Retail Marketing. They decided it best to have their local store support our event.)
Tickets –
Prez Carole brought the tickets in to the past meeting. Once again, Marlene has agreed to handle the distribution of tickets. Please see her to get yours.
Restaurants –
Additional restaurants confirmed for Rotafest:
1. Dorothy Cox - confirmed by Carole.
2. Roasted Pig - confirmed by Carl.
3. Machado - confirmed by John.
4. Star Drive-in - confirmed by John.
We had confirmed seven previously, bringing the total up to eleven. Kristen and Ellen are following up on several; therefore, together with the efforts of others we should be in good shape for the target of 15-18 restaurants without adding any new ones to the list issued on January 30th. We will revisit next week. We did have a couple not able to participate but we did get gift cards from them. Don't forget to ask.
- Marc
Committed so far…
1. Texas Roadhouse.
2. Brazilian Grill.
3. Buffalo Wild Wings.
4. Mike's Restaurant.
5. Applebee's.
6. Frontera Grill.
7. Airport Grille
Sponsors –
Thank you to PP Linda and Gold Star Realty for once again being a Silver RotaFest Sponsor. Please let us know if you have secured a sponsor.
Committed so far…
- Silver
Fire Systems, Inc
Gold Star
- Bronze
Southeastern Fire and Safety
Check out the sponsor page for RotaFest. www.newbedfordrotary.com/RotaFestSponsors.cfm. It is a perk for being a sponsor or restaurant. We will be doing Facebook "shout-outs" to the restaurants and sponsors as we get closer to the event.
DISTRICT AND RI REMINDERS (if you are interested in attending any of these, please ask a board member for more information as some events are club sponsored)
- NORTHEAST PETS, March 7-9, 2019, Sheraton, Framingham MA
- Rotary Leadership Institute: Upcoming dates in 2019 are March 16 in Concord, NH, and March 30, in Lincoln, Rhode Island. Get more information at rotary7950.com and register at rlinea.org. It is for new members, seasoned members and potential leaders.
- DISTRICT INTERNATIONAL NIGHT, April 1, 2019, Double Tree, Danvers, MA
- DISTRICT ASSEMBLY: SECRETARIES, TREASURERS, ALL ROTARIANS, April 13, 2019, White's of Westport
- MULTI DISTRICT CONFERENCE, May 3-4, 2019, Double Tree, Danvers, MA
- ROTARY INTERNATIONAL CONVENTION, June 1-5, 2019, Hamburg, Germany www.riconvention.org/en/hamburg
- DISTRICT GOVERNOR INSTALLATION, June 17, 2019, Cape Codder, Hyannis, MA
NEW BEDFORD ROTARY ON SOCIAL MEDIA
Don't forget to Like, Follow and whatever else folks do with pages they like on Facebook. Check us out at www.facebook.com/Rotary-Club-of-New-Bedford-157486620934253/
One More Thing – An Orren Classic
HISTORICAL - While visiting with a friend over coffee one morning, a young woman complained, "Every time my husband and I get into an argument, he gets historical!" The friend interrupted, "Don't you mean hysterical?" "No, I mean historical," the lady replied. "He always brings up the past."
Cheryl B
GAM Contributor
Marc S
GAM Contributor
Peter A
GAM Editor