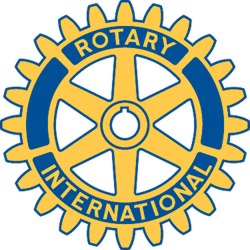 Rotary Club of New Bedford, MA - Weekly GAM
GAM...A nautical term describing the exchange of news between vessels departing from and returning to their ports...
February 20, 2019
The Last Time We Met
Pinch-hitting, because the speaker had to postpone their appearance, PE John R. shared some stories about stupid criminals, including a batch of first-hand accounts. He kept us chuckling with tales of quick witted clerks besting dim witted criminals and alert officers apprehending off-guard offenders. If you missed it, ask John how he cracked the case of "The Housekeeper and The Missing Necklace". Hint – it wasn't the housekeeper.
CORRECTION/ NOT A CORRECTION: Last week, I forgot to mention we once again had the pleasure of the company of our amazing ADG/DGE Charlene Jarest, but isn't she really just one of the family by now?
Missed the last GAM? You can check it (or any past issue) out at http://newbedfordma.clubwizard.com/NewsletterArchive.cfm
The Next Time We Meet
February 27th – Lunch at the Wamsutta. Guest Speaker - Carla Mourao from the Campbell School. They are building a playground in memory of Sean Gannon the police officer who went to school there who was killed last year.
UPCOMING EVENTS: What would you like to see at a Rotary meeting? Let us know
March 5th – Monthly Board Meeting. 5:00 pm. Location: Fire Safety Inc., 955 Reed Rd, N. Dartmouth. MA. All are invited.
March 6th – Lunch at the Wamsutta. Guest Speakers will be Appalachian Trail Thru-hikers Dennis Wilkinson '92, Thomas Whelan '92 and Peter Ashworth '92
March 13th – Lunch at the Wamsutta. Program TBA
March 20th– Meeting moved to Salvation Army on 3/21
March 21st – MILLION DOLLAR MEAL - Salvation Army Volunteer Luncheon – Save the Date – See information below.
March 27th – Lunch at the Wamsutta. Program TBA
May 9th - CHANGE OF DATE/Save the Date – ROTAFEST 2019
Odds and Ends
MILLION DOLLAR MEAL - Salvation Army Annual Volunteer Luncheon
Please RSVP by 2/27 if you will be attending the Annual Salvation Army Volunteer Luncheon. This is a MILLION DOLLAR MEAL so all members should pay whether they attend or not. The lunch will be Thursday March 21 (our 3/20 meeting will cancelled) at the Salvation Army, 619 Purchase St, NB. Gathering starts at 11:00 am with the meal served at 11:15 am. This is in recognition of the work we do for them during the Christmas season (ringing the bells and such). Hope to see you there.
ROTAFEST 2019 – May 9, 2019
Sponsors –
Nothing new to report. Tickets should be available at next week's meeting. Carole sent out sponsorships forms via email on Wednesday. Let her know if you did not get it.
Committed so far…
- Silver
Fire Systems, Inc
- Bronze
Southeastern Fire and Safety
Restaurants –
Nothing to update. Please let Marc know the status of your restaurants.
Committed so far…
1. Texas Roadhouse.
2. Brazilian Grill.
3. Buffalo Wild Wings.
4. Mike's Restaurant.
5. Applebee's.
6. Frontera Grill.
7. Airport Grille
Check out the sponsor page for RotaFest. www.newbedfordrotary.com/RotaFestSponsors.cfm. It is a perk for sponsors and restaurants. We will be doing Facebook "shout-outs" to the restaurants and sponsors as we get closer to the event.
WHAT'S IN "THE ROTARIAN" – March 2019
Have you been getting your monthly copy of The Rotarian magazine? As part of your Rotary membership you should be getting one. Here is a new monthly (hopefully) feature on what you can find in it.
A. CAN ONE PERSON MAKE A DIFFERENCE? – Stephanie Woollard went from Down Under to the top of the world to find out.
B. GROWTH CHART – President-elect Mark Daniel Maloney maps out a course for Rotary's future
C. WHY PEACE EQUALS PROSPERITY – The Institute for Economics and Peace had done the research on how countries could create and sustain peace. But how to put that into action at the grassroots level? Enter Rotary
AND Flower Power, Peace Through Parks, People of Action Around the World, Less is More and a crossword puzzle…
DISTRICT AND RI REMINDERS (if you are interested in attending any of these, please ask a board member for more information as some events are club sponsored)
- NORTHEAST PETS, March 7-9, 2019, Sheraton, Framingham MA
- Rotary Leadership Institute: Upcoming dates in 2019 are March 16 in Concord, NH, and March 30, in Lincoln, Rhode Island. Get more information at rotary7950.com and register at rlinea.org. It is for new members, seasoned members and potential leaders.
- DISTRICT INTERNATIONAL NIGHT, April 1, 2019, Double Tree, Danvers, MA
- DISTRICT ASSEMBLY: SECRETARIES, TREASURERS, ALL ROTARIANS, April 13, 2019, White's of Westport
- MULTI DISTRICT CONFERENCE, May 3-4, 2019, Double Tree, Danvers, MA
- ROTARY INTERNATIONAL CONVENTION, June 1-5, 2019, Hamburg, Germany www.riconvention.org/en/hamburg
- DISTRICT GOVERNOR INSTALLATION, June 17, 2019, Cape Codder, Hyannis, MA
NEW BEDFORD ROTARY ON SOCIAL MEDIA
Don't forget to Like, Follow and whatever else folks do with pages they like on Facebook. Check us out at www.facebook.com/Rotary-Club-of-New-Bedford-157486620934253/
One More Thing – An Orren Classic
Man - "She sang that song in a very haunting manner."
Woman - "Do you think so?"
Man - "Yes, there was just the ghost of resemblance to the original air."
Peter A
GAM Editor