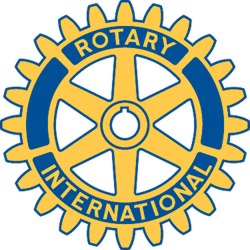 Rotary Club of New Bedford, MA - Weekly GAM
GAM...A nautical term describing the exchange of news between vessels departing from and returning to their ports...
February 13, 2019
The Last Time We Met
Another interesting speaker this week. Where do you find them PE John? Paul Russell, Trustee and blacksmith, from the Freetown Historical Society, spoke to us about the great work they are doing on their 11 acre parcel. They have restored or built several buildings on site from different time periods in Freetown's history including a schoolhouse, a working blacksmith. He also told us why the "Shot Heard Round the World" could have been because of folks from Freetown and it could have been much earlier. If you want to find out why, plan a trip to see them. For more information, go to www.freetownhistoricalsociety.org/
VISITORS AND GUESTS: Guest Speaker – Paul Russell from the Freetown Historical Society.
Missed the last GAM? You can check it (or any past issue) out at http://newbedfordma.clubwizard.com/NewsletterArchive.cfm
The Next Time We Meet
February 20th – Lunch at the Wamsutta. Guest Speaker - Carla Mourao from the Campbell School. They are building a playground in memory of Sean Gannon the police officer who went to school there who was killed last year.
UPCOMING EVENTS: What would you like to see at a Rotary meeting? Let us know
February 27th – Lunch at the Wamsutta. Program TBA
March 20th– Program TBA
March 21st – Salvation Army Volunteer Luncheon – Save the Date – more information to follow
May 9th - CHANGE OF DATE/Save the Date – ROTAFEST 2019
Odds and Ends
ROTAFEST 2019 – May 9, 2019
Sponsors –
We have our first two sponsors confirmed. Thank you to Fire Systems Inc (Silver) and Southeast Fire Equipment (Bronze). Thank you PP Cheryl for securing these. Carol will have sponsor form available at the next meeting.
Restaurants –
Marc has secured the following restaurants. Thank you.
1. Texas Roadhouse.
2. Brazilian Grill.
3. Buffalo Wild Wings.
4. Mike's Restaurant.
5. Applebee's.
6. Frontera Grill.
Also, Peter has secured the Airport Grille.
Please let Marc know the status of the restaurant you are contacting.
DISTRICT AND RI REMINDERS (if you are interested in attending any of these, please ask a board member for more information as some events are club sponsored)
- NORTHEAST PETS, March 7-9, 2019, Sheraton, Framingham MA
- Rotary Leadership Institute: Upcoming dates in 2019 are March 16 in Concord, NH, and March 30, in Lincoln, Rhode Island. Get more information at rotary7950.com and register at rlinea.org. It is for new members, seasoned members and potential leaders.
- DISTRICT INTERNATIONAL NIGHT, April 1, 2019, Double Tree, Danvers, MA
- DISTRICT ASSEMBLY: SECRETARIES, TREASURERS, ALL ROTARIANS, April 13, 2019, White's of Westport
- MULTI DISTRICT CONFERENCE, May 3-4, 2019, Double Tree, Danvers, MA
- ROTARY INTERNATIONAL CONVENTION, June 1-5, 2019, Hamburg, Germany www.riconvention.org/en/hamburg
- DISTRICT GOVERNOR INSTALLATION, June 17, 2019, Cape Codder, Hyannis, MA
NEW BEDFORD ROTARY ON SOCIAL MEDIA
Don't forget to Like, Follow and whatever else folks do with pages they like on Facebook. Check us out at www.facebook.com/Rotary-Club-of-New-Bedford-157486620934253/
One More Thing – An Orren Classic
Grandpa - "My little man, you shouldn't say, 'I ain't going.' You should say 'I am not going.', 'He is not going.', 'She is not going.', 'We are not going.', 'You are not going,', 'They are not going.'. "
Little Johnny -"Ain't nobody going?"
Peter A
GAM Editor