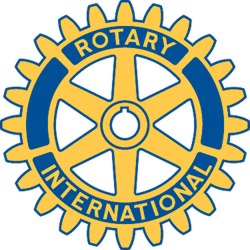 Rotary Club of New Bedford, MA - Weekly GAM
GAM...A nautical term describing the exchange of news between vessels departing from and returning to their ports...
February 6, 2019
The Last Time We Met
What at moving, informative and touching talk, given by Roland Gendron about his time in Korea. Mr. Gendron served with the Marines in Korea, taking part in many now historical events. Being charming and funny, he shared firsthand accounts of some amazing and horrible sights he saw while serving our country. Thank you, Mr. Gendron, for your service.
VISITORS AND GUESTS: Guest Speaker – Roland Gendron
Missed the last GAM? You can check it (or any past issue) out at http://newbedfordma.clubwizard.com/NewsletterArchive.cfm
The Next Time We Meet
February 12th – Monthly Board Meeting. 5:00 pm. Location: Fire Safety Inc., 955 Reed Rd, N. Dartmouth. MA. All are invited.
February 13th – Lunch at the Wamsutta. Guest Speaker - Carla Mourao from the Campbell School. They are building a playground in memory of Sean Gannon the police officer who went to school there who was killed last year.
UPCOMING EVENTS: What would you like to see at a Rotary meeting? Let us know
February 20th – Lunch at the Wamsutta. Our guest speakers will be Paul & Margret Russell to speak about the Historical Museum in Freetown
May 9th - CHANGE OF DATE/Save the Date – ROTAFEST 2019
Odds and Ends
ROTAFEST 2019 (Repeated again this week in case you forgot to read it)
Due to a scheduling conflict, the date of RotaFest 2019 has moved to May 9th. Please start asking restaurants to participate. Mark has put together a form which you can get from him. Due to some issues last year, please let the participating restaurants know that the Seaport cannot supply any chafing dishes or sterno (or other serving supplies). Also, remind them that they will not be able to cook anything in the Seaport kitchen. Evidently, last year the cook was asked to cook/grill for one of the restaurants. We would like to have all restaurants committed by the end of February to get their names on the poster.
DISTRICT AND RI REMINDERS (if you are interested in attending any of these, please ask a board member for more information as some events are club sponsored)
- NORTHEAST PETS, March 7-9, 2019, Sheraton, Framingham MA
- Rotary Leadership Institute: Upcoming dates in 2019 are March 16 in Concord, NH, and March 30, in Lincoln, Rhode Island. Get more information at rotary7950.com and register at rlinea.org. It is for new members, seasoned members and potential leaders.
- DISTRICT INTERNATIONAL NIGHT, April 1, 2019, Double Tree, Danvers, MA
- DISTRICT ASSEMBLY: SECRETARIES, TREASURERS, ALL ROTARIANS, April 13, 2019, White's of Westport
- MULTI DISTRICT CONFERENCE, May 3-4, 2019, Double Tree, Danvers, MA
- ROTARY INTERNATIONAL CONVENTION, June 1-5, 2019, Hamburg, Germany www.riconvention.org/en/hamburg
- DISTRICT GOVERNOR INSTALLATION, June 17, 2019, Cape Codder, Hyannis, MA
NEW BEDFORD ROTARY ON SOCIAL MEDIA
Don't forget to Like, Follow and whatever else folks do with pages they like on Facebook. Check us out at www.facebook.com/Rotary-Club-of-New-Bedford-157486620934253/
One More Thing
Roland Gendron, our guest speaker this week, shared the secret to his successful marriage of 62 years to his wife who recently passed away. "On our 25th wedding anniversary, I took my wife to Hawaii. On our 50th anniversary, I brought her back home."
Peter A
GAM Editor