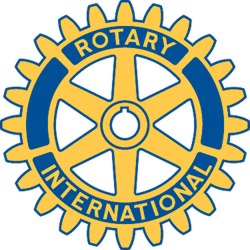 Rotary Club of New Bedford, MA - Weekly GAM
GAM...A nautical term describing the exchange of news between vessels departing from and returning to their ports...
January 9, 2019
The Last Time We Met
From Wikipedia,"A white elephant gift exchange, Yankee swap or Dirty Santa is a party game where amusing, impractical gifts are exchanged during festivities. Usually, the goal of a white elephant gift exchange is to entertain party-goers rather than to gain a genuinely valuable or highly sought-after item"
The holidays aren't complete without the annual Yankee Swap. While some great gifts were exchanged (and some not so great gifts), the special guests really made the event. First, it was great to have our ADG and District Governor Nominee Charlene Jarest arrive with present in hand. She congratulated our club on being the second place "Paul Harris per Capita" club last year, and she gave an open invitation for any to join her and help on the district level (or maybe it was more of plea). Also in attendance, the king of the Yankee Swap and Honorary Member, J. Mark Treadup was there with his classically "man-wrapped" present to exchange. Great to see them both.
Look in the NEXT TIME WE MEET section to see what we have coming up next. SPOILER: YouthBuild.
VISITORS AND GUESTS: Honorary Rotarian – J. Mark Treadup; ADG/DGN - Charlene Jarest
Missed the last GAM? You can check it (or any past issue) out at http://newbedfordma.clubwizard.com/NewsletterArchive.cfm
The Next Time We Meet
January 16th – Lunch at the Wamsutta. Our Guest Speaker will be Jane Reis from YouthBuild NB.
UPCOMING EVENTS: What would you like to see at a Rotary meeting? Let us know
January 23rd – Lunch at the Wamsutta. Program TBA
January 30th – Lunch at the Wamsutta. Program TBA
CHANGE OF DATE SOON TO BE ANNOUNNCED - ROTAFEST 2019
Odds and Ends
DAVID BIGGS SERVICE INFORMATION
Services for David will be held at the Massachusetts National Cemetery in Bourne, Massachusetts on January 18, 2019 @ 11:30am. A celebration of life will be held at Grace Episcopal Church, New Bedford, MA on March 23, 2019 @ 11am. https://memorials.bartlett1620.com/david-biggs/3672084/service-details.php
VFW FUNDRAISER
A quick note from John R: "On January 19 at the VFW in Freetown we are having a Comedy and Dinner show with Michael Petit (who is great). Doors open at 5PM. Dinner at 6PM (Chicken Breast No Bone, Mashed potato and veggie) Show at 7PM. DJ Johnny Angel at 8 or 8:30 PM for dancing. Tickets only $15."
DISTRICT AND RI REMINDERS (if you are interested in attending any of these, please ask a board member for more information as some events are club sponsored)
- Rotary Leadership Institute: Upcoming dates in 2019 are Jan. 26 in Marlborough, MA, March 16 in Concord, NH, and March 30, in Lincoln, Rhode Island. Get more information at rotary7950.com and register at rlinea.org. It is for new members, seasoned members and potential leaders.
- MID-YEAR MEETING/PrePETS, February 9, 2019
- NORTHEAST PETS, March 7-9, 2019, Sheraton, Framingham MA
- DISTRICT INTERNATIONAL NIGHT, April 1, 2019, Double Tree, Danvers, MA
- DISTRICT ASSEMBLY: SECRETARIES, TREASURERS, ALL ROTARIANS, April 13, 2019, White's of Westport
- MULTI DISTRICT CONFERENCE, May 3-4, 2019, Double Tree, Danvers, MA
- ROTARY INTERNATIONAL CONVENTION, June 1-5, 2019, Hamburg, Germany www.riconvention.org/en/hamburg
- DISTRICT GOVERNOR INSTALLATION, June 17, 2019, Cape Codder, Hyannis, MA
NEW BEDFORD ROTARY ON SOCIAL MEDIA
Don't forget to Like, Follow and whatever else folks do with pages they like on Facebook. Check us out at www.facebook.com/Rotary-Club-of-New-Bedford-157486620934253/
One More Thing – An Orren Classic
A wager was laid that it was a Yankee peculiarity to answer one question by asking another. To sustain the assertion a down-Easter was interrogated. "I want you," said the bettor, "to give me a straight-forward answer to a plain question." "I kin do that mister," said the Yankee. "Then, why is it that New Englanders always answer a question by asking one?" "Do they?" was the Yankee reply.
John R.
Gam Contributor
Peter A
GAM Editor