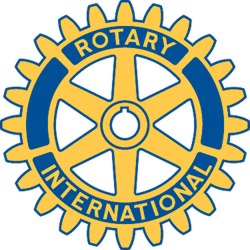 Rotary Club of New Bedford, MA - Weekly GAM
GAM...A nautical term describing the exchange of news between vessels departing from and returning to their ports...
December 5, 2018
The Last Time We Met – (Contributed by Cheryl B.)
This year, instead of setting up toys for distribution at the Salvation Army, we helped pack items for families from Wareham that could not be at the distribution day and we organized and set up racks of clothing for the distribution being held in New Bedford. An even dozen of Rotarians were on hand as well as our longtime Rotary friend Lori Biggs and three FSI employees (and newer Rotary friends) Jim Sullivan, Sergio Antunes and Roger Sobreiro. Don't forget this was a Million Dollar Meal so you owe even if you didn't go.
Look in the NEXT TIME WE MEET section to see who we have coming up next. SPOILER: Comic Books
VISITORS AND GUESTS: Lori Biggs and three FSI employees – Jim Sullivan, Sergio Antunes and Roger Sobreiro (or maybe we were all "visitors" as we were at the Salvation Army.)
Missed last week's GAM? You can check it (or any past issue) out at http://newbedfordma.clubwizard.com/NewsletterArchive.cfm
The Next Time We Meet
December 12th – Lunch at the Wamsutta. Our guest speaker will be Craig Rousseau, freelance comic book artist who has drawn Spiderman, Batman Beyond and other well-known characters as well as being a co-creator of THE PERHAPANAUTS.
UPCOMING EVENTS: What would you like to see at a Rotary meeting? Let us know
December 19th – Lunch at the Wamsutta. Annual Toy Wrapping and Bridge Home Santa visit. We will start at the club wrapping gifts then proceed to the Bridge Home with Santa to distribute them. If you want to get in the holiday spirit IT IS HIGHLY RECOMMENDED YOU TAKE THE AFTERNOON TO JOIN US.
December 25th – Merry Christmas
December 26th – No Meeting
January 1st – Happy New Year. Board Meeting moved to the following week.
January 2nd – No Meeting
January 8th – Monthly Board Meeting. 5:00 pm. Location: Fire Safety Inc., 955 Reed Rd, N. Dartmouth. MA. All are invited.
January 9th – Lunch at the Wamsutta (returns). Annual Yankee Swap. Please bring a wrapped gift to exchange with a value of no more than $10.
January 16th – Lunch at the Wamsutta. Program TBA
April 25th – ROTAFEST 2019 – SAVE THE DATE
Odds and Ends
RINGING OF THE BELLS WRAP-UP
We were short handed this year but got the job done!! Thank you Ellen for organizing and taking a shift as well. Thank you to John for staying with Ellen for a large portion of her shift after completing his own (Carl also hung out for a while past his shift). The cold didn't completely freeze out the holiday spirit. Michelle even brought out her sister to help out during her shift. (Please thank her for us, Michelle). Cheryl was her cheery, elfy self delivering hot drinks as needed. Thanks to everyone else that rang.
ANNUAL YANKEE SWAP – 1/9/19
Always a fun event, we ask everyone attending the meeting on January 9th at the Wamsutta to bring a wrapped gift of about $10 value. It can be something new, something you are re-gifting or something you cleaned out of your workshop as Mark T. used to do.
DISTRICT AND RI REMINDERS (if you are interested in attending any of these, please ask a board member for more information as some events are club sponsored)
- Global Grants/International Projects Intensive Training Seminar will be held on Saturday January 5, 2019 from 9am – noon. Venue TBD. A panel of experienced Global Grant writers will go through the application process step by step and answer all your questions. Bring your devices. For more information and to register, contact Paulette Boudrot, pljadmin@comcast.net or 617-750-7511.
- Rotary Leadership Institute: Upcoming dates in 2019 are Jan. 26 in Marlborough, MA, March 16 in Concord, NH, and March 30, in Lincoln, Rhode Island. Get more information at rotary7950.com and register at rlinea.org. It is for new members, seasoned members and potential leaders.
- MID-YEAR MEETING/PrePETS, February 9, 2019
- NORTHEAST PETS, March 7-9, 2019, Sheraton, Framingham MA
- DISTRICT INTERNATIONAL NIGHT, April 1, 2019, Double Tree, Danvers, MA
- DISTRICT ASSEMBLY: SECRETARIES, TREASURERS, ALL ROTARIANS, April 13, 2019, White's of Westport
- MULTI DISTRICT CONFERENCE, May 3-4, 2019, Double Tree, Danvers, MA
- ROTARY INTERNATIONAL CONVENTION, June 1-5, 2019, Hamburg, Germany www.riconvention.org/en/hamburg
- DISTRICT GOVERNOR INSTALLATION, June 17, 2019, Cape Codder, Hyannis, MA
NEW BEDFORD ROTARY ON SOCIAL MEDIA
Don't forget to Like, Follow and whatever else folks do with pages they like on Facebook. Check us out at www.facebook.com/Rotary-Club-of-New-Bedford-157486620934253/
One More Thing – An Orren Classic
The bottle of perfume that Willie sent
Was highly displeasing to Millicent
Her thanks were so cold
They quarreled I'm told,
Through that silly scent Willie sent Millicent.
Cheryl B
GAM Contributor
Peter A
GAM Editor