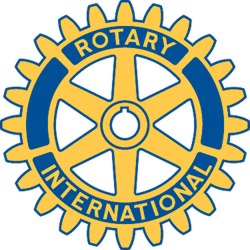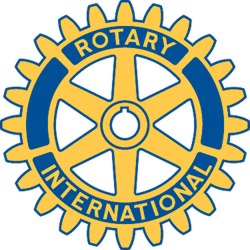 Rotary Club of New Bedford, MA - Weekly GAM
GAM...A nautical term describing the exchange of news between vessels departing and returning from its port...
2008
This Week
Today's Rotary Club meeting was a real "bell ringer" for sure, made up of a large helping of everything that makes Rotary what it is today: Guests galore, good news about Tom, interesting speakers, new member induction, a new Master at Arms named (who pulled in a lot of Happy $$$'s), and not an empty seat in the house!
Our speakers today were James Russell, President; and John Garfield, Senior Board Advisor, of the New Bedford Whaling Museum. Mr. Russell, who has an extensive background in museum management, has just joined the Whaling Museum, replacing Ann Brengle. Mr. Garfield had been interim director since Ms. Brengle's departure. Both gave highly optomistic views of the Museum's future noting major activity such as the "refitting" of the Lagoda whale ship replica, and the acquisition of a female Right Whale skeleton, complete with the skeleton of a baby whale found inside of the dead mother, both that will be "hung" in the Museum this fall. Stressing the historical preservation, restoration and education aspects of the Museum, they reported that 30,000 school children had visited the Museum in the past year.
VISITORS AND GUESTS - Johnathan Widmark, E. Greenwich Rotarian (who is becoming quite a 'regular') came along with friend Peter Ashworth; Tim Madigan, Lexington Rotarian, was a guest of Kevin Inkley; Tim Berry, former Rotarian in Maine and Wakefield, came along with YMCA's Tara Pacheco; and West Springfield Rotarian Ted Hebert and his wife Barbara (who were in town for a funeral)stopped by for a brief visit, too.
NEW ROTARIAN - Member's met our newest Rotarian, Jane Jacobsen, CS2 Entrepreneur at New Bedford High School. Jane, who lives in Dartmouth, is sponsored by Kathy Castro. Her job, as outlined on her business card - "We are an educational initiative supported by the City's Department of Community Services, New Bedford Public Schools, & Commonwealth Corporation". OBR did the installation. Please make sure to make her welcome.
....and, what a pleasure to see Tom Riley looking confident and chipper, as always, and back to work and to Rotary!
Coming Attractions
Don't forget the October 22nd meeting at White's of Westport in conjunction with the Chamber Business EXPO. A Plimouth Plantation impersonator will be our speaker that day.
A great opportunity to learn more about Rotary's world wide efforts, will be the District Foundation seminar and Paul Harris dinner, also at White's on Saturday, October 25th. Pres. Sarah needs a head count, so let her know if you wish to join in the group that day for the seminar and/or the dinner portion.
Next Week
Breakfast With Santa Planning /Assembly, will be the order of the day! In conjunction with this, Fund-raising chief Bob Smith announced the start of sales of advertisements on the placemats for that event. Rotarians are urged to sign up sponsors for business card size ads at $25.00 each. There will be six different placemats, so there's opportunity to sell six ads to the same person! Contact Bob if you have any questions, or need advice.
Odds & Ends
Rotarians are urged by Carl Soares to consider signing up for a Community Service stint as helpers at the Buttonwood Zooo's annual 'Boo at the Zoo" event the weekends of October 17-19th and 24-26th. Volunteers are needed to help Zoo workers to make the spooky events more enjoyable for children who attend.
Thanks and congrat's to Carl for accepting Pres. Sarah's request to take over as Master at Arms, replacing busy Pres-Elect Bob in that important role. Carl started off with a bang, raking in a fistfull of Happy $$$$'s in his first go-around.
And Finally
The pompous judge glared sternly over his spectacles at the tattered prisoner who had just been dragged before the bar of justice on a vagrancy charge. "Have you ever earned a dollar in your life?" he asked in scorn. "Yes, your honor," was ther response. "I voted for you in the last election!"
Orren Robbins
GAM Editor