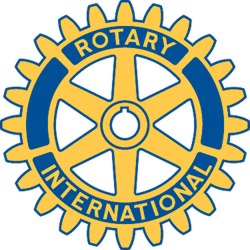 Rotary Club of New Bedford, MA - Weekly GAM
GAM...A nautical term describing the exchange of news between vessels departing from and returning to their ports...
December 12, 2018
The Last Time We Met
It was almost like a trip down the artist's alley at comic con, as we had Craig Rousseau as our speaker this week. Craig is a freelance artist that has worked for Marvel, DC Comic and Disney among others. Having started toward a career in graphic design, he told how life brought him back to the world of comic books. He works locally out of his home in Somerset, saying how the world of creating comic books has become an online experience. (We were glad he decided wear pants today.) As well as working on Captain America, Iron Man, Batman Beyond, Harley Quinn and Kim Possible, he also co-created a superhero team consisting of cryptids and creatures from urban legends call The Perhapanauts. A very interesting talk that ended with some Rotarians able to get some very unique gifts for loved one as Craig signed books and made sketches for them. Check out his work at http://www.craigrousseau.com/ and http://www.perhapanauts.com/
Look in the NEXT TIME WE MEET section to see who we have coming up next. SPOILER: Elf work
VISITORS AND GUESTS: Guest Speaker - Craig Rousseau, Co-creator of The Perhapanauts.
Missed last week's GAM? You can check it (or any past issue) out at http://newbedfordma.clubwizard.com/NewsletterArchive.cfm
The Next Time We Meet
December 19th – Lunch at the Wamsutta. Annual Toy Wrapping and Bridge Home Santa visit. We will start at the club wrapping gifts then proceed to the Bridge Home with Santa to distribute them. If you want to get in the holiday spirit IT IS HIGHLY RECOMMENDED YOU TAKE THE AFTERNOON TO JOIN US. We will be wrapping presents for 17 children. Please feel free to bring coworkers, friends and family to help.
UPCOMING EVENTS: What would you like to see at a Rotary meeting? Let us know
December 25th – Merry Christmas
December 26th – No Meeting
January 1st – Happy New Year. Board Meeting moved to the following week.
January 2nd – No Meeting
January 8th – Monthly Board Meeting. 5:00 pm. Location: Fire Safety Inc., 955 Reed Rd, N. Dartmouth. MA. All are invited.
January 9th – Lunch at the Wamsutta (returns). Annual Yankee Swap. Please bring a wrapped gift to exchange with a value of no more than $10.
January 16th – Lunch at the Wamsutta. Program TBA
April 25th – ROTAFEST 2019 – SAVE THE DATE
Odds and Ends
HELP WANTED FOR 12/19 MEETING
As stated in the UPCOMING EVENTS section above, the meeting this Wednesday (12/19) we will be wrapping gifts for 17 children at the Bridge Home/STARR program. With 4 gifts per child, this could take a while. Feel free to invite friends, family, coworkers and strangers to help with the wrapping. And just as important, join us as we help Santa hand out the gifts at the Bridge Home. All are welcome. Hate to be short handed like we were for the bell ringing.
ANNUAL YANKEE SWAP – 1/9/19
Always a fun event, we ask everyone attending the meeting on January 9th at the Wamsutta to bring a wrapped gift of about $10 value. It can be something new, something you are re-gifting or something you cleaned out of your workshop as Mark T. used to do.
DISTRICT AND RI REMINDERS (if you are interested in attending any of these, please ask a board member for more information as some events are club sponsored)
- Global Grants/International Projects Intensive Training Seminar will be held on Saturday January 5, 2019 from 9am – noon. Venue TBD. A panel of experienced Global Grant writers will go through the application process step by step and answer all your questions. Bring your devices. For more information and to register, contact Paulette Boudrot, pljadmin@comcast.net or 617-750-7511.
- Rotary Leadership Institute: Upcoming dates in 2019 are Jan. 26 in Marlborough, MA, March 16 in Concord, NH, and March 30, in Lincoln, Rhode Island. Get more information at rotary7950.com and register at rlinea.org. It is for new members, seasoned members and potential leaders.
- MID-YEAR MEETING/PrePETS, February 9, 2019
- NORTHEAST PETS, March 7-9, 2019, Sheraton, Framingham MA
- DISTRICT INTERNATIONAL NIGHT, April 1, 2019, Double Tree, Danvers, MA
- DISTRICT ASSEMBLY: SECRETARIES, TREASURERS, ALL ROTARIANS, April 13, 2019, White's of Westport
- MULTI DISTRICT CONFERENCE, May 3-4, 2019, Double Tree, Danvers, MA
- ROTARY INTERNATIONAL CONVENTION, June 1-5, 2019, Hamburg, Germany www.riconvention.org/en/hamburg
- DISTRICT GOVERNOR INSTALLATION, June 17, 2019, Cape Codder, Hyannis, MA
NEW BEDFORD ROTARY ON SOCIAL MEDIA
Don't forget to Like, Follow and whatever else folks do with pages they like on Facebook. Check us out at www.facebook.com/Rotary-Club-of-New-Bedford-157486620934253/
One More Thing – An Orren Classic
The teacher was telling the class about the discovery of the law of gravity. She said: "Sir Isaac Newton was sitting on the ground looking at a tree. An apple fell on his head, and from that he discovered gravitation. Just think, wasn't that wonderful?" "Yes'm, an' if he had been settin' in school lookin' at his books, he wouldn't have discovered nothin'," piped a small boy in the back row.
Peter A
GAM Editor