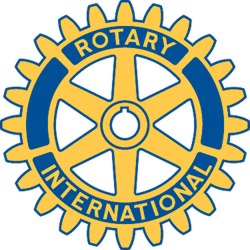 Rotary Club of New Bedford, MA - Weekly GAM
GAM...A nautical term describing the exchange of news between vessels departing from and returning to their ports...
October 17, 2018
The Last Time We Met
First, the Friday night social was great fun. Having over twenty people in attendance, Rotarians and other guests enjoyed the hospitality of the Barrett household. With a wide variety of food, folks left with a full and happy tummy. It was great to see former Rotarian Ron Melbourne and his wife and well as spouses, children and significant others of club members. Can't wait for our next one.
Wednesday's meeting had an interesting speaker from the Downtown New Bedford Public Library. He spoke about how the library has changed over his many years working there. Once just a place for books, he told of how the library can help people make sense of the world according to the onslaught of 24 hour media coverage. He also spoke of the library's role in dealing with the homeless population. New Bedford continues to have one of the strongest library systems in the state. The public library looks like it will continue to be an important part of our community for many years.
VISITORS AND GUESTS: Friday – Ron Melbourne and his wife; Wednesday - Guest Speaker, New Bedford Public Library.
Missed last week's GAM? You can check it (or any past issue) out at http://newbedfordma.clubwizard.com/NewsletterArchive.cfm
The Next Time We Meet
October 24th – Lunch at the Wamsutta. Our very own Cheryl B. will be speaking about "Leading Across Generations", a discussion about generational diversity in the workplace and key motivators.
UPCOMING EVENTS: What would you like to see at a Rotary meeting? Let us know
October 31st – Lunch at the Wamsutta. Our guest speaker will be the Reverend David Lima of the New Bedford Interchurch Council.
November 6th –Monthly Board Meeting. 5:00 pm. Location: Fire Safety Inc., 955 Reed Rd, N. Dartmouth. MA. All are invited.
November 7th – Lunch at the Wamsutta. Program TBA
November 14th – Lunch at the Wamsutta. Our guest speaker will be Caroline Paradis, Owner and Founder of Clarity Wellness, to talk about the healing technique of Reiki.
Odds and Ends
P-BRUINS ROTARY DAY FOR POLIO
President Carole wants to invite everyone out for the Providence Bruins Game on November 9th. This is a really fun night where least a portion of the ticket price goes to Polio Plus (maybe all?). If interested or you need transportation, let Carole know. Charlie, from the Fairhaven Club, has a bus going if you need a ride. (2)

BREAKFAST WITH SANTA (From our BWS co-Chair Marc S.)
Our Breakfast With Santa will be held on Sunday, November, 25, 2018 at the New Bedford YMCA. Rick Kidder, President of the Southcoast Chamber has agreed to be Santa again. There will also be pictures with Santa and crafts for the children; and a nice catered breakfast,
Form are available to be used for the Gold Sponsors and other contributors who purchase placemat ads. (Check with Marc if you did not get them in an email from him) We really need your support for this Event:
1. Gold Sponsorships are available for $200 and include an ad on all the placemats, listing on a poster at the Event, mention in any publicity, and tickets for two families of four which can be donated to local charities in your name. Please also let me know if you are aware of any organizations that can use donated tickets for children and their families to attend the Event.
2. Place mat ads (business card size) are $25 each on a placemat design (appearing on around 20-25 placemats); or be on all 6 placemat designs (appearing on up to 120-150 placemats) for $130 (and also includes one adult and one child ticket for the Event). This is great for businesses and other people to support the Club.
3. Individual tickets are available for sale: $10 for adults, $6 for children, under 3 are free. Do you know any families with small children that would like to attend?
4. We can use help on the day serving food, cleaning tables, working with Santa or in the crafts room.
Thanks and best regards,
Marc (2)
SPEAKERS – WHAT DO YOU WANT?
Who would you like to see as a speaker at our meeting? What would you like to know more about? In the past we have had people give us updates on various projects in the city or around the state. Other times, professionals have come in to give tips from better business practices to better living. Let us know what you would like to see.(4)
DISTRICT AND RI REMINDERS (if you are interested in attending any of these, please ask a board member for more information as some events are club sponsored)
- WORLD POLIO DAY, October 24, 2018 https://www.endpolio.org/world-polio-day
- P-BRUINS ROTARY DAY FOR POLIO, November 9, 2018, The Dunk, Providence, RI https://rotary7950.com/event/rotary-night-at-the-providence-bruins/
- THE NUTS AND BOLTS OF ROTARY ASSEMBLY- DESIGNED FOR PRESIDENT ELECTS AND DEVELOPED FOR ALL ROTARIANS, November 10, 2018, 8 am to 2 pm. White's of Westport. Lunch included. https://rotary7950.com/event/the-nut-s-and-bolts-of-rotary/
- FOUNDATION DINNER, 5:30-6:45 pm Social Hour/ 7 pm Dinner, November 15, 2018, Rosebrook Event Center, Wareham, www.crsadmin.com/gen/Accounts/50054/EventPlanner/d41bba93-358a-4afc-972f-d948582c158e/13524/Foundationdinnerflyer.pdf
- MID-YEAR MEETING/PrePETS, February 9, 2019
- NORTHEAST PETS, March 7-9, 2019, Sheraton, Framingham MA
- ROTARY LEADERSHIP INSTITUTE (RLI), March 30, 2019, Amica, Lincoln, RI
- DISTRICT INTERNATIONAL NIGHT, April 1, 2019, Double Tree, Danvers, MA
- DISTRICT ASSEMBLY: SECRETARIES, TREASURERS, ALL ROTARIANS, April 13, 2019, White's of Westport
- MULTI DISTRICT CONFERENCE, May 3-4, 2019, Double Tree, Danvers, MA
- ROTARY INTERNATIONAL CONVENTION, June 1-5, 2019, Hamburg, Germany
- DISTRICT GOVERNOR INSTALLATION, June 17, 2019, Cape Codder, Hyannis, MA
One More Thing – An Orren Classic
Englishman: "Odd names your towns in America have. Hoboken, Weehawken, Oshkosh, Poughkeepsie."
American: "I suppose they do sound queer to English ears. Do you live in London all of the time?" Englishman: "No, indeed. I spend part of my time at Chipping Norton, and divide the rest of the time between Bigglewade and Leighton Buzzard!"
Marc S
GAM Contributor
Peter A
GAM Editor