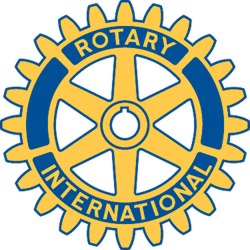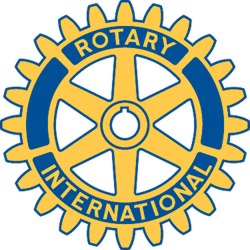 Rotary Club of New Bedford, MA - Weekly GAM
GAM...A nautical term describing the exchange of news between vessels departing and returning from its port...
2008
This Week
Today's meeting was an inspirational and informative "official visit" by District Governor Steve Silverman, accompanied by his wife Amy Jo. In a pre-meeting with Club officers and directors, DG Steve complimented Pres. Sarah and "staff" for doing a good job of Club management and community involvement. He brought us up-to-date on District concerns about declining membership and his goal of adding 7 - 9 new Clubs this year - encouraging a regional breakfast club to attract members who can not make a luncheon commitment. He and Amy Jo both stressed the importance of getting young folks involved in Rotary thru Rotaract, Interact, RYLA, and innovative programs like Earlyact, appealing to even grade school students. He also urged all Rotarians to re-read the "Object of Rotary": a message that adds significant value to the simple motto of "Service Above Self".
His message to the Club at large, began with an anecdotal account of a visit he made to a Rotary Club in a small town in Tennessee - the message being that Rotary fellowship and common purpose are the backbone of all Rotary Club success. He reported on RI efforts, in partnership (stressing partnership) with national and international health organizations in combating polio, noting that RI "came in 4th" in competition for the Nobel Peace Prize last year. He emphasised RI President D. K. Lee's theme of Make Dreams Real and encouraged support for RI projects leading toward world peace.
Before his message, DG Steve and Pres. Sarah had the pleasure and honor of surprising Rich Medike, presenting him with a prestigeous Paul Harris Fellowship in recognition of his very generous contributions to the Rotary Foundation. Paul Harris Fellowship awards are given to Rotarians who have contributed $1,000 or more to the Foundation, and Rich certainly has earned that recognition since joining our Club just a few years ago.
GOOD NEWS - Reports from Holly, Pam and Paula, confirm that Tom, and Pam and Paula's sons are all doing well after some scary health issues recently. Tom is home from West Virginia, but still needing doctor's care.
Coming Attractions
A reminder of the Rotary Foundation seminar and dinner at White's on saturday, October 25th. A great opportunity for Rotarians to meet and mingle with dozens of others from Clubs throughout the District, and to learn about the significant impact that the Foundation has on regional, national and international service projects.
And, looking way ahead - the annual District Conference is slated this year for May 15th-17th at West Point, the U.S. Military Academy just over the Hudson River, south of Newburgh, NY.
Next Week
Our speaker will be John Garfield, former interim director of the New Bedford Whaling Museum, bringing up-to-date with "What's New at the Whaling Museum". Pres-elect Bob indicates that he will be bringing the president of the board to our meeting, too.
Odds & Ends
Carole reported a very successful walk in support of the Schwartz Center for Children last weekend. She was accompanied by fellow walkers Holly and David. She thanked those who pledged financial support.
Yours truly out-bid the competition for the surprise package brought by Gov. Steve as a new way to gain support for the Rotary Foundation. Our Club will now be asked to provide a "secret' prize for the DG to take to another Club in the District to auction off. $35.00 was raised for the Foundation.
Happy $$$'s aplenty were raised - much in recognition for DG Steve and Amy Jo ,and Rick Medike - and some from Jim's trip down memory lane inspired by a couple of horse chestnuts from the Wamsutta parking lot.
Recognition was given to Mark T., Michelle L., and Paula Freitas for their participation in operation Clean Sweep last weekend.
BOFFO BAKER RAISES ROTARY RECIPES !!!!!
The Fall River Rotary Club gave Alan Freitas a standing ovation after his fun Rotary talk yesterday. His subject was, "What is the perfect Rotary Club recipe?" They loved him! (as we do, too, of course)
And Finally
Rental agent: "This house has one or two drawbacks which I feel I must mention. It is bounded on the north by gasworks, on the south by a rubber factory, on the east by a vinegar distillery, and on the west by a glue factory".
Prospect: "Good heavens! Imagine showing us such a place! What a neighborhood!!"
Rental agent: "Quite so. But there are advantages. The rent is cheap, and you can always tell which way the wind in blowing."
Orren Robbins
GAM Editor