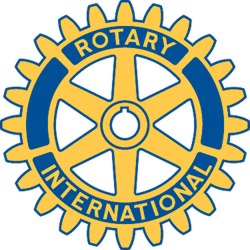 Rotary Club of New Bedford, MA - Weekly GAM
GAM...A nautical term describing the exchange of news between vessels departing from and returning to their ports...
September 26, 2018
The Last Time We Met
An energetic talk was given by Bernadette Souza, Executive Director of Youth Opportunities Unlimited (Y.O.U.). A proud New Bedford native, she told of the genesis of this local nonprofit from originally being called Trips for Kids to its extensive programs of today. The short answer to what they do is "Investing in children". To get a longer answer, go see them in the South End at the Hazelwood Park Warming house. Check out their website at http://www.younb.org/. If you know a child that can benefit from their programs, Bernadette encourages you to contact them. We didn't even hold it against her that she is related to our Carole.
Missed last week's GAM? You can check it (or any past issue) out at http://newbedfordma.clubwizard.com/NewsletterArchive.cfm
The Next Time We Meet
October 2nd – Monthly Board Meeting. 5:00 pm. Location: Fire Safety Inc., 955 Reed Rd, N. Dartmouth. MA. All are invited.
October 3rd – Lunch at the Wamsutta. Program TBA
UPCOMING EVENTS: What would you like to see at a Rotary meeting? Let us know
October 10th – Lunch at the Wamsutta. Program TBA
October 12th – Club Social Gathering. Evening at the Barrett's. 6:00 pm. Address will be sent in a separate email so we don't post the address online. Please contact Carl about what you can bring.
October 17th – Lunch at the Wamsutta. Program TBA
Odds and Ends
SPEAKERS – WHAT DO YOU WANT?
Who would you like to see as a speaker at our meeting? What would you like to know more about? In the past we have had people give us updates on various projects in the city or around the state. Other times, professionals have come in to give tips from better business practices to better living. Let us know what you would like to see.
CLUB SOCIAL NIGHT
It was officially announced!! SAVE THE DATE – Friday, October 12th. Mix and mingle with your fellow members. If everyone can bring something, it will make it easier for everyone involved. Contact Carl so he knows what you will bring. We hope everyone will join us for the fun and fellowship.(2)
DUES
Lisa is still looking for dues from a few folks. If you haven't got around to sending them, please do so. (2)
DISTRICT AND RI REMINDERS (if you are interested in attending any of these, please ask a board member for more information as some events are club sponsored)
- WORLD POLIO DAY, October 24, 2018 https://www.endpolio.org/world-polio-day
- P-BRUINS ROTARY DAY FOR POLIO, November 9, 2018, The Dunk, Providence, RI https://rotary7950.com/event/rotary-night-at-the-providence-bruins/
- THE NUTS AND BOLTS OF ROTARY ASSEMBLY- DESIGNED FOR PRESIDENT ELECTS AND DEVELOPED FOR ALL ROTARIANS, November 10, 2018, 8 am to 2 pm. White's of Westport. Lunch included. https://rotary7950.com/event/the-nut-s-and-bolts-of-rotary/
- FOUNDATION DINNER, usually 6pm Social Hour/ 7 pm Dinner, November 15, 2018, Rosebrook Event Center, Wareham, MA
- MID-YEAR MEETING/PrePETS, February 9, 2019
- NORTHEAST PETS, March 7-9, 2019, Sheraton, Framingham MA
- ROTARY LEADERSHIP INSTITUTE (RLI), March 30, 2019, Amica, Lincoln, RI
- DISTRICT INTERNATIONAL NIGHT, April 1, 2019, Double Tree, Danvers, MA
- DISTRICT ASSEMBLY: SECRETARIES, TREASURERS, ALL ROTARIANS, April 13, 2019, White's of Westport
- MULTI DISTRICT CONFERENCE, May 3-4, 2019, Double Tree, Danvers, MA
- ROTARY INTERNATIONAL CONVENTION, June 1-5, 2019, Hamburg, Germany
- DISTRICT GOVERNOR INSTALLATION, June 17, 2019, Cape Codder, Hyannis, MA
One More Thing – An Orren Classic
Definite proof –
Counsel (to police witness) "But, if a man is on his hands and knees in the middle of the road, that does not prove that he is drunk."
Policeman: "No sir, it does not. But this one was trying to roll up the white line."
Fred S
GAM Contributor
Peter A
GAM Editor