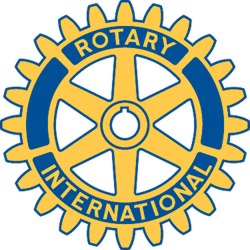 Rotary Club of New Bedford, MA - Weekly GAM
GAM...A nautical term describing the exchange of news between vessels departing from and returning to their ports...
September 5, 2018
The Last Time We Met (Formerly "This Week") – Written by Kristen M.
Tom Riley announced his retirement from Better Community Living on 9/30/18 and brought a guest, Tracy Cordeiro. She will be taking over his position and was very nice :)
He also announced that the Better Community Living fundraiser, Sweet Temptations, will be at the Seaport Inn on 10/18/18 from 5-9 pm
Our speaker today was Jibreel Khazan (born Ezell Alexander Blair Jr.; October 18, 1941). He is originally from Greensboro, NC. He arrived in New Bedford in 1965 to escape his "troublemaking" in Greensboro. He came working for the Rodman Job Corp Center at Fort Rodman. He said he met all kinds of different people from all communities. And ALL welcomed him to the city.
He was at Dudley HS in 1959 when his friends decided they were going to stage a silent protest against racism. It seems like he was gently pushed into it by his friends who were slightly intimidating and bigger than he. On 2/1/60, they decided to go into the Woolworth lunch counter and sit. At that time, black people were not allowed to sit there or be served. They had been approached by Ralph Johnson (the 1st white NAACP leader in Greensboro) who gave them money for their venture. He told them to go in...purchase an item and keep their receipt. He then told them to sit at the lunch counter and asked to be served. Of course, they were refused...police were called...and it started quite a stir. But it was the first of many student sit-ins that were inspired by this first one. He and his friends later came to be known as the Greensboro 4. And they along with so many others inspired by Martin Luther King, Jr. started the successful movement for racial equality and civil rights in this country. He also mentioned that he called Rosa Parks his "adoptive mother" and spent some time with her which was amazing to hear. He concluded with a short song to us inspired by the movement for equality. It was an entertaining and very informative talk.
The meeting ended with Rotary's 4-way test. Jibreel asked for a copy of it to pass on to others.
Editorial Note: Thank you to Kristen for writing this up.
The Next Time We Meet (Formerly "Next Week")
September 12th – Lunch at the Wamsutta. Our speaker will be the always entertaining President-Elect John R. Come and support your fellow Rotarian.
UPCOMING EVENTS: What would you like to see at a Rotary meeting?
September 19th – Lunch at the Wamsutta. Program TBA
September 26th – Lunch at the Wamsutta. Program TBA
Odds and Ends
CLUB SOCIAL NIGHT
Come one. Come all. Fellowship chair Carl is preparing, along with host Cheryl B, an evening social to share fun and friendship with all club members. We hope everyone makes time to come and mingle with their fellow Rotarians. Currently, they are planning just a simple evening of food and fellowship which is tentatively scheduled for Friday, October 12th at Cheryl's house in Dartmouth. Weather permitting, there could be barbequing. Carl will have a list at coming meeting asking people to sign up to bring food and such (a'la pot luck). Stay tuned as we firm up the plans.
DISTRICT AND RI REMINDERS (if you are interested in attending any of these, please ask a board member for more information as some events are club sponsored)
- ZONE 24 & 32 Conference, September 20-22, 2018, Hotel Bonaventure in Montreal https://portal.clubrunner.ca/50077/sitepage/2018-montreal-conference/div-style-display-none-welcome-div
- WORLD POLIO DAY, October 24, 2018 https://www.endpolio.org/world-polio-day
- P-BRUINS ROTARY DAY FOR POLIO, November 9, 2018, The Dunk, Providence, RI https://rotary7950.com/event/rotary-night-at-the-providence-bruins/
- THE NUTS AND BOLTS OF ROTARY ASSEMBLY, November 10, 2018, White's of Westport. https://rotary7950.com/event/the-nut-s-and-bolts-of-rotary/
- FOUNDATION DINNER, November 15, 2018, Rosebrook Event Center, Wareham, MA
- MID-YEAR MEETING/PrePETS, February 9, 2019
- NORTHEAST PETS, March 7-9, 2019, Sheraton, Framingham MA
- ROTARY LEADERSHIP INSTITUTE (RLI), March 30, 2019, Amica, Lincoln, RI
- DISTRICT INTERNATIONAL NIGHT, April 1, 2019, Double Tree, Danvers, MA
- DISTRICT ASSEMBLY: SECRETARIES, TREASURERS, ALL ROTARIANS, April 13, 2019, White's of Westport
- MULTI DISTRICT CONFERENCE, May 3-4, 2019, Double Tree, Danvers, MA
- ROTARY INTERNATIONAL CONVENTION, June 1-5, 2019, Hamburg, Germany
- DISTRICT GOVERNOR INSTALLATION, June 17, 2019, Cape Codder, Hyannis, MA
One More Thing – An Orren Classic
"Why in the world did you ever write a policy on a man ninety-eight years old?", asked the indignant insurance inspector.
"Well", explained the new agent, "I looked in the census report and found there were only a few people of that age who die each year."
Kristen M
GAM Contributor
Peter A
GAM Editor