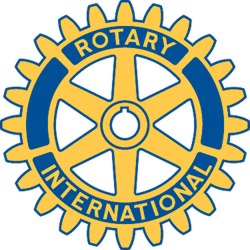 Rotary Club of New Bedford, MA - Weekly GAM
GAM...A nautical term describing the exchange of news between vessels departing from and returning to their ports...
August 22, 2018
The Last Time We Met (Formerly "This Week")
Looks like I missed a week and a Gam. Due to a schedule glitch, the filling of the backpack did not take place on the 15th though it was nice to have Major Parkhurst there to finally present him his Paul Harris Fellowship. That pushed the back packs back to back with the District Governor William Tenant's visit. After sharing some thoughts about this year's Rotary theme "Be the Inspiration", Bill helped unload the boxes of supplies and we began filling backpacks. He and his fiancé weren't the only helpers we had. The always helpful Rotary spouse Charlie Barrett was there helping out and taking some pictures. Both Rotarian Tom and past Rotarian Paula Borges called in reinforcements from their offices to get the back packs filled and loaded out into cars. Thank you everyone that was there to help.
VISITORS AND GUESTS: 15th – Major Parkhurst – Salvation Army (others?): 22nd – DG William "Bill" Tenant, his fiancé Sue, Paula Borges – CFS, Charlie Barrett and helpers from Paula and Tom's office.
The Next Time We Meet (Formerly "Next Week")
August 29th – Program TBA. Carole was looking for help with this.
UPCOMING EVENTS: What would you like to see at a Rotary meeting?
September 4th – Monthly Board Meeting. 5:00 pm. Location: Fire Safety Inc., 955 Reed Rd, N. Dartmouth. MA. All are invited.
September 5th – Program TBA
Odds and Ends
DISTRICT AND RI REMINDERS (if you are interested in attending any of these, please ask a board member for more information)
- ZONE 24 & 32 Conference September 20-22, 2018,Hotel Bonaventure in Montreal https://portal.clubrunner.ca/50077/sitepage/2018-montreal-conference/div-style-display-none-welcome-div
- WORLD POLIO DAY, October 24, 2018 https://www.endpolio.org/world-polio-day
- P-BRUINS ROTARY DAY FOR POLIO, Providence, RI, November 9, 2018 https://rotary7950.com/event/rotary-night-at-the-providence-bruins/
One More Thing – An Orren Classic
"Father," said Dorothy, "The bank in which you told me to put my money in is in a bad way."
"A bad way ?", returned her father, "Why, my child, that's one of the strongest banks in the country. What in the world gives you that idea?"
"Well", said Dorothy, "it returned one of my checks for only $25 today marked 'No funds'."
Peter A
Cub Reporter
Lisa F
GAM Editor