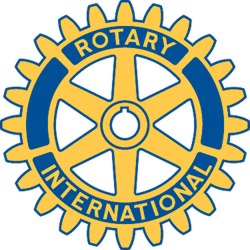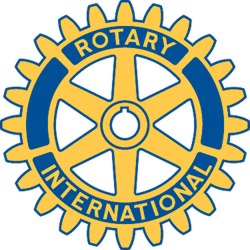 Rotary Club of New Bedford, MA - Weekly GAM
GAM...A nautical term describing the exchange of news between vessels departing and returning from its port...
2008
This Week
Being somewhat - let's admit it, entirely, computer disadvantaged - to me it's just a very smart typewriter- I must tell you that,in this highly technical system, the GAM does not provide spellcheck, so it's not my fault! Also, this GAM is my second effort of the day because the first &$#!?$ 'd input got lost somewhere in cyberspace
Anyway, inputing for the second time .... Our program today was an official State Visit by the second President of the United States, Quincy, Mass native John Adams. Noting that this was "his first visit to New Bedford in 193 years", Pres Adams began his talk with a surprise greeting sent by his wife Abigail, to her distant cousin Alan Freitas, but quickly moved to the meat of his message - his efforts as a member of the Continental Congress, working with the likes of Benjamin Franklin and Thomas Jefferson, to craft the Declaration of Independence - freeing a young America from the dominance of England, and "changing the course of Western Civilization" in July of 1776. In lighter moments he bemoaned the fact that "he never got a monument", like the Washington Monument (that doesn't look a bit like George Washington), to Mount Rushmore, that apparently ran out of space for his likeness, and finished his presentation by singing the patriotic song American Anthem, adroitly accompanying himself on a thorougly modern looking keyboard. - It was noted, by the way, that President Adams looked remarkably similar to New Canaan, CT Rotarian George Baker (he did ask for a Make-up slip). Those of you who missed this event might want to check him out at www.johnadamstoday.com
BAD NEWS - Our thoughts and prayers today go out to Pam Maloney who's son Michael is a patient at Boston's Childrens Hospital, and to Tom Riley who is hospitalized in West Virginia after suffering a heart problem while there attending a wedding. The good news about Tom is that Holly reports that he called her Wednesday morning saying that he was alright.
VISITORS TODAY were Kathy Castro's guest, Jane Jacobsen, and Carl Soares' wife (former NBRC member) Maria Ortiz.
Coming Attractions
October 22nd we will meet at White's of Westport in conjunction with the Chamber of Commerce Business Expo - An interesting Plimouth Plantation impersonator will be our guest speaker.
October 25th will be the District 7950 Rotary Foundation Seminar and Paul Harris Dinner event, also at White's this year. Get both of these on your calendar.
Next Week
Our club will be honored with the Official Visit of District 7950 Governor, Stephen Silverman. It is traditional that the DG meets with members of the Club officers and directors before the regular meeting, so officers and directors are asked to arrive at the Wamsutta by 10:30 AM to participate in this business session. The program will be DG Steve's message.
Odds & Ends
Not too late to help out on the Clean Sweep project on Saturday. Call Paula Freitas for info if you can help.
Past Pres. Carole, in acknowledgement of the tremendous effect that the Schwartz Center for Children has had on her life, asked that all Rotarians consider making a weekly "Thankful List", putting the Schwartz Center at the top of her personal list. This appeal resulted in today's Happy $$$'s raising $51.00 to help sponsor Carole on her walk for the Schwartz Center this coming Sunday. The money raised, was to be given to Carole in the name of PP Tom Riley!
And Finally
"No thank you, I'll stay at home," said a man who had been invited to join a party visiting the zoo. "My eldest daughter does the kangaroo walk. my second daughter talks like a parrot, my son laughs like a hyena, my wife watches me like a hawk, my cook's as cross as a bear, and my mother-in-law says I'm and old gorilla! When I go anywhere I want as change!"
Orren Robbins
GAM Editor
P.S. Happy belated birthday to Kristen (I forgot last week) who recently turned $#2&%'ed years old.