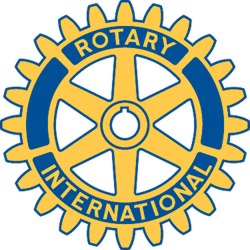 Rotary Club of New Bedford, MA - Weekly GAM
GAM...A nautical term describing the exchange of news between vessels departing from and returning to their ports...
June 27 2018
The Last Time We Met (Formerly "This Week")
"Like a bad penny" was the quote from new (and returning) President Carole. Carole shared with the overcrowded room (well, they did need to set up an extra table) the story of how she has risen to many challenges over the years. With this, she challenged all the club members to be the best Rotarians they can be. She also challenged us all to have fun and she would do her best to make Rotary fun. The rest of the evening was handled deftly by the emcee (and past president) Ron Melbourne, including having his wife sing a special song to Carole to fill the time. Thank you Ron. Speaking of thanks, President Peter thanked everyone for all their work and dedication to Rotary as well as pointing out our 100th anniversary is on the horizon and he hopes to see everyone there. ADG Charlene Jarest presented Carole with her official President's nametag to help make it even more official. Thank you Cheryl. Thank you to everyone that attended and participated in the evening. Here's to another great Rotary year.
Rotary Minute: Once again taken from our own website. "The New Bedford Rotary Club was sponsored by the Fall River Club in October 1921. At one time we had a membership between 120 and 125 men. Our first meeting was in the (now defunct) New Bedford Hotel, just north of the downtown Post Office." –Written by David Salk
PRESIDENT'S TRIPLE THREAT MEMBERSHIP CHALLENGE: And the final challenge goes out with more of a whimper than a bang. Let Peter know if you completed this challenge.
VISITORS AND GUESTS: Too numerous to mention – We had 12 New Bedford Rotarians and 16 guests.
The Next Time We Meet (Formerly "Next Week")
July 3rd – POSTPONED – Board meeting moved to July 10th.
July 4th – NO MEETING. HAPPY INDEPENDENCE DAY!!
July 10th – RESCHEDULED Monthly Board Meeting. 5:00 pm. Location: Fire Safety Inc., 955 Reed Rd, N. Dartmouth. MA. All are invited.
July 11th – Program TBD
UPCOMING EVENTS: What would you like to see at a Rotary meeting?
July 18th – Program TBD
August 8th – Annual Scholarship Luncheon at the Wamsutta Club/Arnold Mansion. Start time will be at NOON. PLEASE RSVP to Rich by 8/1.
Odds and Ends
VISITING BANNERS
Are you planning on visiting a Rotary Club when you travel? We have the little "flags" for you to exchange when you go. They are in the closet at the Wamsutta Club.
ROTAFEST FOLLOW UP
Please follow up with any sponsors or ticket buyers that have not sent in their donations.
LATE TO THE MEETING?
If you are running late, you are always welcome at our meeting. Please be sure you check in with the treasurer or whoever is taking attendance. We have noticed some people not getting credit for attending meetings at which they arrived late. If you don't check in, chances are you will not get credit for the meeting.
HOW DO I DO A MAKEUP?
Some folks have asked how to improve their attendance if they miss the Wednesday meeting. Here is a list. (Generally makeups "expire" after a month)
1. Check out other local club meetings. Dartmouth has night meetings (I think). Fall River does lunch on Thursday at White's of Westport. Not sure what Fairhaven is doing these days. Most can be contacted through their Facebook pages or websites
2. You can do make ups online https://www.rotaryeclubone.org/makeups/howtodoamakeup/. When you get to this page https://www.rotaryeclubone.org/makeups/articles/ click on date of one that interests you and follow the instructions.
3. You can stop into our own club's monthly board meetings. (Generally the first Tuesday at 5 at FSI in Dartmouth. Address in the GAM)
4. Check out the club's committees.
5. Assist with RotaFest or Breakfast with Santa or other events (Sell tickets, find auction items, etc.)
6. District events are an option as well. (See the GAM for those as well)
7. Traveling? Visit a club meeting in the town wherever you are. Club meetings are even held on cruise ships and at Walt Disney World. We may even have a banner for you to exchange.
NEW BEDFORD ROTARY ON SOCIAL MEDIA
Don't forget to Like, Follow and whatever else folks do with pages they enjoy on Facebook. Check us out at www.facebook.com/Rotary-Club-of-New-Bedford-157486620934253/
DISTRICT AND RI REMINDERS (if you are interested in attending any of these, please ask a board member for more information)
- PAW SOX ROTARY DAY FOR POLIO, Pawtucket, RI, August 17, 2018
- WORLD POLIO DAY, October 24, 2018
- P-BRUINS ROTARY DAY FOR POLIO, Providence, RI, November 9, 2018
One More Thing – An Orren Classic
"The Winds of Fate" – by Ella Wheeler Wilcox
"One ship drives east and another drives west, with the self-same winds that blow.
'Tis the set of the sails and not the gales, which tells us the way we go.
Like the winds of the sea are the ways of fate, as we voyage along through life;
'Tis the set of a soul that decides its goal, and not the calm or the strife. "
Think about it!
Peter A
Cub Reporter
Lisa F
GAM Editor