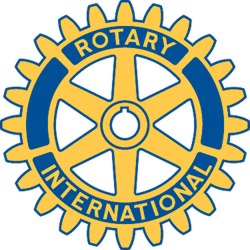 Rotary Club of New Bedford, MA - Weekly GAM
GAM...A nautical term describing the exchange of news between vessels departing from and returning to their ports...
June 6, 2018
The Last Time(s) We Met (Formerly "This Week")
Rotary does good work near and far. Former Rotarian Ron Melbourne spoke of one of the latter, a project he and the club helped support in 2007. In conjunction with the Martha Vineyard Club, money was raised for a trip to Peru to distribute wheelchairs. On this journey, Ron says he had an experience he will never forget. Traveling from town to town, partnering with local clubs, this project helped hundreds of needy people get access to mobility. Thank you for sharing Ron. See some of the photos at the link below. http://www.newbedfordrotary.com/PhotoAlbum.cfm?AlbumID=3284
Rotary Minute: Ron's whole presentation was a "Rotary Minute".
PRESIDENT'S TRIPLE THREAT MEMBERSHIP CHALLENGE: Two more lunch meetings to invite 3 someone's…
VISITORS AND GUESTS: Guest Speaker, Ron Melbourne, Former Rotarian and Club President.
The Next Time We Meet (Formerly "Next Week")
June 13th – Lunch at the Wamsutta. Our guest speaker will be former Rotarian Paula Borges from Child & Family Services.
UPCOMING EVENTS: What would you like to see at a Rotary meeting?
June 20th – Lunch at the Wamsutta. Our guest speaker will be President and Chairman Richard Asquino of James Arnold Mansion, Inc.. In case you did not know, the Wamsutta Club is housed in the James Arnold Mansion.
June 27th – SAVE THE DATE - New Officer Induction. 5:30 pm at the Wamsutta Club. More information to follow.
July 3rd – POSTPONED – Board meeting moved to July 10th.
July 4th – NO MEETING. HAPPY INDEPENDENCE DAY!!
July 10th – RESCHEDULED Monthly Board Meeting. 5:00 pm. Location: Fire Safety Inc., 955 Reed Rd, N. Dartmouth. MA. All are invited.
July 11th – Program TBD
Odds and Ends
CONGRATULATIONS
Congratulations and thank you to John Remedis who has accepted the position of President Elect for 2018-2019. He will then be President in 2019-2020. We wish him the best.
BOARD NOTES
Sorry to report that the board accepted the resignation from Jerry Wheeler. We thank him for his service and welcome his return anytime. In addition to being a board member currently, Jerry is also a Past President of the club. Also noted at the board meeting, the scholarship committee will be meeting soon to pick this year's scholarship recipients.
VISITING BANNERS
Are you planning on visiting a Rotary Club when you travel? We have the little "flags" for you to exchange when you go. They are in the closet at the Wamsutta Club.
MAIL BAG
The recent mail has included thank you's from the Veteran's Transition House and Junior Achievement. We have also received an annual report from the Boy Scouts.
INVITATION FROM THE ROTARY CLUB OF FALL RIVER
We invite you to join us as we embrace a new mission:
Alzheimer's
which is now among the top 3 causes of death in the US
Everyone knows someone who suffers from, cares for, or agonizes over a loved one with Alzheimer's. Isn't it time that we, as an organization, take the lead in this battle?
On June 21, we will all have the opportunity to learn more about this disease from fellow Rotarian and expert in the field, John Rogers. We hope this luncheon meeting will be the beginning of an all-out campaign by our District 701 to highlight this dread disease and shine a light on its importance to Rotarians and the community at large. We will be looking for members to add to our Fall River sub-committee, so please think about this.
If you can join us at White's of Westport on the 21st to hear more about our plans, please notify Charlene Jarest at 508-269-9008. As the fight with Polio winds down, we feel it is the time and place to move Rotary forward with an Alzheimer's focus. Won't you join us?
ROTAFEST FOLLOW UP
Please follow up with any sponsors or ticket buyers that have not sent in their donations.
LATE TO THE MEETING
If you are running late, you are always welcome at our meeting. Please be sure you check in with the treasurer or whoever is taking attendance. We have noticed some people not getting credit for attending meetings at which they arrived late. If you don't check in, chances are you will not get credit for the meeting. (This is a kinder Rotary as we don't do fines anymore…)
HOW DO I DO A MAKEUP?
Some folks have asked how to improve their attendance if they miss the Wednesday meeting. Here is a list. (Generally makeups "expire" after a month)
1. Check out other local club meetings. Dartmouth has night meetings (I think). Fall River does lunch on Thursday at White's of Westport. Not sure what Fairhaven is doing these days. Most can be contacted through their Facebook pages or websites
2. You can do make ups online https://www.rotaryeclubone.org/makeups/howtodoamakeup/. When you get to this page https://www.rotaryeclubone.org/makeups/articles/ click on date of one that interests you and follow the instructions.
3. You can stop into our own club's monthly board meetings. (Generally the first Tuesday at 5 at FSI in Dartmouth. Address in the GAM)
4. Check out the club's committees.
5. Assist with RotaFest or Breakfast with Santa or other events (Sell tickets, find auction items, etc.)
6. District events are an option as well. (See the GAM for those as well)
7. Traveling? Visit a club meeting in the town wherever you are. Club meetings are even held on cruise ships and at Walt Disney World. We may even have a banner for you to exchange.
NEW BEDFORD ROTARY ON SOCIAL MEDIA
Don't forget to Like, Follow and whatever else folks do with pages they enjoy on Facebook. Check us out at www.facebook.com/Rotary-Club-of-New-Bedford-157486620934253/
DISTRICT AND RI REMINDERS (if you are interested in attending any of these, please ask a board member for more information)
- DISTRICT GOVERNOR INSTALLATION DINNER, Randolf, June 15, 2018. Come celebrate District Governor Steve Certa's year and the Installation Celebration of District Governor William J Tennant and Braintree President Kelly Moore. This event is Black Tie Optional. www.rotary7950.com/event/district-governor-installation-dinner/
- JOINT AREA 7 ROTARY MEETING, White's of Westport, June 21, 2018, 12:00PM – Speaking program will be John Rogers talking on Alzheimer's caregivers. Please RSVP with Charlene at 508-269-9008.
- ROTARY INTERNATIONAL CONVENTION - Toronto, Canada, June 23-27, 2018 www.riconvention.org/en Former First Lady of the United States Laura Bush, an advocate for literacy, education, and women's rights, will speak at the 2018 Rotary Convention.
One More Thing – An Orren Classic
The guest was being showed to his bed in the haunted room by his host's faithful, but rather sinister-looking aide. At the door of the room they paused.
"B-b-by the way," said the guest, "has anything- er-unusual ever happened in connection with this room?"
"Not for over fifty years," said the servant hollowly.
"And what happened then?" asked the guest, with a sigh of relief.
"A gentleman who spent the night here appeared at breakfast the next morning", came the reply.
Peter A
Cub Reporter
Lisa F
GAM Editor