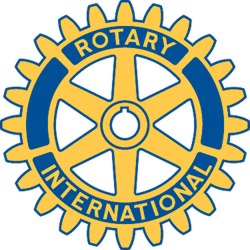 Rotary Club of New Bedford, MA - Weekly GAM
GAM...A nautical term describing the exchange of news between vessels departing from and returning to their ports...
May 30, 2018
The Last Time(s) We Met (Formerly "This Week")
This week's recap brought to you by special reporter, Cheryl. Thanks!! "Craig did a classification speech – which included his history with Rotary Club (which started in a church basement in Taunton – Pilgrim Congregational Church). He was involved with the creation of Suicide Hotline at the time – I believe through Rotary. He is a past president of the New Bedford Rotary Club of which he was a member for 10 years.
Born and raised in Dighton, he graduated from Dighton-Rehoboth Regional HS. He graduated from Nasson College . Craig's career involved few non-profits including working for Mayor Raymond Flynn, United Way (New Bedford, Boston, Orange County, CA), Society for Prevention of Cruelty to Children, Community Foundation of SE Mass. He is currently consulting. Between himself and his wife Craig has 8 children, the oldest is 37 and youngest is 11. He was interesting to listen to.
One more thing – Carole presided over the meeting and did a great job!"
Rotary Minute: Rotary Acronyms – There are more…
AG or ADG (Assistant District Governor)
DDF (District Designated Funds)
DRR (District Rotaract Representative)
DG (District Governor)
DGD (District Governor-Designate)
DGE (District Governor-Elect)
DGN (District Governor-Nominee)
GSE (Group Study Exchange)
IA (International Assembly)
IPDG (Immediate Past District Governor)
IPP (Immediate Past President)
PE (President-Elect)
PETS (President-Elect Training Session)
PDG (Past District Governor)
PP (Past President)
RI (Rotary International)
RIP (Rotary International President)
RYLA (Rotary Youth Leadership Awards)
TRF (The Rotary Foundation)
YEP (Youth Exchange Program)
PRESIDENT'S TRIPLE THREAT MEMBERSHIP CHALLENGE: Have you identified the 3 people you will ask (or re-ask) to lunch? Only six five four weeks left. (Though you should never stop asking.)
VISITORS AND GUESTS: Charlene Jarest, of the Fall River Rotary and Assistant District Governor. Our good buddy, Jerry, was also there for the fourth time.
The Next Time We Meet (Formerly "Next Week")
June 5th – Monthly Board Meeting. You should know the time and place by now. If not, ask a board member.
June 6th – Lunch at the Wamsutta. Program TBD.
UPCOMING EVENTS: What would you like to see at a Rotary meeting?
June 13th – Program TBD
June 20th – Program TBD
June 27th – SAVE THE DATE - New Officer Induction. 5:30 pm at the Wamsutta Club. More information to follow.
Odds and Ends
(limited) FREE TICKETS FOR (some) MEMBERS
Since the president missed the meeting, he did not raffle off the tickets as announce. The Annual United Way Clambake with Lobster will be Friday, June 8th from 5 pm to 10 pm. Since the club is a sponsor, we have a few tickets to give away. If you are interest in a ticket, please let Peter know by 4:00 pm on Monday June 4th. He will put all the names of the interested Rotarians in a hat and draw them at random until the tickets are gone. Check out the website for more information. https://unitedwayofgnb.org/clambake/
DID YOU EVER?
Did you ever feel like you were forgetting something? This cub reporter is feeling that right now.
ROTAFEST FOLLOW UP
Please follow up with any sponsors or ticket buyers that have not sent in their donations.
LATE TO THE MEETING?
If you are running late, you are always welcome at our meeting. Please be sure you check in with the treasurer or whoever is taking attendance. We have noticed some people not getting credit for attending meetings at which they arrived late. If you don't check in, chances are you will not get credit for the meeting. (This is a kinder Rotary as we don't do fines anymore…)
HOW DO I DO A MAKEUP?
Some folks have asked how to improve their attendance if they miss the Wednesday meeting. Here is a list. (Generally makeups "expire" after a month)
1. Check out other local club meetings. Dartmouth has night meetings (I think). Fall River does lunch on Thursday at White's of Westport. Not sure what Fairhaven is doing these days. Most can be contacted through their Facebook pages or websites
2. You can do make ups online https://www.rotaryeclubone.org/makeups/howtodoamakeup/. When you get to this page https://www.rotaryeclubone.org/makeups/articles/ click on date of one that interests you and follow the instructions.
3. You can stop into our own club's monthly board meetings. (Generally the first Tuesday at 5 at FSI in Dartmouth. Address in the GAM)
4. Check out the club's committees.
5. Assist with RotaFest or Breakfast with Santa or other events (Sell tickets, find auction items, etc.)
6. District events are an option as well. (See the GAM for those as well)
7. Traveling? Visit a club meeting in the town wherever you are. Club meetings are even held on cruise ships and at Walt Disney World. We may even have a banner for you to exchange.
NEW BEDFORD ROTARY ON SOCIAL MEDIA
Don't forget to Like, Follow and whatever else folks do with pages they enjoy on Facebook. Check us out at www.facebook.com/Rotary-Club-of-New-Bedford-157486620934253/
DISTRICT AND RI REMINDERS (if you are interested in attending any of these, please ask a board member for more information)
- DISTRICT GOVERNOR INSTALLATION DINNER, Randolf, June 15, 2018. Come celebrate District Governor Steve Certa's year and the Installation Celebration of District Governor William J Tennant and Braintree President Kelly Moore. This event is Black Tie Optional. www.rotary7950.com/event/district-governor-installation-dinner/
- JOINT AREA 7 ROTARY MEETING, White's of Westport, June 21, 2018, 12:00PM – Speaking program will be John Rogers talking on Alzheimer's caregivers. Please RSVP with Charlene.
- ROTARY INTERNATIONAL CONVENTION - Toronto, Canada, June 23-27, 2018 www.riconvention.org/en Former First Lady of the United States Laura Bush, an advocate for literacy, education, and women's rights, will speak at the 2018 Rotary Convention.
One More Thing – An Orren Classic
"Another bill? (sigh) And we decided we were going to put a bit away for a rainy day."
"Yes, but don't you see, this bill is for my new raincoat?"
Peter A
Cub Reporter
Cheryl B
GAM Special Reporter
Lisa F
GAM Editor