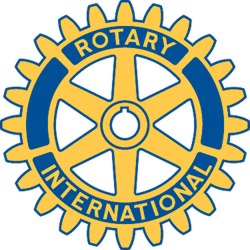 Rotary Club of New Bedford, MA - Weekly GAM
GAM...A nautical term describing the exchange of news between vessels departing from and returning to their ports...
May 9 + 16, 2018
The Last Time(s) We Met (Formerly "This Week")
Looks like this cub reporter forgot to do a GAM last week. The May 9th meeting was dedicated to a RotaFest Wrap up. Suggestions included contacting the restaurants around Christmas with a thank you as well as being more thorough when asking restaurants how much space they need. Everyone loved the DJ. Numbers are still coming in.
The May 16th meeting was a classification talk from Marlene. She spoke of the beauty of her birthplace, St. Martins. A "lifelong" banker, she truly has enjoyed returning to a community bank. She also has her hands full at home with a pair of "terrible three's" twins, in addition to having two kids in college. And if all that doesn't keep her busy enough, she is training all the bank's employees how to use the new computer system. I'm tired just writing about it. Thank you Marlene for sharing with us.
Rotary Minute 5/16: Rotary strives to achieve it's objective of "Service Above Self" through activities in four primary areas. These are often referred to as the Four Avenues of Service. These are Club Service, Vocational Service, Community Service and International Service. For more information go to www.newbedfordrotary.com/AvenuesOverview.cfm
Rotary Minute 5/9: (Editorial note: I'm pretty sure this is what I used for the RM on this date – Stolen from the Rotary Wikipedia page)
Rotary International's relationship with the United Nations had already been established when the UN was founded in 1945. At the UN Charter Conference in San Francisco, nearly fifty Rotarians served as delegates, advisors, and consultants.
PRESIDENT'S TRIPLE THREAT MEMBERSHIP CHALLENGE: Have you identified the 3 people you will ask (or re-ask) to lunch? Only six weeks left.
VISITORS AND GUESTS: Visit Rotarian Jerry joined us for a second and third time these past two weeks.
The Next Time We Meet (Formerly "Next Week")
May 23rd – Lunch at MoLife food Pantry, 725 Pleasant St, NB, 12:00 PM - MILLION DOLLAR MEAL. We will be doing the "Stacking of Shelves". For Million Dollar Meals, we ask everyone pay even if you don't attend.
UPCOMING EVENTS: What would you like to see at a Rotary meeting? Talk to Carole if you have ideas!!
May 30th – Lunch at the Wamsutta. Program TBD
June 5th – Monthly Board Meeting. You should know the time and place by now. If not, ask a board member.
June 6th – Program TBD
June 27th – New Officer Induction. 5:30 pm at the Wamsutta Club. More information to follow.
Odds and Ends
ROTAFEST FOLLOW UP
Please follow up with any sponsors or ticket buyers that have not sent in their donations.
LATE TO THE MEETING?
If you are running late, you are always welcome at our meeting. Please be sure you check in with the treasurer or whoever is taking attendance. We have noticed some people not getting credit for attending meetings at which they arrived late. If you don't check in, chances are you will not get credit for the meeting. (This is a kinder Rotary as we don't do fines anymore…)
BOARD NOTES
The Board, following the recommendation of the Allocations Committee, awarded allocations to the Salvation Army and SMILES. On a side note, the Majors from the Salvation Army will be moving on to their new ministry soon. We wish the Parkhursts all the best and thank them for their service to the Greater New Bedford Community.
HOW DO I DO A MAKEUP?
Some folks have asked how to improve their attendance if they miss the Wednesday meeting. Here is a list. (Generally makeups "expire" after a month)
1. Check out other local club meetings. Dartmouth has night meetings (I think). Fall River does lunch on Thursday at White's of Westport. Not sure what Fairhaven is doing these days. Most can be contacted through their Facebook pages or websites.
2. You can do make ups online https://www.rotaryeclubone.org/makeups/howtodoamakeup/. When you get to this page https://www.rotaryeclubone.org/makeups/articles/ click on date of one that interests you and follow the instructions.
3. You can stop into our own club's monthly board meetings. (Generally the first Tuesday at 5 at FSI in Dartmouth. Address in the GAM)
4. Check out the club's committees.
5. Assist with RotaFest or Breakfast with Santa or other events (Sell tickets, find auction items, etc.)
6. District events are an option as well. (See the GAM for those as well)
7. Traveling? Visit a club meeting in the town wherever you are. Club meetings are even held on cruise ships and at Walt Disney World.
INVITATION TO JOINT AREA 7 ROTARY MEETING, JUNE 21, 2018
- From our ADG Charlene (and she's also a future District Governor)
Hello Everyone!
I am writing to you to extend an invitation on behalf of the Rotary Club of Fall River, to a joint Area 7 meeting, on June 21, 2018, at noon. The meeting will take place at White's of Westport. The speaking program will focus on an Alzheimer's presentation - an area of great interest to Rotary International and all of us. The Rotary Club of Fall River is extremely fortunate in that a highly knowledgeable subject matter expert, John Rogers, is a member of the club. The presentation will also highlight the role of Care givers. I have heard John speak, in the past, and I will tell you that I learned a great deal from the experience. (and I enjoyed it!!).
I would like to help in the organization of your visit in advance, so that we can give the restaurant an accurate count. So, please get back to me with the number of club members that will attend. I will be following up on this invitation as we go forward, so please do communicate with me. Thank You!
Warmest regards,
Charlene
Charlene J. Jarest, DGND, Area 7 Assistant Governor District 7950 Rotary International
NEW BEDFORD ROTARY ON SOCIAL MEDIA
Don't forget to Like, Follow and whatever else folks do with pages they enjoy on Facebook. Check us out at www.facebook.com/Rotary-Club-of-New-Bedford-157486620934253/
DISTRICT AND RI REMINDERS (if you are interested in attending any of these, please ask a board member for more information)
- DISTRICT GOVERNOR INSTALLATION DINNER, Randolf, June 15, 2018. Come celebrate District Governor Steve Certa's year and the Installation Celebration of District Governor William J Tennant and Braintree President Kelly Moore. This event is Black Tie Optional. www.rotary7950.com/event/district-governor-installation-dinner/
- JOINT AREA 7 ROTARY MEETING, White's of Westport, June 21, 2018, 12:00PM – Speaking program will be John Rogers talking on Alzheimer's caregivers. Please RSVP with Charlene.
- ROTARY INTERNATIONAL CONVENTION - Toronto, Canada, June 23-27, 2018 www.riconvention.org/en Former First Lady of the United States Laura Bush, an advocate for literacy, education, and women's rights, will speak at the 2018 Rotary Convention.
One More Thing – An Orren Classic
Once upon a time a man got up early on a Sunday morning to let the iceman in, and being unable to find his bathrobe, he slipped on his wife's kimono. When he opened the door he was greeted by a nice big hug and kiss by the iceman. And, the only way he can figure it out is that the iceman's wife must have a kimono just like the one he had on.
Peter A
Cub Reporter
Lisa F
GAM Editor