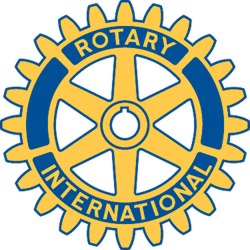 Rotary Club of New Bedford, MA - Weekly GAM
GAM...A nautical term describing the exchange of news between vessels departing from and returning to their ports...
May 2, 2018
The Last Time We Met (Formerly "This Week")
With temps in the 80's, attendance was a bit lacking this week. With barely one full table of Rotarians, two of whom were visiting from other clubs, the program was scrapped and a social time was had by all.
Rotary Minute: Facts from 1921 (other than the start of our club)- During an Armistice Day ceremony at Arlington National Cemetery, the Tomb of the Unknowns is dedicated by U.S. President Warren G. Harding. Dr. Seuss attends Dartmouth College. The Communist Party of China is founded and Chen Duxiu elected its leader. Congresswoman Alice Mary Robertson becomes the first woman to preside over the floor of US House of Representatives.
PRESIDENT'S TRIPLE THREAT MEMBERSHIP CHALLENGE: Congratulations to Bunny for being the first to clock in for having completed this challenge. In case you forgot, thhe president challenges you to ask three (3) people to join Rotary by the end of this Rotary year (June 30, 2018). You can even re-ask the two people you asked for the first two challenges. What will the prize be this time?
VISITORS AND GUESTS: We had two visiting Rotarians whose names I failed to write down. One was a Rotarian from Florida who was a New Bedford native. We exchanged club banners (which was the last one of our club's banner that we had). The second visiting Rotarian made me think he was Orren R. who was possessed by Alan F.
The Next Time We Meet (Formerly "Next Week")
May 8th – RESCHEDULED Monthly Board Meeting, 5:00 pm, FSI, 955 Reed Rd, N. Dartmouth. All are welcome.
May 9th – Lunch at the Wamsutta. Program TBD
UPCOMING EVENTS:
May 16th – Program TBD
May 23rd – Lunch at MoLife food Pantry, 725 Pleasant St, NB, 12:00 PM - MILLION DOLLAR MEAL. We will be doing the "Stacking of Shelves". For Million Dollar Meals, we ask everyone pay even if you don't attend.
May 30th – Program TBD
June 27th – New Officer Induction. More information to follow.
Odds and Ends
ROTAFEST FOLLOW UP
Please follow up with any sponsors or ticket buyers that have not sent in their donations. Remember funds support the Rotary Club of New Bedford and the charities and organizations they support. Feel free to share any thoughts you had about RotaFest.
INVITATION TO JOINT AREA 7 ROTARY MEETING, JUNE 21, 2018
- From our ADG Charlene (and she's also a future District Governor)
Hello Everyone!
I am writing to you to extend an invitation on behalf of the Rotary Club of Fall River, to a joint Area 7 meeting, on June 21, 2018, at noon. The meeting will take place at White's of Westport. The speaking program will focus on an Alzheimer's presentation - an area of great interest to Rotary International and all of us. The Rotary Club of Fall River is extremely fortunate in that a highly knowledgeable subject matter expert, John Rogers, is a member of the club. The presentation will also highlight the role of Care givers. I have heard John speak, in the past, and I will tell you that I learned a great deal from the experience. (and I enjoyed it!!).
I would like to help in the organization of your visit in advance, so that we can give the restaurant an accurate count. So, please get back to me with the number of club members that will attend. I will be following up on this invitation as we go forward, so please do communicate with me. Thank You!
Warmest regards,
Charlene
Charlene J. Jarest, DGND, Area 7 Assistant Governor District 7950 Rotary International
HOW DO I DO A MAKEUP?
Some folks have asked how to improve their attendance if they miss the Wednesday meeting. Here is a list.
1. Check out other local club meetings. Dartmouth has night meetings (I think). Fall River does lunch on Thursday at White's of Westport. Not sure what Fairhaven is doing these days. Most can be contacted through their Facebook pages or websites
2. You can do make ups online https://www.rotaryeclubone.org/makeups/howtodoamakeup/. When you get to this page https://www.rotaryeclubone.org/makeups/articles/ click on date of one that interests you and follow the instructions.
3. You can stop into our own club's board meetings. (Generally the first Tuesday at 5 at FSI in Dartmouth. Address in the GAM)
4. Check out the club's committees.
5. Assist with RotaFest or Breakfast with Santa or other events (Sell tickets, find auction items, etc.)
6. District events are an option as well. (See the GAM for those as well)
NEW BEDFORD ROTARY ON SOCIAL MEDIA
Don't forget to Like, Follow and whatever else folks do with pages they enjoy on Facebook. Check us out at www.facebook.com/Rotary-Club-of-New-Bedford-157486620934253/
DISTRICT AND RI REMINDERS (if you are interested in attending any of these, please ask a board member for more information)
- MULTI-DISTRICT CONFERENCE, 1620 Hotel, Plymouth, MA, May 18-20, 2018 www.rotary7950.com/
- JOINT AREA 7 ROTARY MEETING, White's of Westport, June 21, 2018, 12:00PM – Speaking program will be John Rogers talking on Alzheimer's caregivers. Please RSVP with Charlene.
- ROTARY INTERNATIONAL CONVENTION - Toronto, Canada, June 23-27, 2018 www.riconvention.org/en
One More Thing – Orren Inspired
Owed to the Spell Checker
Eye halve a spelling chequer
It came with my pea sea
It plainly marques four my revue
Miss steaks eye kin knot sea.
Eye have run this poem threw it
I am shore your pleased two no
Its letter perfect in it's weigh
My chequer tolled me sew.
(Sauce unknown – Ed it Ted four space)
Peter A
Cub Reporter
Lisa F
GAM Editor