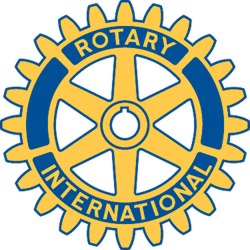 Rotary Club of New Bedford, MA - Weekly GAM
GAM...A nautical term describing the exchange of news between vessels departing from and returning to their ports...
April 26, 2018
The Last Time We Met (Formerly "This Week")
To paraphrase Margaret Mead, never underestimate what a small, thoughtful, committed group can do. RotoFest 2018 is all but in the record book and a fun time was had by all. With team members scrambling up until (and some cases past) the last minute, the work culminated in a very successful event. Smiles and compliments were plentiful. DJ Johnny Angel kept the place rocking all night. One number we do have is that there were 161 tickets in the jar at the end of the night vs. 148 counted last year. (Not really sure what the prez was doing during the live auction but…) I hesitate to single out anyone to thank as it was a team effort, with Rotarians and community members alike doing what they could to help. In the coming weeks, we will have thank you certificates printed for the sponsors, auction donors and others. The restaurants (and Douglas W & S and Phil as well) received them during the event. If you would like one to recognize a group or person specifically, please let me know.
Check out the photos at http://www.southcoasttoday.com/photogallery/NB/20180427/PHOTOGALLERY/427009997/PH/1
Please follow up with any sponsors or ticket buyers that have not sent in their donations. Remember funds support the Rotary Club of New Bedford and the charities and organizations they support.
Rotary Minute: You didn't think I'd forget to do one this week, did you? Rotary Logos explained.
Masterbrand Signature
The Masterbrand Signature was introduced by Rotary International in 2014 as the new official logo. It is comprised of the one-color Mark of Excellence and the wordmark "Rotary" in the same or a contrasting color. The wordmark "Rotary" is not a font, it is a graphical element.
Mark of Excellence
The Mark of Excellence is a one-color representation of the Rotary Wheel. It may be used on its own, and together with the wordmark "Rotary" it makes up the "Masterbrand Signature" or new Rotary logo.
Legacy Logo
The Legacy Logo is the traditional gold and blue or yellow and blue Rotary Wheel.
PRESIDENT'S TRIPLE THREAT MEMBERSHIP CHALLENGE: The new challenge has been given. The president challenges you to ask three (3) people to join Rotary by the end of this Rotary year (June 30, 2018). You can even re-ask the two people you asked for the first two challenges. What will the prize be this time?
VISITORS AND GUESTS: Guest Galore at RotaFest!!!
The Next Time We Meet (Formerly "Next Week")
May 1st – Monthly Board Meeting, 5:00 pm, FSI, 955 Reed Rd, N. Dartmouth. All are welcome.
May 2nd – Lunch at the Wamsutta. Club Assembly. RotaFest Review
UPCOMING EVENTS:
May 9th – Program TBD
May 16th – Program TBD
May 23rd – Lunch at MoLife food Pantry, 725 Pleasant St, NB, 12:00 PM MILLION DOLLAR MEAL. We will be doing the "Stacking of Shelves".
May 30th – Program TBD
June 27th – New Officer Induction. More information to follow.
Odds and Ends
INVITATION TO JOINT AREA 7 ROTARY MEETING, JUNE 21, 2018
- From our ADG Charlene (and she's also a future District Governor)
Hello Everyone!
I am writing to you to extend an invitation on behalf of the Rotary Club of Fall River, to a joint Area 7 meeting, on June 21, 2018, at noon. The meeting will take place at White's of Westport. The speaking program will focus on an Alzheimer's presentation - an area of great interest to Rotary International and all of us. The Rotary Club of Fall River is extremely fortunate in that a highly knowledgeable subject matter expert, John Rogers, is a member of the club. The presentation will also highlight the role of Care givers. I have heard John speak, in the past, and I will tell you that I learned a great deal from the experience. (and I enjoyed it!!).
I would like to help in the organization of your visit in advance, so that we can give the restaurant an accurate count. So, please get back to me with the number of club members that will attend. I will be following up on this invitation as we go forward, so please do communicate with me. Thank You!
Warmest regards,
Charlene
Charlene J. Jarest, DGND, Area 7 Assistant Governor District 7950 Rotary International
HOW DO I DO A MAKEUP?
Some folks have asked how to improve their attendance if they miss the Wednesday meeting. Here is a list.
1. Check out other local club meetings. Dartmouth has night meetings (I think). Fall River does lunch on Thursday at White's of Westport. Not sure what Fairhaven is doing these days. Most can be contacted through their Facebook pages or websites
2. You can do make ups online https://www.rotaryeclubone.org/makeups/howtodoamakeup/ . When you get to this page https://www.rotaryeclubone.org/makeups/articles/ click on date of one that interests you and follow the instructions.
3. You can stop into our own club's board meetings. (Generally the first Tuesday at 5 at FSI in Dartmouth. Address in the GAM)
4. Check out and help with the club's committees.
5. Assist with RotaFest or Breakfast with Santa or other events (Sell tickets, find auction items, etc.)
6. District events are an option as well. (See the GAM for those as well)
NEW BEDFORD ROTARY ON SOCIAL MEDIA
Don't forget to Like, Follow and whatever else folks do with pages they enjoy on Facebook. Check us out at www.facebook.com/Rotary-Club-of-New-Bedford-157486620934253/
DISTRICT AND RI REMINDERS (if you are interested in attending any of these, please ask a board member for more information)
- MULTI-DISTRICT CONFERENCE, 1620 Hotel, Plymouth, MA, May 18-20, 2018 www.rotary7950.com/
- JOINT AREA 7 ROTARY MEETING, White's of Westport, June 21, 2018, 12:00PM – Speaking program will be John Rogers talking on Alzheimer's caregivers. Please RSVP with Charlene
- ROTARY INTERNATIONAL CONVENTION - Toronto, Canada, June 23-27, 2018 www.riconvention.org/en
One More Thing – An Orren Classic
(It's a two-fer this week) Why is a vote in Congress like a bad cold? Because sometime the ayes have it and some times the noes. Get it? Okay, How were Adam and Eve kept from gambling? Their pair o' dice was taken away from them.
Peter A
Cub Reporter
Lisa F
GAM Editor