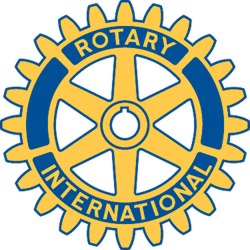 Rotary Club of New Bedford, MA - Weekly GAM
GAM...A nautical term describing the exchange of news between vessels departing from and returning to their ports...
April 18, 2018
Important note: There will be no meeting on Wednesday, April 25th. We will meet at the normal time at the Seaport Inn on Thursday, April 26th to set up RotaFest.
The Last Time We Met (Formerly "This Week")
"The generous will themselves be blessed, for they share their food with the poor."
- Proverbs 22:9
This week, we discovered from our guest speaker just how blessed the folks at Mobile Ministries must be. Gene Plaud, a team leader (for a team with a Rotarian on it), told us how a ministry concept that started in Texas made its way to the Whaling City. The Mobile Ministries' truck heads out 6 days a week to various sites in the city to hand out a hot meal, clothing and other supplies to the needy and the homeless. These are a truly generous and blessed folk. Thank you Bunny for inviting him.
Rotary Minute: David Salk wrote on our website "We also had a program in which we welcomed the newly naturalized citizens, and the speaker was, I believe, Judge Taveira. Later, members of our club, as a good-will gesture, were assigned to visit the residences of these new Americans. Personally, I clearly remember my visitation. It was a cold, blustery night in February. Upon entering the home of this family, an atmosphere of euphoria prevailed. The offered me imported Madeira wine which hit the spot. I guess I looked as if I needed it!"
PRESIDENT'S TRIPLE THREAT MEMBERSHIP CHALLENGE: The new challenge has been given. The president challenges you to ask three (3) people to join Rotary by the end of this Rotary year (June 30, 2018). You can even re-ask the two people you asked for the first two challenges. What will the prize be this time?
VISITORS AND GUESTS: Guest Speaker, Gene Plaud from Mobile Ministries. Daughters were popular as we had Kristen's and Cheryl's daughters both in attendance. (Those are two separate people if you were wondering).
The Next Time We Meet (Formerly "Next Week")
April 25th – NO MEETING. Will meet on the 26th
April 26th – Lunch meeting at Seaport Inn to set up RotaFest. 12:15 pm. Please RSVP by Monday.
UPCOMING EVENTS:
April 26th – YOU DID SAVE THE DATE, RIGHT? – RotaFest 2018 – Seaport Inn, Fairhaven – 5:30 to 8:30 pm
May 1st – Monthly Board Meeting, 5:00 pm, FSI, Dartmouth. All are welcome.
May 2nd – Program TBD
Odds and Ends
ROTAFEST 2018 – 1 week to go
Auction items – Paula brought in a gift certificate for the Black Whale. Kristen is picking up a Fathoms gift card and Snell Golf paraphernalia. Cheryl secured 2 passes for the Folk Fest from Dori at the Z. Please get us what you have so we can catalog it. The team will be putting stuff together this weekend.
New Sponsor – Thank you Tammy for recruiting Farland Corp. as a new Bronze Sponsor. Check out the sponsor/restaurant page on our website. http://newbedfordma.clubwizard.com/RotaFestSponsors.cfm Always room for more...
PLEASE CHECK OUT THE ROTAFEST EVENT ON FACEBOOK TO BE SURE WE HAVE RECOGNIZED ALL OUR AUCTION DONORS, SPONSORS AND RESTAURANTS. https://www.facebook.com/events/814610848712063/?active_tab=discussion
We can always try to sell more tickets.
NEED HELP ON A SPECIAL PROJECT - We would like to put signs on the tables at RotaFest stating what we as a club do and who we donate too (Bridge Home presents, Salvation Army Bell Ringing, etc). We have a handful of 5x7 (I think that is the size) stands. If someone would like to put something together, it would be helpful. We should have someone able to print it up if you can't.
Participating Restaurants (will keep this list hear for reference) PLEASE WORK TO GET THEIR PAPERWORK IN – PLEASE FOLLOW UP WITH THEM TO DETERMINE ANY NEEDS THEY MIGHT HAVE AND REMIND THEM IT IS IN 2 WEEKS.
Airport Grille, Agua De Pau, Buffalo Wild Wings, Brazilian Grill, Cleary's Pub, Dorothy Cox, Dunkin Donuts, Fays/Knotty Pine Catering, Frontera Grille Mexican Restaurant, Inner Bay, Mike's Restaurant, Not Your Average Joe's, The Pasta House, Seaport Inn Grille, Texas Roadhouse, Valley Top Tavern, Wicked Kickin' Cheesecakes, Whaling City Diner
HOW DO I DO A MAKEUP?
Some folks have asked how to improve their attendance if they miss the Wednesday meeting. Here is a list.
1. Check out other local club meetings. Dartmouth has night meetings (I think). Fall River does lunch on Thursday at White's of Westport. Not sure what Fairhaven is doing these days. Most can be contacted through their Facebook pages or websites
2. You can do make ups online https://www.rotaryeclubone.org/makeups/howtodoamakeup/ . When you get to this page https://www.rotaryeclubone.org/makeups/articles/ click on date of one that interests you and follow the instructions.
3. You can stop into our own club's board meetings. (Generally the first Tuesday at 5 at FSI in Dartmouth. Address in the GAM)
4. Check out the club's committees.
5. Assist with RotaFest or Breakfast with Santa or other events (Sell tickets, find auction items, etc.)
6. District events are an option as well. (See the GAM for those as well)
NEW BEDFORD ROTARY ON SOCIAL MEDIA
Don't forget to Like, Follow and whatever else folks do with pages they enjoy on Facebook. Check us out at www.facebook.com/Rotary-Club-of-New-Bedford-157486620934253/
DISTRICT AND RI REMINDERS (if you are interested in attending any of these, please ask a board member for more information)
- 25TH ANNUAL DISTRICT INTERNATIONAL NIGHT (honoring members of Rotary Youth Exchange) - White's of Westport, April 23, 2018 – Fellowship at 5:30PM (Cash bar/"Extensive Hors d'oeuvres). Program & dinner starts at 6:45PM. No online information available. Contact a club officer by April 10th to sign up.
- MULTI-DISTRICT CONFERENCE, 1620 Hotel, Plymouth, MA, May 18-20, 2018 www.rotary7950.com/
- ROTARY INTERNATIONAL CONVENTION - Toronto, Canada, June 23-27, 2018 www.riconvention.org/en
One More Thing – An Orren Classic
Fair Maid to sailor: - "Oh, sir, what kind of officer are you?"
Officer: - "I'm a naval surgeon."
Fair Maid: - "My goodness! How you doctors do specialize."
Peter A
Cub Reporter
Lisa F
GAM Editor