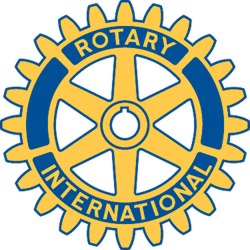 Rotary Club of New Bedford, MA - Weekly GAM
GAM...A nautical term describing the exchange of news between vessels departing from and returning to their ports...
April 11, 2018
The Last Time We Met (Formerly "This Week")
"Two roads diverged in a wood, and I—
I took the one less traveled by,
And that has made all the difference"
- Robert Frost
Our own Tom Riley was the pinch hitter for the speaker this week. He shared how the above quote seemed to speak about choices that were made at Better Community Living and how it does the work it does. They made choices that made BCL more of a home than a program. One of their newest initiatives is the "Bridge to Faith" which helps connect his clients with communities of faith. This allows more human interaction benefiting not only the person but the community in general. Thank you for sharing, Tom.
Rotary Minute: What do Buzz Aldrin, Frank Borman and L. Gordon Cooper Jr. all have in common? They were all "out of this world" Rotarians!!! (They were astronauts and Rotarians.)
PRESIDENT'S TRIPLE THREAT MEMBERSHIP CHALLENGE: The new challenge has been given. The president challenges you to ask three (3) people to join Rotary by the end of this Rotary year (June 30, 2018). You can even re-ask the two people you asked for the first two challenges. What will the prize be this time?
VISITORS AND GUESTS: Just us this week.
The Next Time We Meet (Formerly "Next Week")
April 18th – Lunch at the Wamsutta. The guest speaker will be Gene Plaud from Mobile Ministries.
UPCOMING EVENTS:
April 25th – NO MEETING. Will meet on the 26th
April 26th – Lunch meeting at Seaport Inn to set up RotaFest. 12:15 pm
April 26th – YOU DID SAVE THE DATE, RIGHT? – RotaFest 2018 – Seaport Inn, Fairhaven – 5:30 to 8:30 pm
May 1st – Monthly Board Meeting, 5:00 pm, FSI, Dartmouth. All are welcome.
May 2nd – Program TBD
Odds and Ends
ROTAFEST 2018 – 2 weeks to go
Tickets – So far about 20 reported sold separate of sponsorships. Please continue to try to get people in the room to be sure the restaurants will return. Phil has started giving out some tickets on his radio show.
Auction and Raffle items–
First a quick query. We received two envelopes today from Thomas Fallon Photography from Maine which contained gift certificates for Thomas Fallon and Seaglass Fine Art Photography. Any know anything about these? Which Rotarian requested them? (They are awesome. Just would like to know)
Live Auction – As stated in other communications could still use one more item for the live auction. We currently have two tickets from Joe M. for a Patriots game and Cheryl has secured a stay at Mohegan Sun with 2 tickets to a Brett Eldredge concert.
Silent Auction – We have the above mentioned photography certificates. Marc secured donations (gift cards and other items) from Texas Roadhouse, Buffalo Wild Wings, 99, Olive Garden and a large gift card donation from Brazilian Grill. Lola donated 2 Dinner for Two booklets.
Baskets and Wine – We could still use empty baskets and full bottles of wine (or other alcohol). Marlene asked a few folks at her branch to see if they have any thing they weren't going to use and brought that in.
Scratch tickets – In addition to the 15 collected from club members today, Carole gave 120 scratch tickets (not 250 as originally reported) and says she has more. If you still have some, we will take them. Anyone have a large picture frame they don't want anymore that could frame these?
Things people are working on – Members have told me they are still working on the following – Your Theatre, The Z, YMCA, Toyota of Dartmouth, Fathoms, A & A Jewelers, Gotta Have It, Snell Golf, SeaStreak Ferry, Diversifed Marketing... (There are probably more)
NEED HELP ON A SPECIAL PROJECT - We would like to put signs on the tables at RotaFest stating what we as a club do and who we donate too (Bridge Home presents, Salvation Army Bell Ringing, etc). We have a handful of 5x7 (I think that is the size) stands. If someone would like to put something together, it would be helpful. We should have someone able to print it up if you can't.
Participating Restaurants (will keep this list hear for reference) PLEASE WORK TO GET THEIR PAPERWORK IN – PLEASE FOLLOW UP WITH THEM TO DETERMINE ANY NEEDS THEY MIGHT HAVE AND REMIND THEM IT IS IN 2 WEEKS.
Airport Grille, Agua De Pau, Buffalo Wild Wings, Brazilian Grill, Cleary's Pub, Dorothy Cox, Dunkin Donuts, Fays/Knotty Pine Catering, Frontera Grille Mexican Restaurant, Inner Bay, Mike's Restaurant, Not Your Average Joe's, The Pasta House, Seaport Inn Grille, Texas Roadhouse, Valley Top Tavern, Wicked Kickin' Cheesecakes, Whaling City Diner
Sponsors
We are about $100 shy of the sponsorships we had last year, which is good since about 3 days ago we were $1500 down. The only one we are trying to contact is the YMCA. If you are still working on any please let us know.
Gold Sponsor 2018
Bay Coast Bank
Silver Sponsors 2018
Better Community Living
Clean Uniforms and More
Dias, Lapalme and Martin, LLP CPA
Fire Systems, Inc.
First Citizens' Federal Credit Union
Gold Star Realty, Inc.
Ponichtera & DeNardis P.C. ("Welcome Back" in 2018)
Richard Medicke
Bronze Sponsors 2018
Carole Johnson
The Law Office of Joseph L. Michaud P.C.
The Southcoast Chamber (New Sponsor in 2018)
Southeastern Fire & Safety (New Sponsor in 2018)
Check out the sponsor/restaurant page on our website. http://newbedfordma.clubwizard.com/RotaFestSponsors.cfm
HOW DO I DO A MAKEUP?
Some folks have asked how to improve their attendance if they miss the Wednesday meeting. Here is a list.
1. Check out other local club meetings. Dartmouth has night meetings (I think). Fall River does lunch on Thursday at White's of Westport. Not sure what Fairhaven is doing these days. Most can be contacted through their Facebook pages or websites
2. You can do make ups online https://www.rotaryeclubone.org/makeups/howtodoamakeup/ . When you get to this page https://www.rotaryeclubone.org/makeups/articles/ click on date of one that interests you and follow the instructions.
3. You can stop into our own club's board meetings. (Generally the first Tuesday at 5 at FSI in Dartmouth. Address in the GAM)
4. Check out the club's committees.
5. Assist with RotaFest or Breakfast with Santa or other events (Sell tickets, find auction items, etc.)
6. District events are an option as well. (See the GAM for those as well)
MONTHLY BOARD MEETING
The board approved donations to the United Way Clam Bake, Better Community Living and the Boy Scouts.
THE REV. ROBERT LAWRENCE LECTURE PRESENTS THE MOTH
Fall River Rotarian Dr. Matthew Roy still wants to invite all Rotarians to this event, as mentioned in a prior GAM. (It's FREE!!) The Moth, an NPR-affiliated storytelling company, will present 3 speakers to share their stories. Speakers will share inspirational and heartwarming stories of the positive impact that community service has had on their lives. Let us know if you want FREE tickets.
Tuesday, April 17, 2018
7:00-8:00 pm
UMASS Dartmouth
Main Auditorium
DUES DUE
Please let Lisa know if you still need an invoice.
NEW BEDFORD ROTARY ON SOCIAL MEDIA
Don't forget to Like, Follow and whatever else folks do with pages they enjoy on Facebook. Check us out at www.facebook.com/Rotary-Club-of-New-Bedford-157486620934253/
DISTRICT AND RI REMINDERS (if you are interested in attending any of these, please ask a board member for more information)
- DISTRICT ASSEMBLY – White's of Westport, April 14, 2018 – Club Secretary, Club Treasurer and Foundation Chair Training. Also open to all Rotarians. KEYNOTE SPEAKER: Nabil Oudeh, President and Founder of the Centre for Conflict Resolution International Ltd (CCR International). He has over 30 years' experience in Peace Building across the globe. He is an author, a speaker and active Peace Builder helping to mitigate and resolve conflicts in all shapes and sizes. www.rotary7950.com/
- 25TH ANNUAL DISTRICT INTERNATIONAL NIGHT (honoring members of Rotary Youth Exchange) - White's of Westport, April 23, 2018 – Fellowship at 5:30PM (Cash bar/"Extensive Hors d'oeuvres). Program & dinner starts at 6:45PM. No online information available. Contact a club officer by April 10th to sign up.
- MULTI-DISTRICT CONFERENCE, 1620 Hotel, Plymouth, MA, May 18-20, 2018 www.rotary7950.com/
- ROTARY INTERNATIONAL CONVENTION - Toronto, Canada, June 23-27, 2018 www.riconvention.org/en
One More Thing – An Orren Classic
Charlie: - "I disapprove all brutal sports, prize fighting, fishing.....
Marley: - "Good heavens! How can you name those two sports in the same breath?"
Charlie: - "Why not? Isn't it the object of both pugilist and angler to land a hook to the jaw?"
Peter A
Cub Reporter
Lisa F
GAM Editor