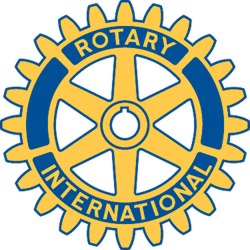 Rotary Club of New Bedford, MA - Weekly GAM
GAM...A nautical term describing the exchange of news between vessels departing from and returning to their ports...
March 7, 2018
A Quick Note
Sorry for the last minute cancellation on 3/14. Hopefully you got the message before you headed to the Wamsutta. Hope everyone rode out the storm with mininal fuss.
The Last Time We Met (Formerly "This Week")
Taylor Wright from American Cancer Society came to speak about their annual Relay for Life event on June 23 at Fort Taber. The annual event has some touching moments like the Survivor/Caregiver Walk as well as a Luminaria Ceremony with each light representing a life—a life taken by cancer, a survivor of cancer, or a support for a person still fighting the disease. If interested in helping or walking go to http://relay.acsevents.org/site/TR/RelayForLife/RFLCY18NER?fr_id=87958&pg=entry&_ga=2.143779125.1081791481.1521055181-1868363687.1521055181 for more information
Rotary Minute: The Object of Rotary is to encourage and foster the ideal of service as a basis of worthy enterprise and, in particular, to encourage and foster:
FIRST: The development of acquaintance as an opportunity for service;
SECOND: High ethical standards in business and professions; the recognition of the worthiness of all useful occupations; and the dignifying of each Rotarian's occupation as an opportunity to serve society;
THIRD: The application of the ideal of service in each Rotarian's personal, business, and community life;
FOURTH: The advancement of international understanding, goodwill, and peace through a world fellowship of business and professional persons united in the ideal of service.
PRESIDENT'S TRIPLE THREAT MEMBERSHIP CHALLENGE: The new challenge has been given. The president challenges you to ask three (3) people to join Rotary by the end of this Rotary year (June 30, 2018). What will the prize be this time?
VISITORS AND GUESTS: Honorary Rotarian Extraordinaire Orren Robbins. Guest speaker Taylor Wright from American Cancer Society. Taylor also brought her co-worker that it was her third day on the job. Again, I'm sorry I lost the note with that information.
The Next Time We Meet (Formerly "Next Week")
CANCELLED March 14th– Lunch at the Wamsutta. Our guest speaker will be Heidi Pereira from Better Community Living speaking about their new program "Next Step".
March 21st – Lunch at the Wamsutta. This will be a RotaFest club assembly. Following the meeting we will be delivering the final computer to Savoy Nursing Home located at 670 County St. All are invited
UPCOMING EVENTS:
March 28th – Lunch at the Wamsutta. Our guest speaker will be Heather Dextradeur who will speak on the Bridge to Faith program.
April 3rd – Monthly Board Meeting. 5-7. Fire System's Inc. All are welcome.
April 4th – Program TBD
April 25th – NO MEETING. Will meet on the 26th
April 26th – Lunch meeting at Seaport Inn to set up RotaFest. 12:15 pm
April 26th – SAVE THE DATE – RotaFest 2018 – Seaport Inn, Fairhaven – 5:30 to 8:30 pm
Odds and Ends
ROTAFEST 2018 – 7 weeks to go
With the restaurants all but locked down (more can participate, they just missed the poster), we need to get people there to try all that great food.
Sponsors –
Thank you to Stu for securing BayCoast Bank as the Gold Sponsor
Silver Sponsors 2018
Better Community Living
Clean Uniforms and More
Dias, Lapalme and Martin, LLP CPA
Fire Systems, Inc.
Gold Star Realty, Inc.
Ponichtera & DeNardis P.C.
Bronze Sponsors 2018
Carole Johnson
Check out the sponsor/restaurant page on our website. http://newbedfordma.clubwizard.com/RotaFestSponsors.cfm.
Tickets – Marlene asks you to share any success you have had in selling tickets. Never too early to start getting a count. Check out the event on our Facebook page. Maybe a friend of yours has said they are interested in attending. Seems like an easy sale to me.
Auction and Raffle items– As mentioned before we have started to see some things roll in. Joe A. has brought in a wine basket, while Michelle has secured a membership to the zoo. Bunny got a gift certificate to Spicy Lime, while Marc has commitments (or maybe even the actual cards) from Olive Garden and Applebees (I think that is what he told me). What businesses do you know that could offer goods or services for the auction?
Participating Restaurants (will keep this list hear for reference) PLEASE WORK TO GET THEIR PAPERWORK IN
Airport Grille, Agua De Paul, Buffalo Wild Wings, Brazilian Grill, Cleary's Pub, Dorothy Cox, Dunkin Donuts, Fays/Knotty Pine Catering, Frontera Grille Mexican Restaurant, Inner Bay, Mike's Restaurant, Not Your Average Joe's, The Pasta House, Seaport Inn Grille, Texas Roadhouse, Valley Top Tavern, Wicked Kickin' Cheesecakes, Whaling City Diner
MONTHLY BOARD MEETING
Just wanted to report the board approved a donation to Sharing the Harvest who we had speak to us a few months ago.
AN AFFAIR TO REMEMBER – Fall River Rotary Club Fundraiser
As each local Rotary Club has members help other Rotary Clubs, we'd like to announce the Rotary Club of Fall River's 2018 Affair to Remember presents A Night at the Improv featuring the Bit Players of Newport, RI. It all happens on March 16 at Bristol Community College. For more information, check them out at https://portal.clubrunner.ca/4431/sitepage/affair-to-remember
THE REV. ROBERT LAWRENCE LECTURE PRESENTS THE MOTH
Fall River Rotarian Dr. Matthew Roy still wants to invite all Rotarians to this event, as mentioned in a prior GAM. (It's FREE!!) The Moth, an NPR-affiliated storytelling company, will present 3 speakers to share their stories. Speakers will share inspirational and heartwarming stories of the positive impact that community service has had on their lives. Let us know if you want FREE tickets.
Tuesday, April 17, 2018
7:00-8:00 pm
UMASS Dartmouth
Main Auditorium
DUES DUE
Please let Lisa know if you still need an invoice.
NEW BEDFORD ROTARY ON SOCIAL MEDIA
Don't forget to Like, Follow and whatever else folks do with pages they enjoy on Facebook. Check us out at www.facebook.com/Rotary-Club-of-New-Bedford-157486620934253/
DISTRICT AND RI REMINDERS (if you are interested in attending any of these, please ask a board member for more information)
- ROTARY LEADERSHIP INSTITUTE, Amica Insurance, Lincoln, RI, March 31, 2018 www.rlinea.org
- DISTRICT ASSEMBLY – White's of Westport, April 14, 2018 – Club Secretary, Club Treasurer and Foundation Chair Training. Also open to all Rotarians. KEYNOTE SPEAKER: Nabil Oudeh, President and Founder of the Centre for Conflict Resolution International Ltd (CCR International). He has over 30 years' experience in Peace Building across the globe. He is an author, a speaker and active Peace Builder helping to mitigate and resolve conflicts in all shapes and sizes. www.rotary7950.com/
- MULTI-DISTRICT CONFERENCE, 1620 Hotel, Plymouth, MA, May 18-20, 2018 www.rotary7950.com/
- ROTARY INTERNATIONAL CONVENTION, Toronto, Canada, June 23-27, 2018 www.riconvention.org/en
One More Thing – An Orren Classic
"I would like a straw with this lemonade"' said the lady at the table.
"Hey?" asked the waiter who was hard of hearing.
"No; straw, I said." was the response.
Peter A
Cub Reporter
Lisa F
GAM Editor