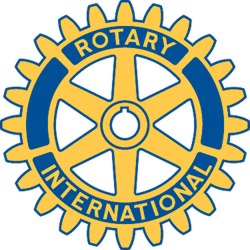 Rotary Club of New Bedford, MA - Weekly GAM
GAM...A nautical term describing the exchange of news between vessels departing from and returning to their ports...
February 28, 20187
The Last Time We Met (Formerly "This Week")
"A Heart for Others" was the theme of the Salvation Army's Annual Volunteer Luncheon. Around a dozen Rotarians, with a special guest (see below), were in attendance. Our club raised over $1,000 during the kettle drive. (There was an exact amount but I lost my program). See the link below for more details.
http://www.southcoasttoday.com/news/20180228/a-heart-for-others-salvation-army-honors-volunteers
Rotary Minute: More Notes from 1921 – The year the club was founded. The United States formally ends World War I, declaring a peace with Germany. The first radio baseball game is broadcast; Harold Arlin announces the Pirates-Phillies game from Forbes Field over Westinghouse KDKA, in Pittsburgh. Adolf Hitler is named as leader of the Nazi Party. Albert Einstein wins the 1921 Nobel Prize in Physics.
PRESIDENT'S VALENTINE'S ALUMNI MEMBERSHIP CHALLENGE: The new challenge has not been announced so you still have time to complete this one. The only member that admitted to completing is so far was John R. for inviting Linda Morad, (though I hear Carl spoke to her too (and some others spoke to her as well?)).
VISITORS AND GUESTS: Honorary Rotarian Extraordinaire Orren Robbins. It was great to see Orren. We hope to see more of him in the future.
The Next Time We Meet (Formerly "Next Week")
March 7th – Lunch at the Wamsutta. This week our guest speaker will be Taylor Wright from American Cancer Society.
UPCOMING EVENTS:
March 6th – Monthly Board Meeting. 5-6 pm. Fire System's Inc. All are welcome.
March 14th – Lunch at the Wamsutta. Our guest speaker will be Heidi Pereira from Better Community Living speaking about their new program "Next Step".
March 21st – Program TBA.
April 26th – SAVE THE DATE – RotaFest 2018
Odds and Ends
ROTAFEST 2018 – 7 weeks to go
Participating Restaurants – Poster is being printed with the following:
Airport Grille
Agua De Paul (Thanks Carole)
Buffalo Wild Wings (Thanks Marc)
Brazilian Grill (Thanks Marc)
Cleary's Pub
Dorothy Cox
Dunkin Donuts (Thanks Cheryl)
Fays/Knotty Pine Catering
Frontera Grille Mexican Restaurant
Inner Bay
Mike's Restaurant
Not Your Average Joe's
The Pasta House
Seaport Inn Grille
Texas Roadhouse
Valley Top Tavern
Wicked Kickin' Cheesecakes
Whaling City Diner (Thanks Tammy)
With 18 restaurant, this looks to be our biggest RotaFest ever. Check out the sponsor/restaurant page on our website. http://newbedfordma.clubwizard.com/RotaFestSponsors.cfm.
Sponsors – Still need more to make it a success. Who are you reaching out to?
Silver Sponsors 2018
Better Community Living
Clean Uniforms and More
Dias, Lapalme and Martin, LLP CPA
Fire Systems, Inc.
Gold Star Realty, Inc.
Ponichtera & DeNardis P.C.
Bronze Sponsors 2018
Carole Johnson
Tickets – Not counting sponsorships, we have sold 10 tickets so far (I think) As a reminder, the club approved the ticket promotion that any Rotarian that sells 10 tickets, gets an additional one FREE!! See ticket chair Marlene if you need some.
Auction and Raffle items– We will be looking for auction and raffle items soon. (And scratch tickets. And probably wine bottles and baskets). RotaFest Chair Carole says she already has gotten some herself to start the ball rolling. Thank you to Joe for the basket with the wine and glasses. Michelle will need help organizing this again.
AN AFFAIR TO REMEMBER – Fall River Rotary Club Fundraiser
As each local Rotary Club has members help other Rotary Clubs, we'd like to announce the Rotary Club of Fall River's 2018 Affair to Remember presents A Night at the Improv featuring the Bit Players of Newport, RI. It all happens on March 16 at Bristol Community College. For more information, check them out at https://portal.clubrunner.ca/4431/sitepage/affair-to-remember
THE REV. ROBERT LAWRENCE LECTURE PRESENTS THE MOTH
Fall River Rotarian Dr. Matthew Roy still wants to invite all Rotarians to this event, as mentioned in a prior GAM. (It's FREE!!) The Moth, an NPR-affiliated storytelling company, will present 3 speakers to share their stories. Speakers will share inspirational and heartwarming stories of the positive impact that community service has had on their lives. Let us know if you want FREE tickets.
Tuesday, April 17, 2018
7:00-8:00 pm
UMASS Dartmouth
Main Auditorium
CLUB MEMBERS INTERESTED IN JOINING THE DISTRICT PEACE & CONFLICT RESOLUTION/TRANSFORMATION COMMITTEE FOR ROTARY YEAR 2018/2019?
Forwarded from our amazing ADG Charlene:
Would any of your Rotary Clubs have local/international Peace & Conflict Resolution/Transformation projects planned for Rotary Year 2018/19? We would love to have members sponsoring them join the District Peace & Conflict Resolution/Transformation Committee for Rotary year 2018/2019. We are looking to assemble a strong District team that may include outside professionals in the field, ready to facilitate for our clubs.
Please let me know.
Dietrich
Dietrich Bilger, PDG 2013/14
District P&CR/T Chair 2018/19
Rotary Club of Scituate, MA
P.O. Box 282
Scituate, MA 02066
Ph.: 781 888 0160
Email: dbrerotary@drbiis.com
ROTARY YOUTH LEADERSHIP AWARDS (RYLA) 2018
District 7950 RYLA is a life changing leadership program where tomorrow's leaders gain hands-on experience developing leadership skills with a focus on community service. This three day event is open to high school sophomores and juniors. RYLA provides lasting opportunities for RYLA alumni to continue on putting their leadership skills into action developing future RYLA programs and community projects. www.rotary7950.com/Stories/rotary-youth-leadership-awards-(ryla)-2018
DUES DUE
Please let Lisa know if you still need an invoice.
NEW BEDFORD ROTARY ON SOCIAL MEDIA
Don't forget to Like, Follow and whatever else folks do with pages they enjoy on Facebook. Check us out at www.facebook.com/Rotary-Club-of-New-Bedford-157486620934253/
DISTRICT AND RI REMINDERS (if you are interested in attending any of these, please ask a board member for more information)
- ROTARY LEADERSHIP INSTITUTE, Amica Insurance, Lincoln, RI, March 31, 2018 www.rlinea.org
- DISTRICT ASSEMBLY – White's of Westport, April 14, 2018 – Club Secretary, Club Treasurer and Foundation Chair Training. Also open to all Rotarians. KEYNOTE SPEAKER: Nabil Oudeh, President and Founder of the Centre for Conflict Resolution International Ltd (CCR International). He has over 30 years' experience in Peace Building across the globe. He is an author, a speaker and active Peace Builder helping to mitigate and resolve conflicts in all shapes and sizes. www.rotary7950.com/
- MULTI-DISTRICT CONFERENCE, 1620 Hotel, Plymouth, MA, May 18-20, 2018 www.rotary7950.com/
- ROTARY INTERNATIONAL CONVENTION, Toronto, Canada, June 23-27, 2018 www.riconvention.org/en
One More Thing – An Orren Classic
A rookie passing the mess hall, asked the cook: "What's on the menu tonight?" "Oh, we have thousands of things to eat tonight." "What are they?" asked the rookie. "Beans" says the cook with a smile.
Peter A
Cub Reporter
Lisa F
GAM Editor