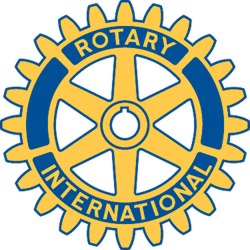 Rotary Club of New Bedford, MA - Weekly GAM
GAM...A nautical term describing the exchange of news between vessels departing from and returning to their ports...
February 14, 20187
The Last Time We Met (Formerly "This Week")
Free Tickets still available (keep reading for more information). Our guest speaker, Matthew H. Roy, Ph.D., came bearing gifts. A Fall River Rotarian, Dr. Roy spoke about the great work done at the Leduc Center for Civic Engagement at UMASS Dartmouth. Over 200 college UMass Dartmouth students go into schools in New Bedford and Fall River to help tutor kids in reading with the goal of having everyone reading at grade level by the third grade, a true benchmark in learning. In addition to scholarships, tax assistance and other opportunities for civic engagement, the center hosts an annual lecture series named for Fall River Rotarian, the Rev. Dr. Bob Lawrence. An invitation only event, Dr. Roy would like to invite every Rotarian to come see it this year on the evening of April 17th. The speakers will be from the Moth Speaker Series. If you are interested and can go, contact the prez. Thank you Dr. Roy for this opportunity and the impassioned talk.
Rotary Minute: The closest thing to Valentine's Day and a Rotary minute was Rotary and Flowers. Since 1981, Rotary International has sponsored a float in the Pasadena Annual Tournament of Roses Parade. And now you know…
PRESIDENT'S VALENTINE'S ALUMNI MEMBERSHIP CHALLENGE: The new challenge has not been announced so you still have time to complete this one. The only member that admitted to completing is so far was John R. for inviting Linda Morad, (though I hear Carl spoke to her too (and some others spoke to her as well?)).
Prospective New Member: See the note below in VISITORS AND GUESTS.
Left the Club – Joe M. has decided to take some time off from the club. We wish him well and hope for his speedy return.
VISITORS AND GUESTS: Lot's o' guests this week. - Guest Speaker –, Assistant Vice Chancellor for Civic Engagement at UMASS Dartmouth and Fall River Rotarian. Fall River Rotarian Roger Cabral who brought a new prospective member Anne Patacao of Residential Mortgage Services (RMS).
The Next Time We Meet (Formerly "Next Week")
February 21st – Lunch at the Wamsutta. RotaFest Club Assembly.
UPCOMING EVENTS:
February 28th – MILLION DOLLAR MEAL. Salvation Army Volunteer Luncheon. 619 Purchase St, NB
PLEASE NOTE THREE TWO ITEMS
1. Please RSVP by 12/14 (you did this already, right?)
2. This lunch starts at NOON so please be on time.
3. We ask all club members to pay for Million Dollar Meals whether they attend or not.
March 6th – Monthly Board Meeting. 5-7. Fire System's Inc. All are welcome
March 7th – Program TBA
April 26th – SAVE THE DATE – RotaFest 2018
Odds and Ends
ROTAFEST 2018 – 9 weeks to go
Participating Restaurants – NEED ASAP for poster
Airport Grille
Dorothy Cox – Thanks Michelle
Fay's – Thanks Michelle
Frontera
Matt's Blackboard – Thanks Bunny
Pasta House – Thanks Ellen
Seaport Inn
Texas Roadhouse – Thanks Marc
We could use at least 6 more. (8 more would tie for the most participants) Cheryl is reaching out to NYA Joe's, Dunkin's and Wicked Kickin'. Linda S. is reaching out to Inner Bay. Michelle is reaching out to Mike's. John is talking to Nephew's. Peter mentioned it to Pub 6T5.
Past years the following restaurants have participated (and not said "no" yet this year.) in case you were wondering who you should ask.
Black Bass
Café Roma
Cotali Mar
EJ's Deli/ Emma Jeans
Harriet's Catering
Healthy Grille
Mad Good Cookies
Route 6 Diner
Russell Morin Catering
Waterfront Grille
And for those of thinking "Have you asked….(Freestone's, Black Whale, Carmine's, Knuckleheads, Destination Soups, No Problemo, dNB Burgers, Brick, Antontios, Tia Maria's, Ma or Pa Raffa's, Cork, Moby Dick Brewing, Rose Alley, The Baker, End Zone, M&C, Cask & Pig, Top Shelf, Pour Farm, Riccardi's, Roasted Pig, Cobblestones, Ming, Me & Ed's, Greasy Luck, Brew Fish, Buffalo Wild Wings, Symposium, S'lainte, Wah May, Jake Garden, Ice Chest, A Kitchen, Courtyard, Brazilian Grill, Blue Point, Century House, Five Guy's, Mirasols, Black Tie Cookies, Captain's Place…)?.", I'm going to say probably not so feel free to reach out to them today.
Check out the sponsor/restaurant page on our website. http://newbedfordma.clubwizard.com/RotaFestSponsors.cfm.
Sponsors – No updates. Still just Fire Systems Inc. (who we love!!)
Tickets – Not counting sponsorships, we have sold 10 tickets so far (I think) As a reminder, the club approved the ticket promotion that any Rotarian that sells 10 tickets, gets an additional one FREE!!
Future updates – We will be looking for auction items soon. (And scratch tickets. And probably wine bottles and baskets)
DUES DUE
Please let Lisa know if you still need an invoice.
NEW BEDFORD ROTARY ON SOCIAL MEDIA
Don't forget to Like, Follow and whatever else folks do with pages they enjoy on Facebook. Check us out at www.facebook.com/Rotary-Club-of-New-Bedford-157486620934253/
DISTRICT AND RI REMINDERS (if you are interested in attending any of these, please ask a board member for more information)
- ROTARY LEADERSHIP INSTITUTE, Amica Insurance, Lincoln, RI, March 31, 2018 www.rlinea.org
- MULTI-DISTRICT CONFERENCE, 1620 Hotel, Plymouth, MA, May 18-20, 2018
- ROTARY INTERNATIONAL CONVENTION, Toronto, Canada, June 23-27, 2018 www.riconvention.org/en
One More Thing – An Orren Classic
TWO PARROTS were sitting on a perch. One said to the other, "Do you smell fish?" (Another thinker, or is that stinker?)
Peter A
Cub Reporter
Lisa F
GAM Editor